I AM NOT DEAD
Read Donnie Vie's 6-day meltdown on Facebook against former bandmates in Enuff Z'Nuff
Metal Sludge — In a series of social media posts, the former Enuff Z'Nuff singer and songwriter Donnie Vie has spoken out in a big way.
Vie seems to be unleashing years of frustration over what has continued to be an on-going rift between him and the band's founder/bassist Chip Z'Nuff.
Vie has been on a near week-long ranting session via his own Facebook, and it's not looking like he's ready to stop.
As of today (Feb. 13th 2020, 11:00AM CST) the Chicago based singer posted: "I DID NOT QUIT, I AM NOT DEAD" 
And less than 30 minutes earlier Vie posted: "This is the same thing that happened to Jani Lane. Great guy, great artist. He was Warrant. But i guess there is some guy named Warrant, so I imagine thats how they Fired Jani. Who would wanna see Warrant without Jani Lane?"
The day isn't half gone yet and Vie has posted 3 lenghty rants, the first of which started with: "I DID NOT QUIT ENUFF ZNUFF."
One online reader compared Vie's on-going meltdown to that of former NFL star Antonio Brown.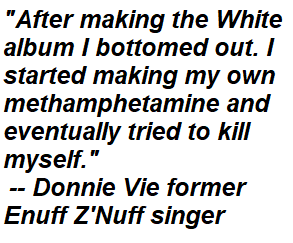 But without a doubt, fans seem to be split.
Some are cheering him on, while others are pleading for him to get help and stay off social media.
It appears that others are there for the pure enjoyment of watching the car crash and it's on-going chain reaction of impacts.
The more Vie blogs, the more the supporters support and at the same time the other side seemingly watches in awe.
Vie ends one of his posts with a plea to the press writing: "Ya know what, ive got no secrets. Any pods or publications if you would like a nice juicy interview about deciebt and corruptions performed in the name of peace and brothery love, hit me up. ENOUGH ZNUFF"
The whirlwind of memories, both good and bad that Vie is taking the readers on is, well…. a bit mind blowing.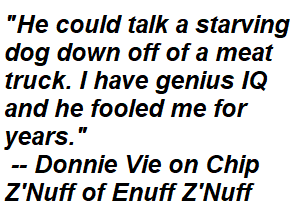 There is talk of cheese sweat falling off band member's balls in Japan, to allegations of stealing songs, ideas and the band Enuff Z'Nuff outright from Vie.
Acccording to wikipedia, Vie was last a member of Enuff Z'Nuff in 2013
If you dig back, it appears that Vie has left the band, quit the band or took a leave of absense more than once.
According to several online records, it shows Vie had two stints in the band (1984-2002 and 2008-2013) with a total of 13 years combined, that he was not an official member.
Z'Nuff himself has continued to forge onward with, or without Vie.
During various times, guitarist Johnny Monaco was called on to also front the band on two separate occasions (2002-2008 and 2013-2016).
In recent years, Z'Nuff himself has accepted the duties as frontman along with being the band's bassist since inception.
Below are a few excerpts from one of Donnie Vie's Facebook accounts, with related links from the past week.
On Feb. 8th (4:00PM) Vie started his 4 day rant with: "To those sick of me still whining about the fuckery with the old band, well then dont keep poking the hive with " why cant you guys make up, or move on donnie, your negativity is unappealing, bla bla bla" I dont give a fuck! It makes me feeeeeel better!!? for example look how much better im feeling now." Read the full post HERE
On Feb. 9th (11:00AM) Vie blogs the following: "One night after giving every last drop of energy left in my battered body finishing the show with " long way to go" I fall flat on my back from exhaustion gasping for air. I look up to see a ripped open at the crotch pair of cheesy pants to see a drop of fomunda cheese sweat falling slow motion into my open panting mouth from this guys balls.!!! I said " Really God?" Read the post HERE
On Feb. 10th (1:48PM) Vie writes to fans: "Same thing tomorrow and the next day and the next till the scumbags either pay me for the name they stole to peddle their cheap bad immitation, and do business deals with my music and lyrics and voice without my aproval or knowledge,,,,or create their own. There is that simple enuff.ya get it? Im not stopping, and no lawyers. Just you fans to help. But one of these two things IS GOING TO HAPPEN." Read the post HERE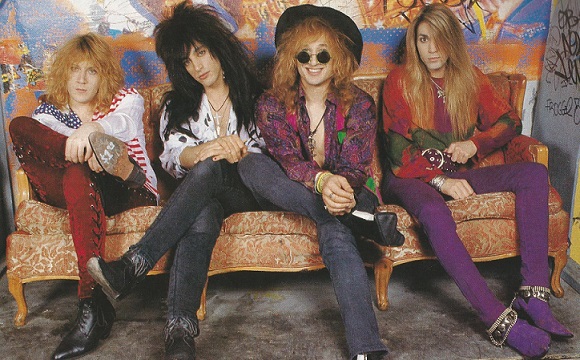 Enuff Z'Nuff in 1990: Donnie Vie, Derek Frigo, Chip Z'Nuff & Vikki Fox
On Feb. 10th (4:40PM) Vie says he needs a manager: "Im handling a lot right now! Two many things at once. Im doing everything myself cuz im the only one i trust or knows what they are doing." Read the full post HERE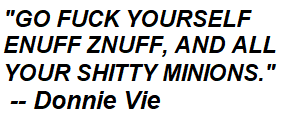 On Feb. 11th (6:30AM) Vie tells readers: "Pay me for snaking the brand name (so u can package your shit product in same wrapper known for my songs and voice, and go make money) or rebuild your own on your own merit, with your own name like im doing. THATS not Enuff znuff, nor what the name stood for. Thats shady fuckery and bad ethics." Read the full post HERE
On Feb. 11th (8:30AM) Vie talks about making drugs and trying to kill himself: "After making the white album i bottomed out. I started making my own methamphetamine & eventually tried to kill myself. I ended up in a great program that helped me rebuild my life and deal with issues id had since a boy. Once i had finnished and found my spirit again and began writing new songs, i tried to post one and recieved a notice that i was violating trademark law and that i was no longer able to use the name i invested every drop of blood sweat and mostly tears into ( enuff znuff) i was devestated."  Read the full post HERE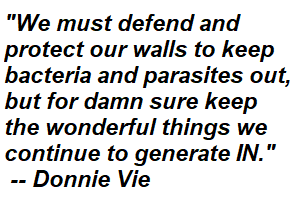 On Feb. 11th (9:00AM) Vie writes to those dissing him on social media: "Also to all of you who are dissing me and calling me a whiney bitch, im not even mad at you. It hurts my feelings but i understand. Chip along with being the best bassist ive ever known also is eaqually talented at politician style etiquette. He could talk a starving dog down off of a meat truck. I have genius IQ and he fooled me for years."  Read the full post HERE
On Feb. 11th (2:00PM) Vie blogs: "Like she is there for them, and me, and everyone else she NEVER lets down, you better believe my ass is right there to too within a phone call away from certain problem solved or shovel to the head of anything that could take these people down. GRRRRRRRRR. So if you think I sound flustered and your worried about me lately with this sudden burst of desperation, dont be. Ive just now been afforded the energy and strength to finally put on the cape and go bad guy chasing."  Read the full post HERE
On Feb. 12th (6:30AM) Vie is back on Facebook and some of what was written is as follows: "The chain cycle of life can be preserved in a community that all works together and hand in hand. We must defend and protect our walls to keep bacteria and parasites out, but for damn sure keep the wonderful things we continue to generate IN. so not to waste it on the undeserving and unappreciative fucks who would just use it up and kill it like theyer doing and have done with everything else. It dosnt take many fingers to form a fist!!!!! Therefore " GO FUCK YOURSELF ENUFF ZNUFF, AND ALL YOUR SHITTY MINIONS. THAT IS ALL YOU GOT SO BE SURE TO SUCK THE BONES DRY ALL YOU MOTHERFUCKERS. ???✌?"  Read the full post HERE
On Feb. 12th (10:30AM) Vie wrote on his Facebook wall ranting again: "I'm just getting started. I'm right, i have that and the big guy that gave me these skills in my corner, my back is to the wall, I got nothing to lose, plus I dont give a fuck!!! Now add that to what I've been portrayed as ,being destructive chaotic monster fueled by, insanity ,manipulative intelect & propensity for causing trouble….. where lyes the sense in poking that hive????? ENOUGH ZNUFF. I'll be starting to put the # 2 rat up on the disecting table next, and will have plenty of satisfaction and enjoyment in that proccess as well."  Read the full post HERE