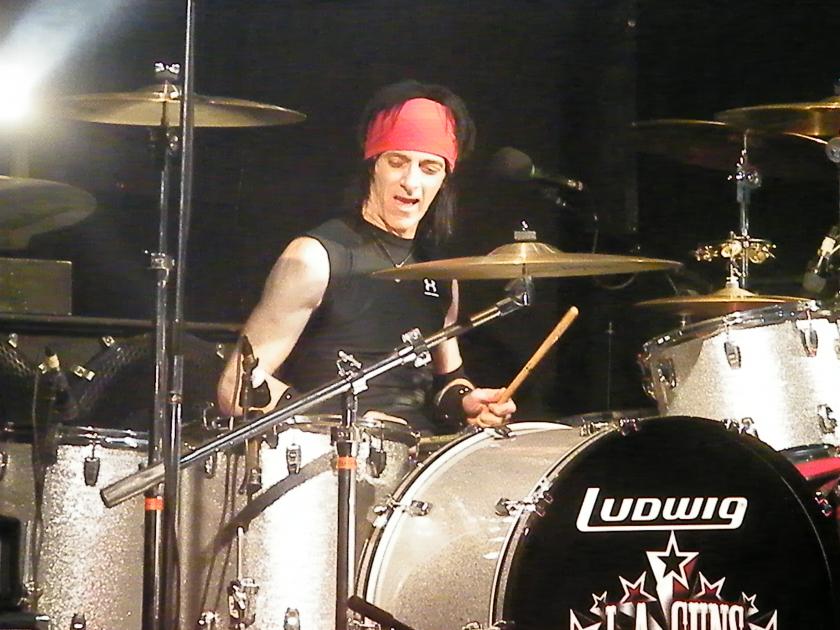 I WANNA BE SOMEBODY!
Steve Riley 'Never say never' on a W.A.S.P. reunion with Lawless, Holmes and Piper


L.A. Guns drummer Steve Riley and guitarist Tracii Guns haven't spoke since a falling-out in '13, and Riley is OK with it saying "I Don't Have Any Beef With Tracii Guns"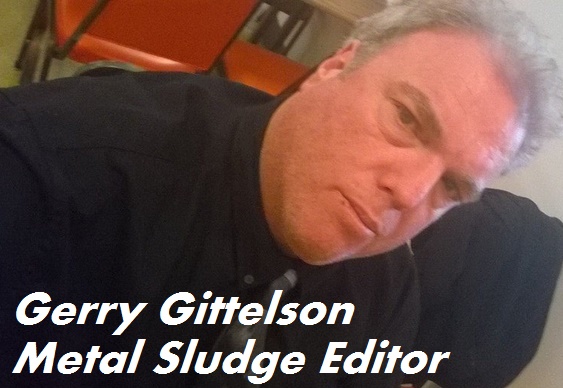 LOS ANGELES, California — The feud has cooled, but they haven't been in the same room together for more than three years since guitarist Tracii Guns quit L.A. Guns and slammed drummer Steve Riley in a very public divorce.
The good news is, they're both doing well. L.A. Guns has continued with originals Riley and singer Phil Lewis, and Tracii did a high-profile run with the Vegas casino show "Raiding The Rock Vault" in addition to performing with his own version of his former band.
In fact, both parties will be at the heavily-anticipated rock festival Rock N Skull near Chicago later this month — but on successive days. Guns is appearing with Lewis on Thursday, Oct. 27, then Lewis returns Friday, Oct. 28 with L.A. Guns, featuring Riley, guitarist Michael Grant and bassist Kenny Kweens.
You can buy tickets for Rock N' Skull right HERE.
As for Riley, the dark-haired, transplanted New Yorker who also played in Keel and W.A.S.P. loves to tell it like it is. Metal Sludge caught up with the hard-hitting drummer, and here is what went down.
————————————————————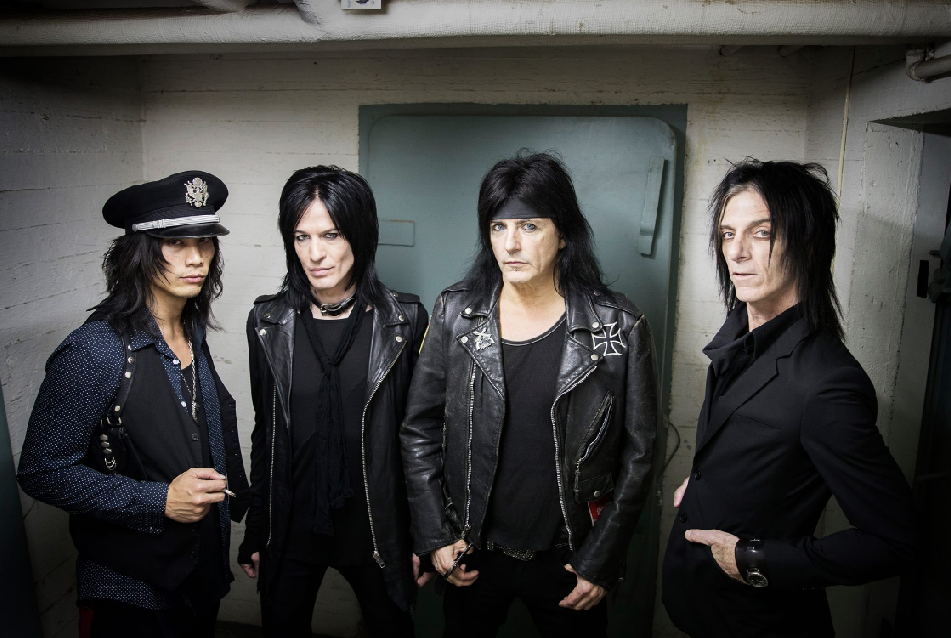 Michael Grant, Kenny Kweens, Phil Lewis & Steve Riley
METAL SLUDGE: The last time we talked in 2013, you had said that rock and roll goes in cycles. It looks like we're in an upswing, would you agree?
STEVE RILEY: I totally agree. I was just looking at what we've done this year, we've done close to 80, 85 shows. and it's great. Everybody is staying busy. Everybody's is doing multiple things. A bunch of people are doing specialty shows, bands are going out on tour, and everybody is staying busy.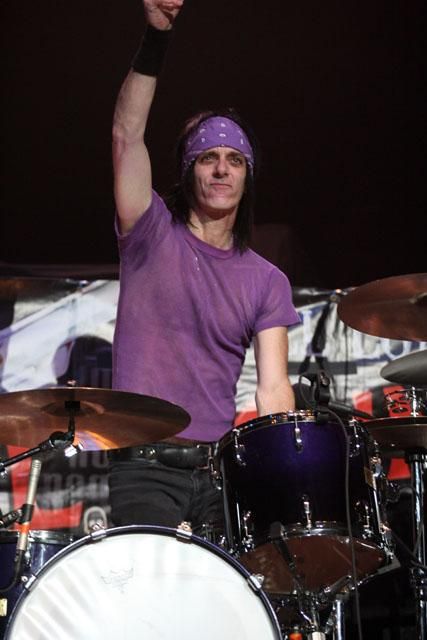 You're doing some dates with Enuff Z'Nuff. I think I am coming to Rock N Skull in Chicago, it should be pretty fun. Is Chicago a good rock and roll city?
RILEY: Yeah, bro, you know it's dynamite.
The first night on Thursday is like a specialty show with (singer) Phil Lewis and Tracii Guns. Phil and me, we're partners. We're out on tour all year. Some promoters want to see him with Tracii, and they've done some shows. I have no problem with that at all. I know some people wonder if i have a problem with that. I really don't because it's something that's happening all across the board. You can see Dokken doing it now, too, the four guys have gotten back together for some special shows, and then they're all going back to what they were doing before, so it's all good.  Everybody can stay busy. It's very hard to get cash flow going, so if there's an opportunity to do a special show and make some dough, I got no problem with it, bro.
So to be clear, it's Tracii Guns and Phil Lewis on the first night of Rock N Skull, then you and Phil and the regular L.A. Guns the next night, on Friday.
RILEY: That's what we doing all year, touring the world as L.A. Guns, with Phil and I, and everything's cool. We have a great band with Michael Grant and Kenny Kweens, and we've been going over great. We just came back from the Monsters of Rock cruise, and a couple of shows there were just dynamite. They went over great, and we've got so many more on the books, so like I'm saying, these specialty shows, nobody can really complain. If there is some money to be made, and it helps you out, then go for it. Do it.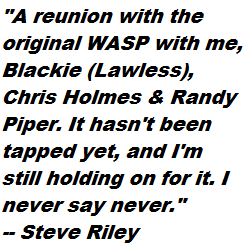 One question. The split-up was sort of especially contankerous between you and Tracii because he had went on Eddie Trunk's TV show and said some really bad things about you, and that show, that's about the biggest medium in our whole deal, in this business, you know what I mean?
RILEY: Right.
You sort of took the high road, but have you ever bumped into him. You could theoretically bump into him in the elevator in Chicago, you know what I mean?
RILEY: Well, you know Gerry, the deal is, that's just not my game. I never went that route to get into an internet war with somebody back and forth. I don't do that. I don't do that at all with anybody. I really don't get in beefs with people at all, but he's gotten in beefs with a lot of people, so I can't say I'm the only one. He has had his problems with a bunch of people. I have no hatred towards Tracii. He went and tried to do his own thing. Even these shows he's doing with Phil, they don't bother me at all. Like I said, this is going to be a trend, to break off from a tour and do some specialty shows. It's all good, as long as we're staying busy. We're plowing ahead. We've got a lot of stuff we're going to be doing.
Now, is there a sniff of something going on with WASP? Are you doing something with Randy Piper?
RILEY: I'm really excited about this. We're doing it at Vamp'd in Las Vegas with Sin City Sinners and Randy Piper. I'm still good friends with just about everyone I've ever played with. I'm good friends with Blackie (Lawless), Chris (Holmes) and Randy. So when this opportunity came up, I was like, yeah, let's do it. It could be a blast to play some WASP songs. That's one of the untapped things thst hasn't happened. There are very few of them from the 80s, a reunion with the original WASP with me, Blackie, Chris Holmes and Randy Piper. It hasn't been tapped yet, and I'm still holding on for it. I never say never. I hope it does happen. I think a lot of fans would love to see something like that.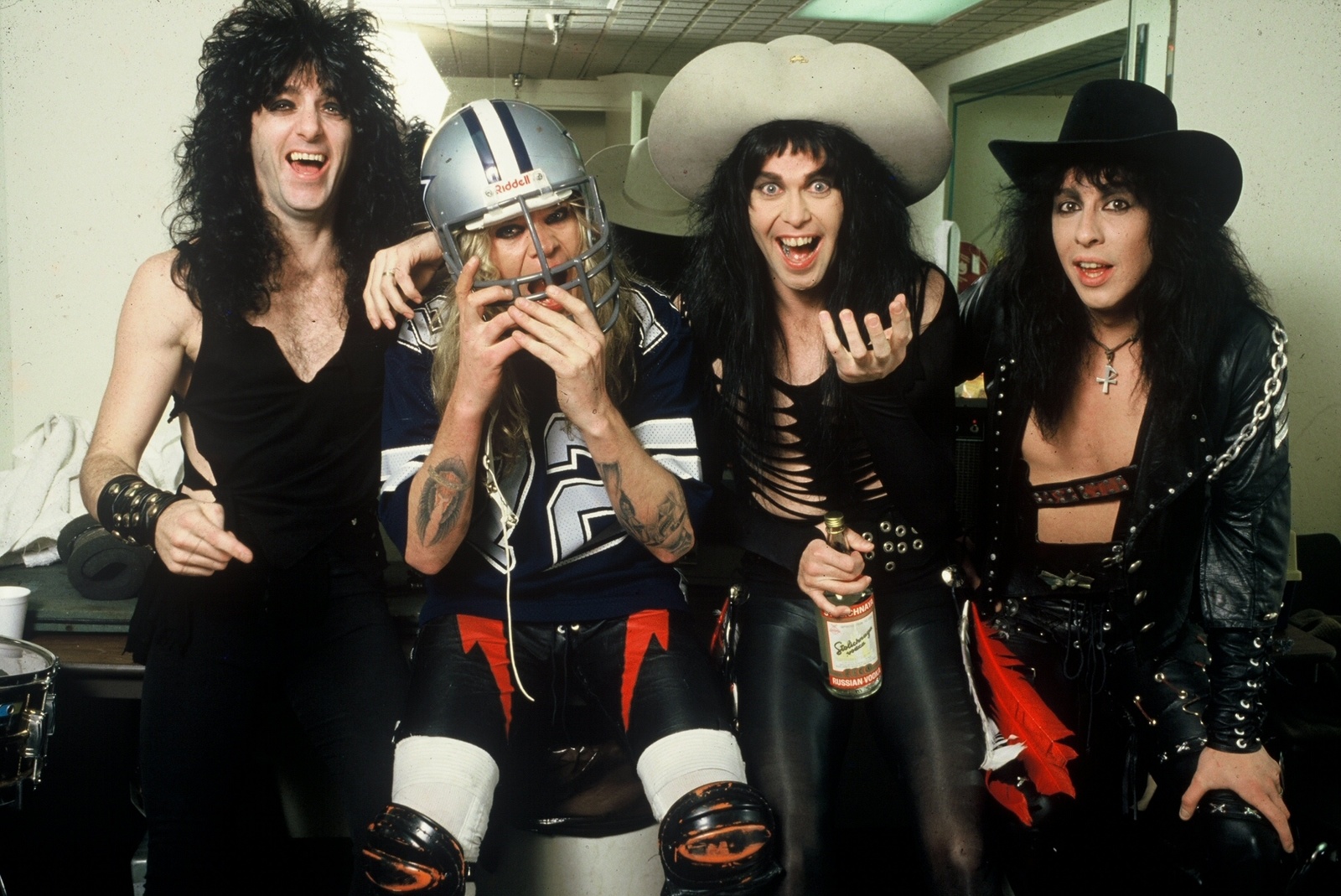 W.A.S.P. left to right, Steve Riley, Chris Holmes, Blackie Lawless & Randy Piper
Interesting, yeah.
RILEY: I just saw an interview with Axl, and he was asked what bands did he really dig when he was coming up, and the first band he said, the first thing out of his mouth, was WASP. It was kind of a shock but I didn't realize how many really big bands were influenced by early WASP, the first three albums. Honestly, if playing with Randy leads to all us of doing some shows together, I would really like that.
Were you friends with Axl Rose or even ever in the same room with him?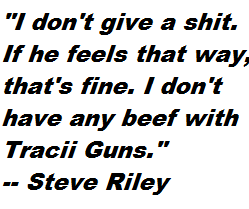 RILEY: You're gonna find this funny — I've never met him! That first wave of bands out of L.A. was Ratt, WASP and Dokken and all of those bands; we were so busy. We were on tour all the time when that next wave was happening with L.A. Guns and Guns N' Roses and Faster, we were on the road all the time, so we didn't know what the pulse of L.A. was going on. So I never met him. I know Duff really well, I know Adler really well and Slash and Izzy, but I never met Axl. I hear good things about him. I hear the bad things are all blown out of proportion. I hear he's a really good guy.
OK, let's name some old faces from the deep past, and you give us your opinion or a little memory, in true Sludge fashion, OK? We'll start with Gina Zamparelli.
RILEY: Who's that?
You know, Gina Zamparelli from Gina Zamparelli Presents. The promoter. She loves Randy Piper and WASP.
RILEY: Oh yeah, she's a warrior. She's from that old school.
RILEY: I love him. I really do, man. My time playing with him, I hung with him a lot. He's just a dear friend. It's always good to see him. I love him.
Nikki Sixx.
RILEY: You know what, he's a guy who I feel is a friend of mine. I didn't really hang out with him a lot. I didn't do the time with him that some others did. But I feel like generally we respect each other, and I respect the hell out of the guy for what he has done. I think he's a true pioneer.
Gene Simmons.
RILEY: Love him. Actually, when I first moved out here (to Los Angeles) in the 70s, I got to meet him at SIR studios when they were still … nobody saw what they looked like. So it was a big deal. I got to see him without the makeup. He was interested in producing a band that I was in with some of the Angel people. Then I got to know him really well in Keel because he produced it.
What about Mario Maglieri from The Rainbow?
RILEY: Who couldn't love him? I mean, all of those guys down there, they kind of adopted all of us and let us really run wild. This was before all of us had made it — just a bunch of rug rats at the Rainbow hanging out. It was people from WASP, Motley, Quiet Riot. All or us. They were kind of like really cool to us.
Oh, one more thing, going back. Have you bumped into Tracii Guns at all since 2013. Have you even been in the same room?
RILEY: I haven't, bud. I haven't even seen him at all. He has used me as some sort of a crutch to be pissed off at and (as) the reason why he is not with the band, and he doesn't want to have anything to do with me. And you know what? It's OK. I don't give a shit. If he feels that way, that's fine. I don't have any beef with Tracii Guns, man. Everything's cool with me because I'm doing all right.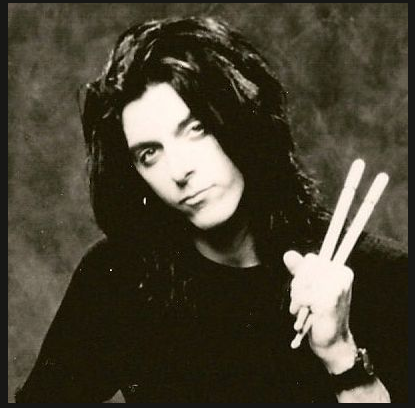 We talked together last time, like I said, in 2013. Since that time, there's been a lot of civil unrest, and now this presidential campaign is getting really nasty. I don't want want to get too political, but what do you think about the way people are treating each other?
RILEY: You know, it's funny. I watched the debate, and it's just funny that we're in this position now. I think the political correctness is kind of going away. I know that Trump offends some people for speaking right off the cuff, but that's how we talk, man. I know it might offend some people, but it's in a way kind of refreshing to hear somebody talk off the cuff and not trying to read off a prompter. He talks like we would talk, and that's just not cool in political circles. We'll see what happens, man.
Without taking sides for either party, do you think women do "locker room talk" too, sometimes? If you catch women at the right time, they can be as bawdy and nasty as guys, am I right?
RILEY: Without a doubt. And I've had women tell me that, too. You wouldn't believe how they talk to each other. They talk so raunchy to each other, and they clean it up, obviously, when they're around other people. But when they're together, they'll talk sexual innuendos probably more than guys do. That whole Trump tape, that's just a couple of guys, standing around, talking locker room talk and trying to be cool guys. I don't know. You can blow anything out right now.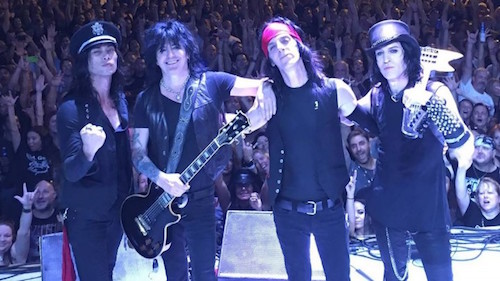 L.A Guns left to right are Michael Grant, Phil Lewis, Steve Riley & Kenny Kweens 
You know what's in my mind? Going all the way back to Michael Phelps, when he was a gold-medal winner, and someone turned him in and sent in a picture of him smoking a bong. That's just a chicken-shit thing to do. Nobody ever talks about that side of it. Then, last week, to hold on for 11 years to a secret tape of Donald Trump, then unload it just before a presidential election, that's just a chicken-shit thing to do.
RILEY: Yeah well, that's the old power thing that wants to get Clinton in there at any cost. It's going to get nasty because if Trump pulls even with her, they're going to pull out every dagger and try to go after him. And that's what's happening right now. They're going to try to pull out anything to try to stop him.
He still has Monica Lewinsky in his back pocket. He hasn't brought that name up yet.
RILEY: (laughs) There's a lot of grease to be thrown, man.
L.A. Guns @ WebSite – Facebook – Twitter – iTunes – Spotify  – Vevo
Gerry Gittelson can be reached at gerryg123@hotmail.com