KANGAROOS N' ROSES
Guns N' Roses tease more dates, including shows down under
Ghost Cult — The return of the reunited legends Guns N Roses and their "Not In This Lifetime Tour" was the defining rock event of 2016. Now the band is setting their sights on 2017 with this teaser video which you can see below:
The band has already booked shows for early 2017 in Australia. Tickets are on sale today and can be purchased via this link at this link here.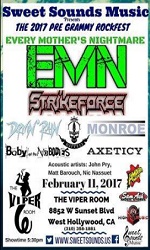 Guns N' Roses Australian Dates For Not In This Lifetime Tour 2017
Feb 07: Qsac Stadium Brisbane, AU
Feb 10: Anz Stadium Sydney, AU
Feb 14:The Mcg Melbourne, AU
Feb 18: Adelaide Oval Adelaide, AU
Feb 21: Domain Stadium Perth, AU
The above found on Ghost Cult Mag