KETTLE BLACK
Tommy Lee calls sons and ex-wife Pamela Anderson "A??holes" on Father's Day instagram
Daily Mail UK —  Tommy Lee and his eldest son Brandon have engaged in another public spat – this time on Instagram.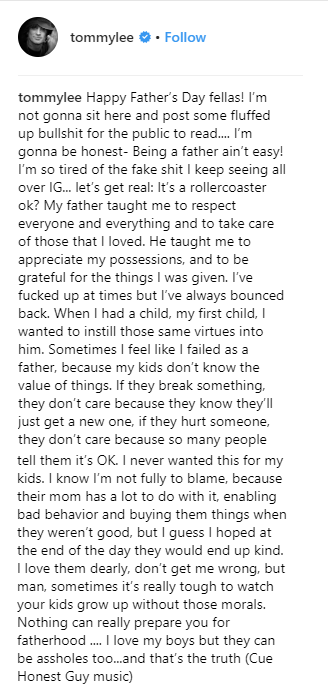 The Motley Crue drummer, 55, posted two throwback photos in honor of Father's Day with an extensive caption in which he praised his own father before calling his two sons and wife Pamela Anderson 'a**holes'.
Brandon hit back with a video of his father passed out in his underwear that is believed to have been taken directly after the 22-year-old sucker punched Tommy on March 5.
In the caption he wrote: 'Remember what happened last time you said this s***?' 
Tommy posted the two photos, one of himself with his own father and one with a young Brandon, on Sunday morning along with a lengthy caption about fatherhood.
He begins by thanking his own father and then digs into his complicated relationship with his boys, Brandon and Dylan, 20.
A large portion of the caption is targeted at the boys' mother, Baywatch star Pamela, who was married to the rocker from 1995 to 1998.
'Happy Father's Day fellas! I'm not gonna sit here and post some fluffed up bullshit for the public to read…. I'm gonna be honest- Being a father ain't easy!' Tommy wrote.
'I'm so tired of the fake shit I keep seeing all over IG… let's get real: It's a rollercoaster ok? My father taught me to respect everyone and everything and to take care of those that I loved. He taught me to appreciate my possessions, and to be grateful for the things I was given. I've fucked up at times but I've always bounced back.
'When I had a child, my first child, I wanted to instill those same virtues into him. Sometimes I feel like I failed as a father, because my kids don't know the value of things. If they break something, they don't care because they know they'll just get a new one, if they hurt someone, they don't care because so many people tell them it's OK.'I never wanted this for my kids. I know I'm not fully to blame, because their mom has a lot to do with it, enabling bad behavior and buying them things when they weren't good, but I guess I hoped at the end of the day they would end up kind.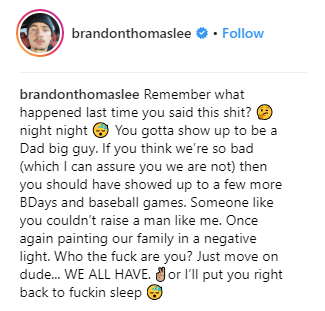 'I love them dearly, don't get me wrong, but man, sometimes it's really tough to watch your kids grow up without those morals. Nothing can really prepare you for fatherhood …. I love my boys but they can be assholes too…and that's the truth (Cue Honest Guy music).'
Brandon took a screenshot of his father's harsh words and posted them to his own Instagram account.
In the caption he wrote: 'Remember what happened last time you said this sh*t?  night night.
'You gotta show up to be a Dad big guy. If you think we're so bad (which I can assure you we are not) then you should have showed up to a few more BDays and baseball games. Someone like you couldn't raise a man like me.
Once again painting our family in a negative light. Who the fuck are you? Just move on dude… WE ALL HAVE. or I'll put you right back to fuckin sleep.'
He then uploaded the video of Tommy unconscious on the floor of his home in Calabasas, California, with the caption: 'Look a little sleepy there Tommy.'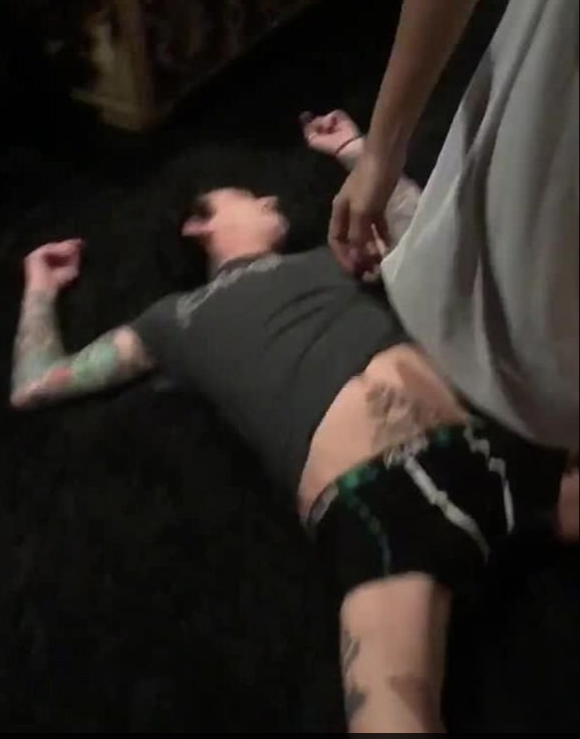 Brandon, 22, responded by posting a video his father passed out in his underwear, believed to have been taken after he sucker-punched Lee in a highly-publicized altercation back in March. In the caption he wrote: 'Remember what happened last time you said this s***?'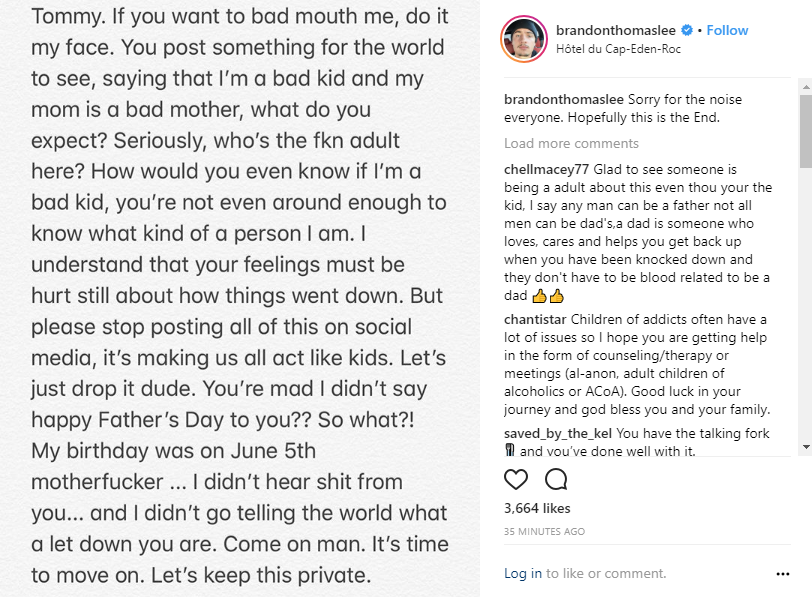 Read the full story at Daily Mail UK