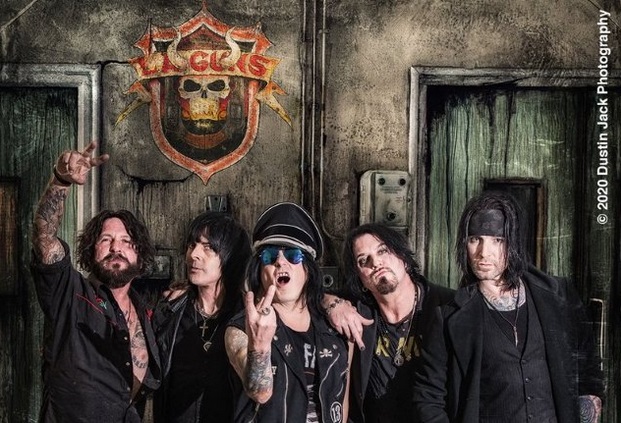 Blabbermouth — L.A. GUNS, featuring singer Phil Lewis and guitarist Tracii Guns, has set "Checkered Past" as the title of its new studio album, due in November via Frontiers Music Srl. This will be the third studio album since the much welcome reunion of the band's core foundation of Lewis and Guns. It will follow the well-received studio albums "The Missing Peace" and "The Devil You Know", plus the live release "Made In Milan", and a covers EP "Another Xmas In Hell".
Guns revealed the title of the new L.A. GUNS LP during an appearance on "The Jasta Show", hosted by HATEBREED frontman Jamey Jasta. Speaking about the band's plans for the coming months, the guitarist said: "There's a live L.A. GUNS record coming out in July. All 'Cocked & Loaded'; It's all [the songs from] 'Cocked & Loaded' live. And then a studio record comes out in November — a new L.A. GUNS studio record. And that's called 'Checkered Past'."
L.A. GUNS performed its second album, 1989's "Cocked & Loaded", in its entirety on November 28, 2020 at the Fremont Country Club in Las Vegas, Nevada. The event was live-streamed via Veeps.
In May 2020, L.A. GUNS released a new single, "Let You Down". The song was written and recorded while the band was in the midst of working on its next studio album.

L.A. GUNS is:
Phil Lewis – vocals
Tracii Guns – guitars
Ace Von Johnson – guitars
Johnny Martin – bass
Scot Coogan – drums

Read the full Article at Blabbermouth