L.A. FOOLS
Phil Lewis blasts Steve Riley for second version of L.A. Guns: "He will make a fool of himself…"
Metal Sludge  — Never at a loss for words, L.A. Guns frontman Phil Lewis has recently spoke out about Steve Riley.
Lewis was asked about his former drummer's up-coming  performance at the M3 Music Festival.
Riley is slated to appear with his version of L.A. Guns at the annual spring event.
In a recent interview with My Global Mind, Lewis unloaded.
See excerpts from the interview below.
————————
Robert Cavuoto: Some of the songs have an old school LA Guns vibe, did you revisit any old demos?
Phil Lewis: Oh no, Tracii carried on in the same form he always has. On the song "Gone Honey" it's a Blue Oyster Cult riff [laughing]. We don't mind borrowing and embellishing; that's what you're supposed to do. It doesn't sound like a Cult song; it's just a nod to "Don't Fear the Reaper." It's like when we put Deep Purple lyrics in "Speed." We are not trying to piss anyone off. People get upset and say, "How dare use Deep Purple lyrics in his songs!" [Laughing] People were outraged, but I think it was neat. Tracii must have had the classic radio station on that day when he sat down to write the song [laughing].
Robert Cavuoto: Are you taken back by all the success and positive press that you are getting for the last two CDs and band's performance?
Phil Lewis: We've encountered a lot of barriers from other bands and people in our genera. It's a little bit of jealousy I think. We've come back to do something new and not rely on songs from the last century. We are not prepared to do certain things the old line-up would have done; which is ruffling a few feathers. In terms of praise and adulation, it's fantastic. It's given us strength and power. We don't want to be just another band in a hair metal song.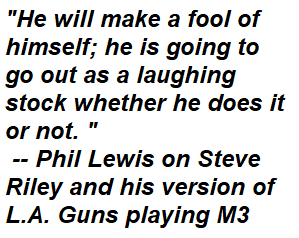 Robert Cavuoto: What do you say to the people who thought you and Tracii wouldn't make it through the tour of the last CD?
Phil Lewis: As I mentioned there is a lot of jealousy. We sense it. It's fine, and we are trying to do something different. We don't want to be part of a scene. We love doing festivals and shows with other bands but honestly, it reduces our set to 45 minutes, and we can't do much. That is why we do our own shows and play longer sets. We are trying to do two-night residences at each venue and have that be our thing to break away from the pack.
Robert Cavuoto: I have to ask; Steve Riley has his own version of LA Guns performing at the M3 Festival this May, does he have ownership of the name and allowed to perform under it?
Phil Lewis: It's ridiculous! We were asked to do M3, and we couldn't do it, we were playing somewhere that would have made it impossible for us to get to M3, so we declined. Strangely they offered us more money. It wasn't about the money it was about logistically getting there. They got fucking bent out of shape about it. Knowing that Riley has legal ownership of the name; they wound him up. He hasn't played since I started the reunion with Tracii. They persuaded him to do the show. It's a terrible thing as he doesn't have a band. He agreed to do it before he had a band. That date is getting close, and I'm curious to see what happens. I don't think too bad of Riley; we were in the trenches together doing a 1000 shows and traveling millions of miles on the road. It's a tremendous mistake, and we will never play M3 again. He will make a fool of himself; he is going to go out as a laughing stock whether he does it or not. I think it is bullshit that the M3 people got so pissy about it and created this situation. It totally created by those people.
To read the full interview and story please visit My Global Mind.