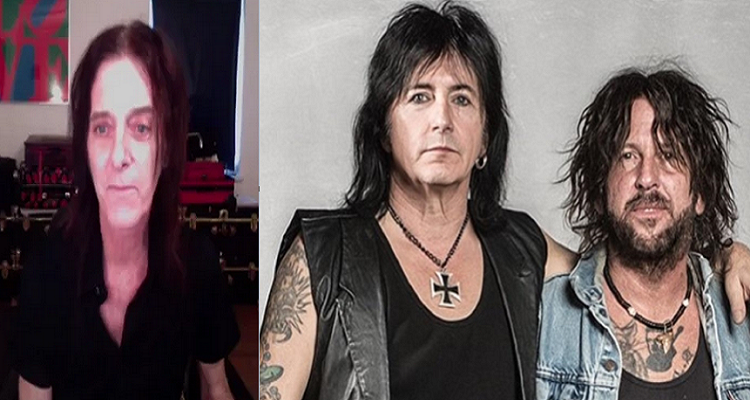 Blabbermouth —Steve Riley's version of L.A. GUNS released its debut album, "Renegades", on November 13 via Golden Robot Records.
Riley's version of L.A. GUNS is not to be confused with the band led by guitarist Tracii Guns and vocalist Phil Lewis, which issued two well-received albums, "The Missing Peace" and "The Devil You Know", plus the live release "Made In Milan", under the L.A. GUNS name over the last three years.
Riley is joined in his version of the group by Orlando, Florida-based guitarist/vocalist Kurt Frohlich, bassist Kelly Nickels (a member of L.A. GUNS' "classic" incarnation) and guitarist Scott Griffin (who played bass for the band from 2007 until 2009, and then again from 2011 to 2014).
Asked in a recent interview with the "Aftershocks" podcast if he is concerned, from a business point of view, about there being two separate versions of L.A. GUNS, Riley said (see video below): "I'm somewhat concerned, because the classic lineup is the one that's best known, and the classic lineup is the one that was on the albums that sold the most and we had the hits from those albums.
"I think if I was by myself, I'd be more concerned. Having Kelly with me, I'm not really that concerned.
"The thing is there are really so many bands that weren't able to stay together, and they split up or they got new lead singers — whether it's SKID ROW, whether it's QUEENSRŸCHE, GREAT WHITE; there's a lot of bands that had to move on.
"If we weren't songwriters on those original albums, I might have been a little bit more concerned that I'm just going out as the drummer who played on those albums, or Kelly is the bass player who played on those albums. Now, we co-wrote all those songs — every one of them. And so that gives you a little bit more strength knowing that.
"The way the history of the band will go down, it'll [be] known as the classic five — with Mick [Cripps, guitar], Kelly, Steve, Phil and Tracii. The things that go on after that, we've gotta just not worry about it and let the fans let us know if they like it or not."


Read the Full Article at Blabbermouth