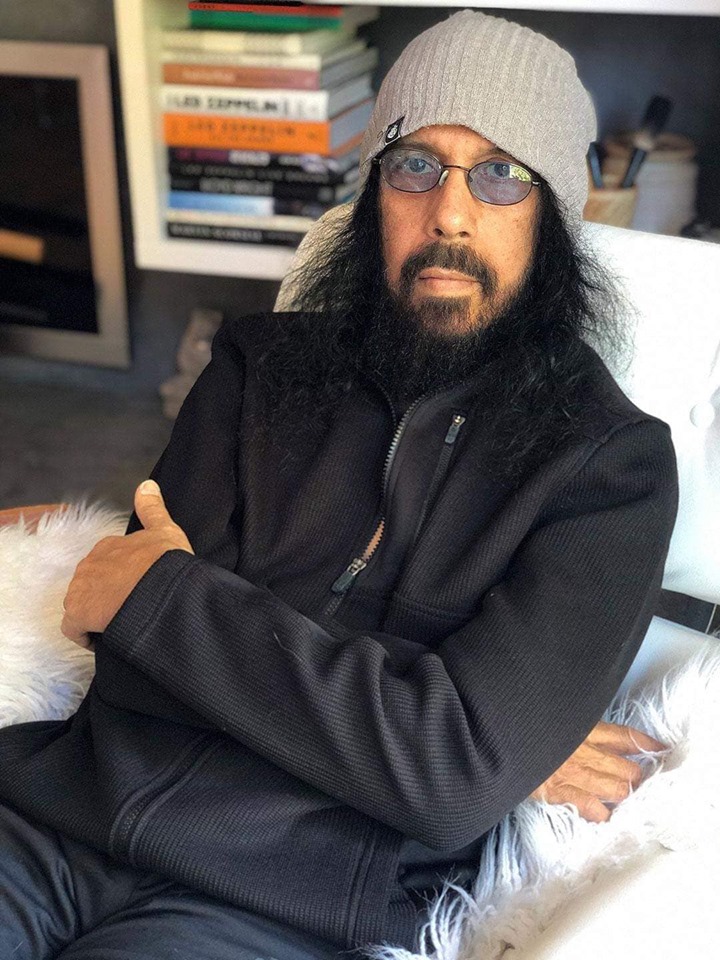 "I FEEL GOOD"
METAL SLUDGE EXCLUSIVE: Frankie Banali talks about Cancer, Kevin DuBrow, Jizzy Pearl & Taime Downe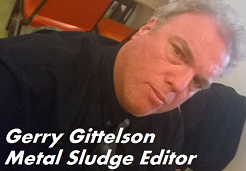 — With a new album set for this month plus constant new tour dates, pop-metal pioneers Quiet Riot and longtime drummer Frankie Banali simply can not be stopped.
And that includes cancer.
Banali, 68, just recently revealed he is suffering from stage four pancreatic cancer, yet the hard-hitting drummer keeps going like the Energizer bunny on speed.
Not that there aren't changes. Singer James Durbin bolted and has been replaced by the well-seasoned Jizzy Pearl, who has rejoined after a three-year stint beginning in 2013.
Metal Sludge tracked down Banali a few nights after a successful homecomingl show last month at The Whisky. Without further ado, here we go.
———————————————-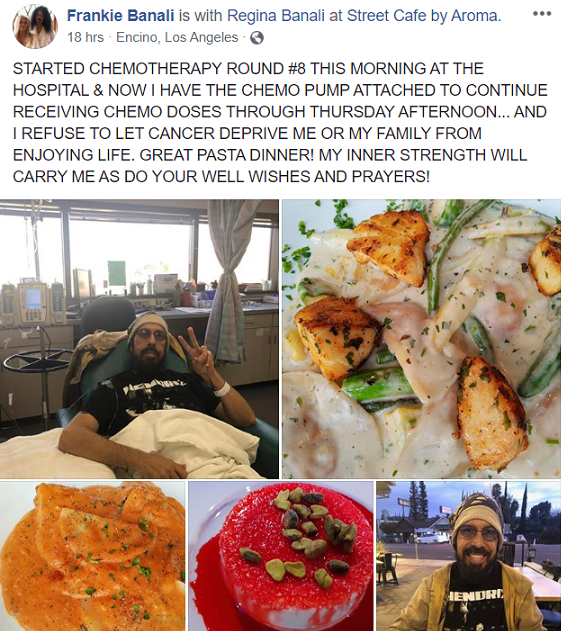 Frankie Banali courtesy of Facebook posted Nov. 19th 2019
METAL SLUDGE: First off, of course, how are you feeling? The cancer news has come as quite a shock.
FRANKIE BANALI: All things considered, I feel good. Pancreatic cancer is sneakier than a New York Mafia hit — you never see it coming.
MS: What is the very latest with Quiet Riot?
FB: We are finishing out the 2019 touring year with just two more shows left which I'm playing, and gearing up for the 2020 touring year which we already have dates for 2020 on the books and I'm playing them.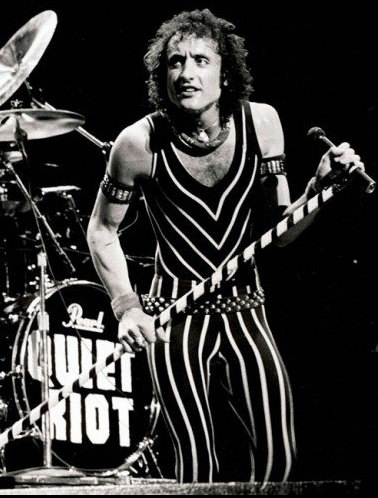 MS: How nice is it to have Jizzy Pearl back?
FB: It's great to have Jizzy back. I've always liked Jizzy, respect him and he's a great rock singer and performer. The best we've had and a great QUIET RIOT fit since the late great Kevin DuBrow.
The late great Kevin DuBrow 
MS: We all know both will always be regarded as great singers, but please compare Jizzy Pearl and DuBrow in other ways:
1, Who has better table matters?
FB: Jizzy hands down. Kevin would inhale his food while chit chatting all along…..
2, Who smells batter?
FB: Before or after the show?
3, Who is better with chicks?
FB: Kevin. Jizzy is married and he's a good hubby.
4, Who is funnier?
FB: Kevin hands down, a born Kosher ham. Jizzy is quiet off stage and keeps to himself.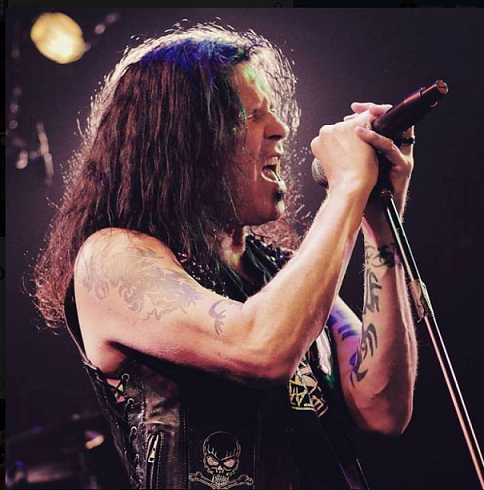 MS: A long time ago, Quiet Riot played The Forum in L.A. with ZZ Top. What are some of your memories from that night?
FB: For me it was a wonderful experience to play the LA Forum where my favorite band Led Zeppelin played. And I really admired the pretty ZZ Top beards. So well groomed!
Jizzy Pearl, back as the lead singer of Quiet Riot
MS: Speaking of Quiet Riot memories, in 1983 you were the biggest new band in the world. At that time, fill in blanks:
1, What kind of car did you drive?
FB: 1965 Corvette Convertible with additional hard top. Black exterior, tan leather interior, every option available and all the numbers matched which I purchased from the original owner.
2, Where did you hang when not on road?
FB: The Rainbow
3, What did you do for fun?
FB: The Rainbow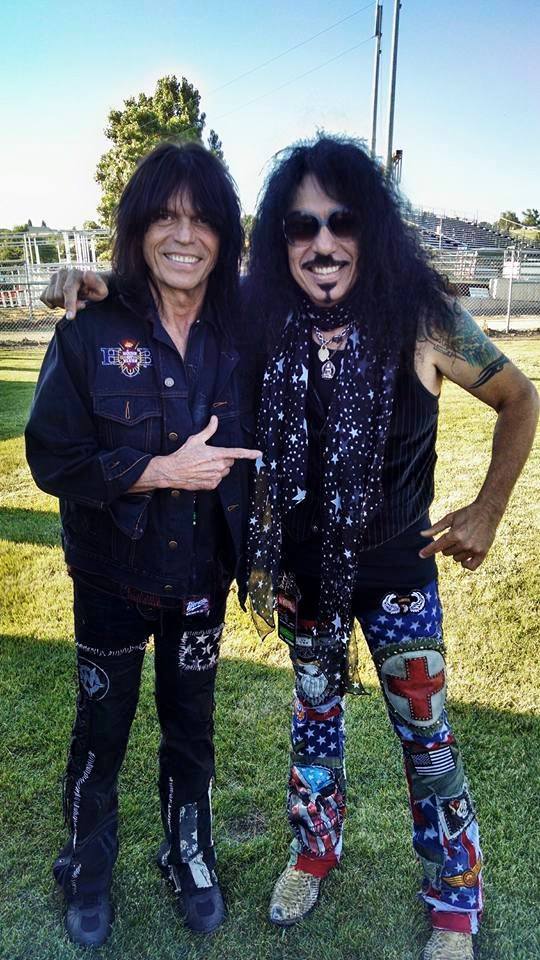 MS: If you had to guess with a round figure, how much money has Slade totaled from Quiet Riot's existence?
FB: A Gazillion US dollars…….
Old friends Rudy Sarzo and Frankie Banali
MS: You returned home to play The Whisky just recently. How was it?
FB: Fantastic! It was great to be back onstage with the Boyz Who Make The Noize and the amount of love and well wishes for me personally from both the band and the fans and friends was tremendous! Very grateful to them and that evening.
MS: What the heck happened in Mexico with Ratt bailing on Guns N' Roses instead of performing? You were there.
FB: Rumor has it they were offended because their dressing room rider had Brie and Queso Mexicano instead of Cheddar….. Or so I'm told…..
MS: Mixed reviews. Are you OK with that?
 FB: Yeah, as with everything in life, no one is on the same page and you can't please everyone.
MS: You subbed in on drums for Faster Pussycat a long time ago when they basically had no radio support and light retail sales combined with wild behavior. Did you ever think Taime and his band would still be successfully touring in 2019 and beyond? What is the spark that you saw?
FB: Taime is a survivor, so I'm not surprised. I'm looking forward to his new book "Advice For Cockroaches On How To Survive A Nuclear Attack…."
MS: You have played with amazing guitar players including Randy Rhoads and Carlos Cavazo. How does Alex Grossi measure up?
FB: Randy Rhoads was unique, one of a kind and one of the greatest guitarists of our generation. Loved and missed. Carlos Cavazo was a good fit for QUIET RIOT then. Alex Grossi is a good fit for QUIET RIOT now.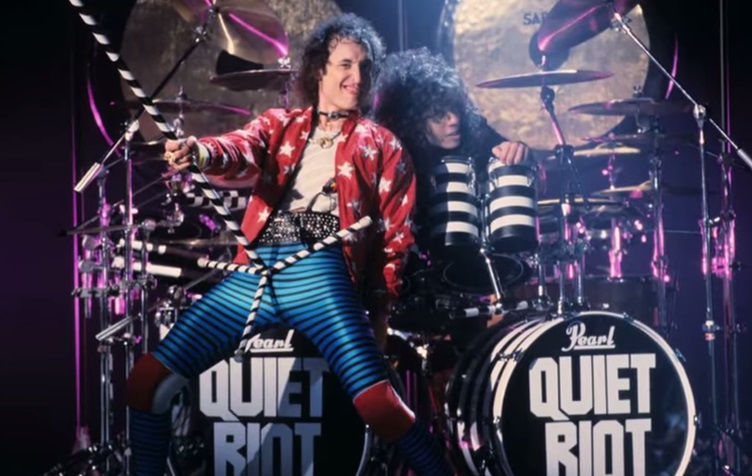 Kevin Dubrow and Frankie Banali back in the heyday with Quiet Riot
MS: You are known for hitting your drums exceptionally hard similar to Tommy Lee, Alex Van Halen and Steve Riley. Can you compare your style versus theirs?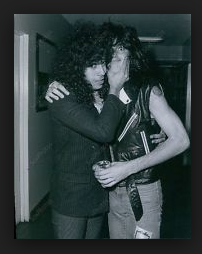 FB: They play how they play, I play how I play……
MS: At what point in your life, if ever, have you become more Quiet than Riot?
FB: Not really. A shame The Rainbow is now more Quiet than Riot…..
MS: What do you watch on Netflix?
FB: Whatever my wife is watching.
Frankie Banali with some young buck named Tommy Lee
MS: Can you give advice to someone trying out social media for the first time?
FB: What's social media?
MS: Finally, anything to add?
FB: Love me sum Sludge!
Frankie Banali @ Facebook – Twitter – Instagram – Quiet Riot Movie – 
Quiet Riot @ WebSite – Facebook – Twitter – Instagram – iTunes – Spotify – WikiPedia – 
Gerry Gittelson can be reached at gerryg123@hotmail.com