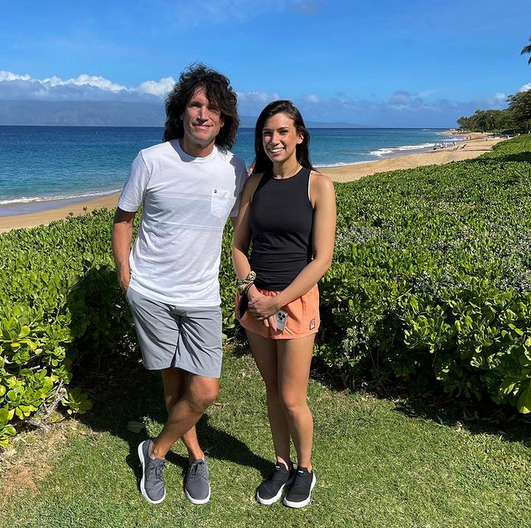 Blabbermouth — KISS guitarist Tommy Thayer was a guest on a recent episode of the "Hangin' & Bangin': Artists On Lockdown" online show, where he was joined by Vinny Appice (BLACK SABBATH, DIO), Carmine Appice (OZZY OSBOURNE, VANILLA FUDGE) and Doug Aldrich (DIO, WHITESNAKE, THE DEAD DAISIES). You can now watch the discussion below.
Asked about his recent revelation that he had discovered that he had fathered a child, Tommy said (as transcribed by BLABBERMOUTH.NET): "I found out I have a daughter last summer. I was married for many years and never had any kids, so I kind of thought that window of opportunity had passed me by. But through [DNA-testing company] 23andMe, actually, a second cousin of mine was in contact with Sierra. And she's 31 years old. So this all took place in '89, '89.
"It's the most incredible thing," the 60-year-old rocker continued. "It's just a blessing. And she's just a beautiful girl — very genuine and just so sweet. It's just an unbelievable happening in my life. It's the biggest thing that's happened to me in a long time, that's for sure."
Asked at what point Sierra found out that he was her dad, Tommy said: "Not until we figured this out. I think she was more blown away than I was. 'Your dad's Tommy blah blah blah.' So, it's really a great story."
When Tommy first announced he had a daughter last month, he wrote on social media about Sierra: "We've already spent a lot of time since getting to know each other and creating a close bond. She's a beautiful, sincere person and I couldn't be happier. I think she feels the same about me."
He added: "The most wonderful thing about miracles is that they sometimes happen."
Thayer, who married Amber Peek in 2006, was not previously known to have fathered any children. The couple has since split but reportedly remains on good terms.

Read the Full interview at Blabbermouth