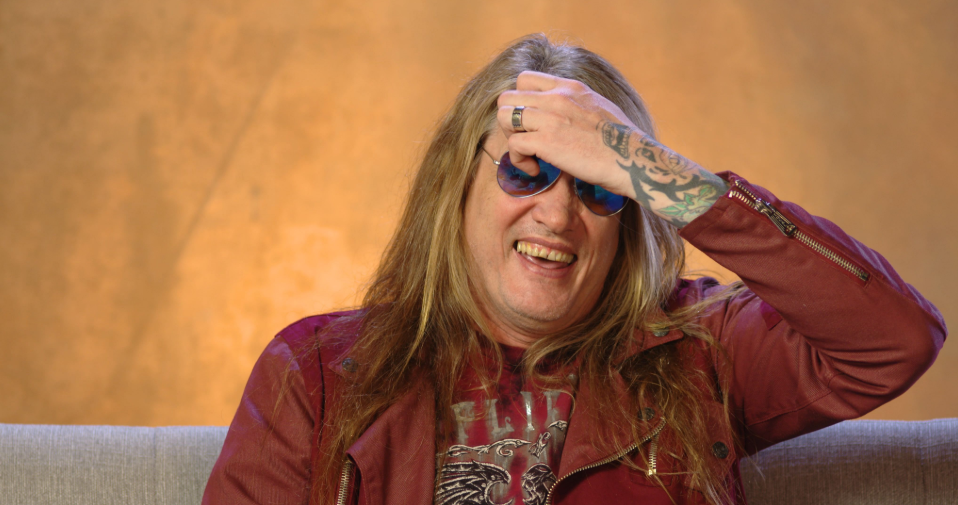 Metal Sludge — Sebastian Bach is finding it harder and harder to deal with the current state of our world.

Bach has been vocal on social media about Covid 19 for many months but now it's reaching a new level.

The singer best known for his time fronting the band Skid Row has also been very outspoken about President Trump as well.

Bach, 52, has continued with his endless tirades and rants, which are usually coming from his official Twitter account.

If he's not yelling at Trump, he's arguing with a list of others.

Who are the others?

People like famous wrestling star Chris Jericho about lip-syncing, Twisted Sister frontman Dee Snider about the term 'hair metal', there were the Nikki Sixx arguments in the past and the endless fighting with his former bandmates in Skid Row.

If it's not any of the above, he's spending most days (late nights / early mornings) yelling at random fans who do not see eye-to-eye with him.

Bach recently spoke with Justin Kirkland of Esquire.

Bach talks (yells and screams) about everything you would expect, including being drunk on red wine and sitting on his wife's dildo.

No, that was not a typo.

A few excerpts from the interview are noted below.

——————————————————————-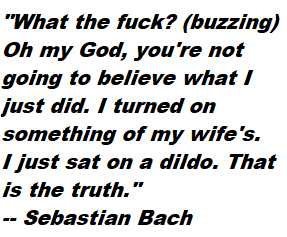 ESQ: Sebastian, how are you doing, man?
Sebastian Bach: Never worse, you know. Music doesn't exist anymore, let alone rock and roll. No music exists, so for Sebastian Bach, that's not very much fun. Though I have tried as hard as I can not to lose my fucking mind.
ESQ: I get it. It seems like these days, you get a little bit of footing and something else awful happens in the world.
SB: There's no end in sight, and I know it's cliché… but I don't know what day or time it is. I can't even make a Zoom call happen. I check and I'm like what's on my schedule today? Hm, I have nothing to do with the rest of my life. That's my fucking schedule, unless something changes. So then I go, Holy shit, I'm in a bad fucking mood, so I put my phone down and press do not disturb, and I'll go out in my garden, which is the most soothing place to me in all of this madness. I am fortunate enough that I can walk around in nature, and I do not take that for granted.

SB: People comment on my page, "Hey motherfucker. Don't even fucking try it when I'm in a fucking one bedroom apartment, and then you have a pool and shit. Shut the fuck up," and I'm like, "You are right. You are 100 percent right." But I am not built to not sing. I have to say, the seed was planted when I was eight years old. It's like my fucking brain, after all this time, is turning into mush. I don't know if people can relate to that. There's no end in sight. Actually! There is! November 3. On November 3, we can vote the reality show experiment out. We can fucking end it.
ESQ: You might be the only case of getting drunk and getting on Twitter, and that working to your advantage.
SB: It 100 percent did! When the wine gets flowing, I'm like a caged animal. So are you! Like, get me the fuck out of my house!
One of the hardest things to do is come out of a successful band and be a successful solo artist. It's one of the hardest tricks to pull off in music, and I got kicked out of Skid Row in 1996. I had no choice—who the fuck is gonna come see me play? So I've toured and toured and toured and toured and toured, and finally, this tour that was supposed to happen now was my first tour of all theaters, no clubs. Every show, I had finally fucking gotten out of one level and venues where they have bathrooms and dressing rooms. And then it all gets canceled! And yeah, I could postpone, but until there's a vaccine? What the fuck? We can't do this. So we're all trapped in our house, and all we can do is vote for science. Vote for school. Vote for rock and roll.
ESQ: This is too much. I can't—
SB: Hold on. What the fuck? (buzzing) Oh my God, you're not going to believe what I just did. I turned on something of my wife's. I just sat on a dildo. That is the truth. I was like what is that noise?


To read the full interview, please visit Esquire