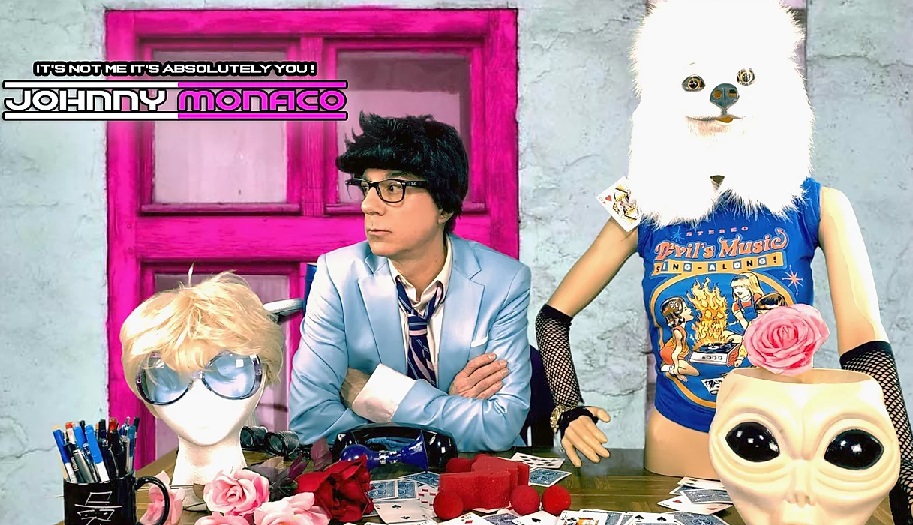 Bartlett, ILLINOIS — It's evident the Quarantine is starting to take over people's minds.

Johnny Monaco has dropped a new episode of his "It's Not Me, It's Absolutely You!" Podcast and it's F'ing great.

Monaco is and has always been for the most part – an undiscovered creative genius.

With a ultra quick wit to match his musical skills.

Making note of what band(s) Monaco was in, is silly.

Truth is – Johnny Monaco is worthy of his name by itself.

But since he references a few in his latest episode of "It's Not Me, It's Absolutely You!" Podcast, we will drop some names here.

Enuff Z'Nuff, L.A. Guns, Enuff Z'Nuff again, Ratt (okay, it was only an audition) Donnie Vie solo band (kind of) and The Socialites (who?) among others.

Monaco verbally graffitti's his recent experiences with colorful friendly insults that are as vibrant as his graphics are.

The latest Paper Tiger (#12) is like the previous 11 episodes, a gem.

The L.A. Guns parts which are strewn throughout the 35 minute pod will leave you laughing outloud.

But fair warning, do not be drinking while listening.

Especially if positioned directly in front of your computer.

A few lines are almost at milk out of your nose level funny.

You know, like that Saturday Night Live sketch?

If you don't get that, please google it.

Anyway…

If you don't know Johnny Monaco and have never met him, you have missed out.

Standing in his presence for 10 minutes is always a pleasure but at some point it can be painful too.

Imagine if Elvis Costello and Andy Dick had a child.

Talented, fun, interesting and creepy all in one.

This podcast is an audio orgy with animals and a female robot voice too.

There is chatter about him working with Donnie Vie the self-proclaimed King Of Power Pop, his audition for Ratt and another with Alcatrazz.

Monaco talks in a mixture of monotone, meets those legal disclaimer end of a commercial speed talking bits.

Or liike that guy from the FedEx youtube clip. (see below)

There is so much to cover, it's almost useless to try.

The cliff notes are something like the following…

* Monaco played in a band called Titanic for a few months.
* Okay, so it wasn't called Titantic, but it's a fitting name.
* L.A. Guns called Monaco and asked him to join the band.
* Monaco joined L.A. Guns, and says they were nice guys.
* Monaco also ironed L.A. Guns' manager's clothes while on tour.
* Tracii Guns gave Monaco an amp, Johnny gave it back.
* L.A. Guns charged him $65.00 for a Jacket Patch, that he never received.
* Monaco auditioned for Ratt in Juan Croucier's house.
* They (Ratt) said he did great #duh, but never called him again.
* Johnny sold his motorcycle for no apparent reason.
* Monaco recorded a few songs with Donnie Vie, who says he's sober.
* Johnny played a "train wreck of a show" with Donnie, at club Space.
* Alcatrazz auditioned him in his bedroom, he says he was flawless.
* Monaco started his own band called The Socialites.
* The Socialites have a female (mannequin) bass player.
* Monaco met Sean Lennon, his Dad was some guy named John.
* Someone on the Metal Sludge Gossip Board questioned his Sexuality.
* Then Johnny begins to detail Coronavirus…and the Quarantine.

At this point…it's ummm, hard to detail much beyond a #wtf?

The Air-Raid Siren starts and Monaco sounds like he's on Quaaludes.

Or maybe he just sounds slow because the first half was speed talking?

Either way…

Imagine it being like an audible walk through Willy Wonka Land with all (49) of the L.A. Guns (ex) band members there instead of the Oompa-Loompas.

And Donnie Vie is like Charlie, with that extra lasting pop-stopper thingy.

Perhaps, Chip Z'Nuff could play Charlie's Grandpa.

No, Chip doesn't even get mentioned, but maybe on an extended version?

Moving along now…

It's really hard to detail the Howler Monkeys in the back ground when Monaco talks Millennials, or the Air-Raid Siren (still) going off (non-stop) during the Quarantine stand-up comedy part.

It has everything from Toilet Paper, to Hand Sanitizer and Tiger King.

The highlights are many, but not sure any top Monaco doing his best Phil Lewis English accent impersonations.

These are golden, and not because Phil is as old as The Golden Girls.

Lewis is a very likeable guy, and according to the girls, lickable too.

But this isn't about Phil or Tracii Geetar.

Monaco is a super fun listen…but at times you almost miss stuff.

Like the Crowe crowing behind the L.A. Guns manager story.

More gold…

Seriously, if you think the description is crazy, go and click play below.

Paper Tiger #12 is 35 minutes, and we urge you to listen to it – at least twice.

Or perhaps 3 times, it's like a Sgt. Pepper's track.

Lots of stuff going on here.

Enjoy…


It's Not Me, It's Absolutely You! @ Speaker – iTunes – YouTube

Johnny Monaco @ WebSite – Faeebook – Twitter – Instagram – iTunes – Spotify –

Listen to "Episode #12 – Paper Tiger" on Spreaker.