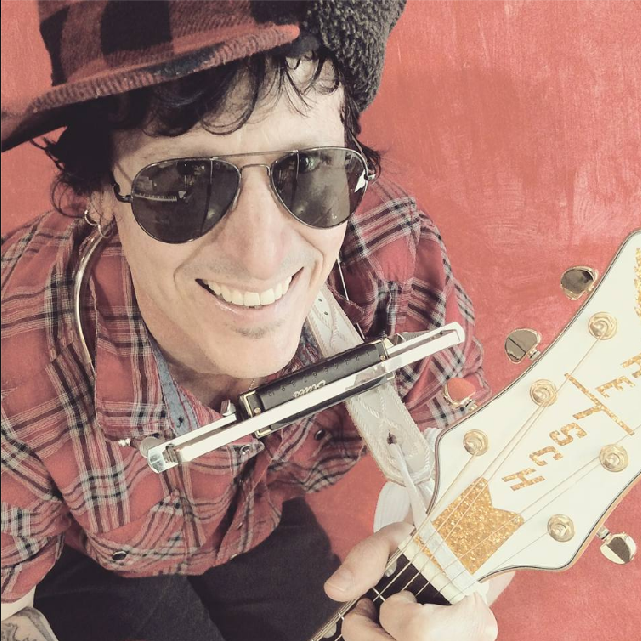 PURPLE LIVES ON
Former The Zeros guitarist Joe Normal goes A to Z with Metal Sludge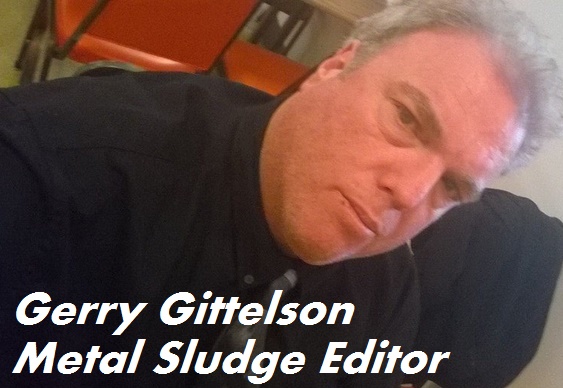 LOS ANGELES, California — Purple power will live on forever in California, particularly on the Sunset Strip — former playground for zany glam band the Zeros, who for a brief run in the late-80s were kings of the sand box.
Yes, the band made a great CD and toured America back and forth a few times, but alas the Zeros never quite made it. 
Howard Stern loved 'em, but just ask Enuff Z'Nuff how much juice you can squeeze out of an endorsement from the king of all media.
Here we are in 2016, and guitarist Joe Normal is still plugging away, not just with his new brand of music — he is branching out.
It's all here in Metal Sludge's latest installment of A to Z.
———————————————————————————–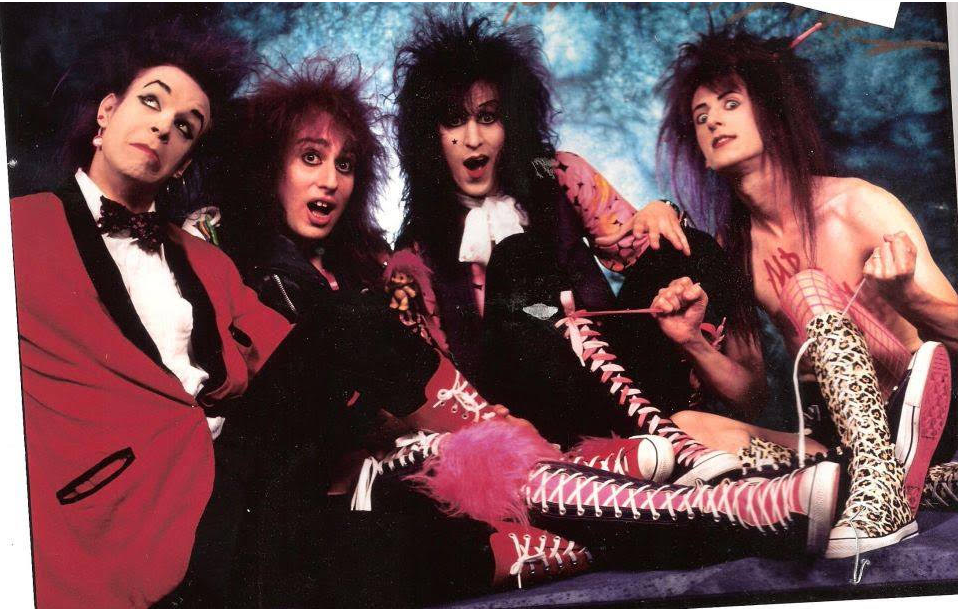 The Zeros classic lineup left to right: Danny Dangerous (bass), Sammy Serious (vocals),
Joe Normal (guitars) and Mr. Insane (drums)
A is for Automobile — What ever happened to the Zeros' purple convertible?
The Zeromobile was a customized purple '68 Chevy Nomad Wagon that we drove all over Hollywood, the Sunset Strip and to gigs. I learned how to drive a stick in that thing going straight up Crescent Heights and I got stuck at the light at the top of the hill before Sunset Blvd with rush hour traffic on my tail. What a nightmare! Sammy had to hop out and take over driving to get me outta that mess. I was stalling out and burning out the clutch trying not to roll back into all the cars and backwards down the hill, ha ha.
I think Sammy finally sold the Zeromobile years ago. It was registered to him, after all. Kinda like all the songs we recorded, too. (ahem)
B is for big boobs — Do you still like tits?
I've never gotten over my obsession since I was a nursing child I guess.
C is for Crazy — Did anyone ever tell you to get a real job?
Does it ever end?? I'm just grateful I can make a living these days using my rock and roll background. That movie School Of Rock with Jack Black was the pivotal moment for me. What does a guy who spent the greater part of his life chasing the rock n roll dream do with everything he's learned? You pass it on to the next generation. That's what I do at my shop, "Rockin' Rollers Studio & Salon."  www.RockinRollersUSA.com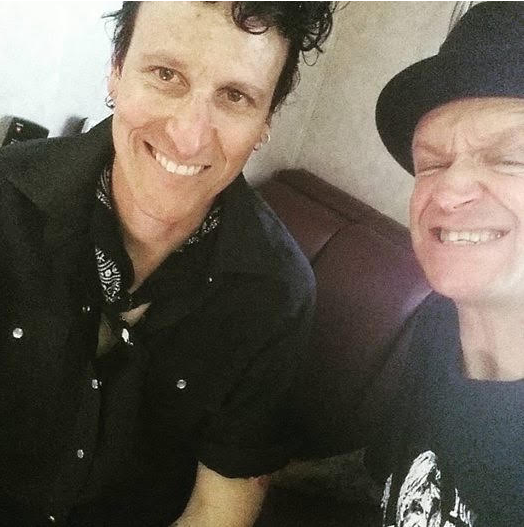 D is for Danny Dangerous — Do you miss him?
Danny is my blood brother! We've joined forces on a couple of projects and tours since the Zeros including a train-themed children's music group that I still lead called The Conductors, and more recently Cold Blue Rebels, a psychobilly band with Mickey Finn of Jetboy and Spazz of Glamour Punks.
E is for Ecstacy — Do you have any extra pills?
I've never been into illegal drugs really. I was mainly a drinker who abused diet pills and allergy tabs like Chlortrimeton and medicine chest pills that would take away the anxiety, take away the worry, help numb the pain and calm things down for me. I'm clean and sober these days except now I overdose on British black tea.
F is for Fucking — Who is the sexiest lady ever?
Do you want the safe answer? My wife of course! I don't really go for the movie stars or celebs. I think the everyday real-life mom heroines are sexiest.
G is for Good times — List 3 great memories
1: Getting a phone call at my old shitty day job from the red rocker Sammy Hagar because he saw me performing on Chef Bobby Flay's TV show and said he liked my songs, we then co-wrote the title track for his next album.
2: Hearing Howard Stern play our song everyday on his radio show on WNBC in New York when the Zeros were still called The Double "O" Zeros.
3: Recording "Mister MX-7" with Stiv Bators and The Lords of The New Church for a Mike Nesmith film called Tapeheads.

H is for Howie Hubberman — What role did he play?
Howie was so instrumental in The Zeros' success rising to the top of the Hollywood scene! We couldn't have gotten as far as we did without him. He helped streamline our act and drove us hard to be the best live act. He would say "No Brown Eggs Onstage!" meaning every word in between songs had to count, that there were no lifeless bodies taking up space on the stage, no shoe gazers. If you look at live clips of us from that period it's like the floor is on fire and we're jumping around to keep from burning our feet.
He helped show us the importance of "entertaining a good idea", too. Which is vital to getting ahead on the business side of things. Howie got the band a huge friggin' merchandise deal before we even had a record contract! Howie was amazing! He had that blind belief in us, an unwavering faith that every band dreams of finding in a manager.
I is for Mr. Insane — What's the latest with him?
Not every Zeros fan is aware that Mr. Insane is my brother, Jimmy. He's currently working on a fun music and media project for kids. He's very guarded about his private life, so I won't disrespect that by talking about him too much. Jimmy has not performed in years. I've asked him on occasion to join my projects. We haven't performed together probably since 1999. He's always been a songwriter and was even fronting his own band "Gazz" for awhile before backing out of playing clubs. He is one of rock's greatest drummer/showman ala Keith Moon or Tommy Lee… I wish he would bring back that magic and light up a stage again.
J is for Jesus — Do you pray?
I've got my own way and my own belief. I'm kind of a solitary when it comes to that. But I am aware there is something out there in the Universe that responds when I call to it.
K is for Kim Kardashian — Do you feel bad that someone took her jewelry in Paris?
Kim who?
L is for "Lucky Dog" — What is up with this TV show?
I've had the good fortune to appear on several TV shows including the latest one, Lucky Dog! Basically they choose a family and together we rescue a dog from doggie death-row and the show's host Brandon McMillan trains it to meet our family's needs… in our case, being an Autism / Special Needs Family. Autism families with additional siblings will understand the dynamic between their kids. It was important for us to have a companion pet for our 11 year old that could help with anxiety, emotional support, and companionship.
They played up on our "Rock & Roll Family" image and we did some filming at our business Rockin' Rollers. My younger son Myles emerges as the true star… him, and the dog "Spirit" of course! Honestly, it is us who ended up the luckiest ones. He's an amazing pet and animal friend!
M is for Mother — Did you have a good mom growing up?
I always looked up to my Mom for her intelligence, her fantastic kitchen skills, her survival instincts and I still thank her for encouraging and supporting our artistic / musical gifts. She used to take me into New York City to classical music Concerts in Central Park and Battery Park, I remember all the hippie and folk music people she hung out with, too. They were an influence on my brother and I. She exposed us to all kinds of science, art, culture, spirituality, feminism, and progressive thinking.
Me and my brother had piano lessons and art classes growing up. That wasn't easy financially for my parents. I don't know how they did that. We had 7 other siblings too, and my parents were struggling working class people. My Step-Dad worked in a factory. He's an amazing tenor in the style of Mario Lanza. He gave up his dream to sing in New York because he had to support 5 kids after his first wife bailed and left him with the kids. He met my mom who had us 4 kids and we became this crazy-ass identity-confused Brady Bunch family.
If I ever wished for one thing to come of my being in a band and someday attaining riches and fame, it was to retire my Mom and Dad so they never had to work again. Unfortunately, I still can't even pay my own rent, ha ha. Anyway, my mom finally retired last year on her own. I guess her sons never made it big after all.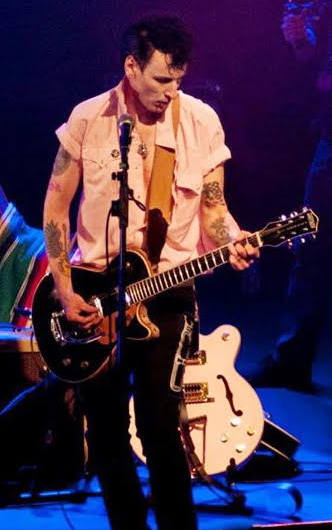 N is for Normal — Is Joe Normal "normal"?
I'm just yer average Joe! I love the name Joe Normal. I can be as fucked up or as regular as I wanna be. It still works.
My new band is called JOE NORMAL & The ANYTOWN'rs, and features a couple Sunset Strip era band mates you may be familiar with… bassist Tony Babylon (Izzy Straddlin, Radio Babylon) and Tony Snow (Dramarama, Rozzi Lane).
We're looking for a break… a great opening gig, an old-school record producer, an agent. Hit me up: JoeNormalUSA@gmail.com
O is for orgasm — What's your favorite porn fetish?
Lemme say that somewhere down the line porn went from being an innocent Playboy magazine you hid from your parents, to a twisted, violent, degrading exchange of aggression, strangling, spitting, and punishment. It's disgusting. It's a distortion, a false portrayal. I hope my kids never see that crap.
P is for Purple — Please explain the obsession
Purple has a regal quality to it that I've been attracted to since very young. I remember seeing priests and ceremonial leaders dressed in purple robes somewhere back in my youth, and that mysterious aura captured me. That spiritual power. Purple quickly became my favorite color.
The purple hair was actually an accident. The band all had blonde hair at first. It was Mr. Insane who found some pink and purple hair color that was left behind by a previous tenant under the sink in our dumpy apartment on Franklin Ave. We were bored and just went for it.
The response was immediate! We finally stood out! We'd stumbled onto something special that unified the 4 band members, and simultaneously gave our band a unique identity. It worked big-time.
Q is for quiet — Did you argue with your folks about the music being too loud in your room?
That's what headphones were for! Most of the loud music took place in the basement of our New Jersey home. They were very tolerant and supportive really. I got into arguments with them about truancy more than anything. I hated school. I only went back because I hated the thought of having to get a job, which was the ultimatum they gave me. I got suspended from school for truancy in the 9th grade and my Dad took my guitar away for 3 months. It only made me want to play it that much more.
R is for "Rockin' Rollers" — Tell us (briefly) about this business of yours.
Rockin' Rollers is a fusion business where you can come for Music Enrichment, Lessons, and Rehearsal and then get your hair styled for the big gig, photo shoot, or whatever. I'm the "Rockin" part of the business, my wife Gigi is the "Rollers" (Get it? Hair rollers??).  We got tired of working for other people, we got sick of doing house calls, so we got a space that we could share and it was magic. It just snowballed.
I facilitate kids and teens with songwriting, learning to play all the instruments, and to have a hands-on music enrichment experience. Sessions are run much the same as a real rock band works out their shit in a rehearsal hall with their band members… No books… No theory… No rules. We make music… Original music.
I cater to the artistic, unconventional, and industry clientele. I also work with the Autism / Special Needs community applying my practical skills as an Autism parent and former assistive living worker. I enjoy working with kids and teens mainly… adults are not always as fun! ha ha  www.RockinRollersUSA.com
S is for sales — Did the Zeros crack 1,000 units sold?
I don't think physical units are a relevant measurement these days. Truth is, The Zeros easily cracked the 50,000 mark because Warner Bros recently re-released both our albums.
Whenever Danny Dangerous and I are on tour with Cold Blue Rebels, we will be approached by a half-dozen eager Zeros fans each night to autograph all kinds of Zeros stuff, CD's and shirts or whatever. Some older cats, but mostly the new generation of glam-punk-poppers in their twenties etc. You gotta have moved more than a thousand units to generate that kind of following and loyalty 25 years later.
T is for Turpentine — Did you need a lot of it to clean up the Whisky and Coconut Teaszer after the Zeros' buzz died down? 
I'm not sure it was the buzz that died. The Zeros were only 2 years and a haircut away from beating Green Day to the punch. It was Grunge that wiped out everything.  The Zeros could've evolved to the next level because we all could write good songs, and we weren't limited by our musical ability. Kinda like Queen, or The Beatles.
Sammy's stranglehold on allowing what material we recorded and overall control over direction was our biggest obstacle. He refused to change, to evolve. My brother and I gave up trying to have a voice and advocating for ourselves and our own songs.
What The Zeros needed was family therapy. We were together for 10 years when Jimmy and I quit in 1992. I had to get over a lot of resentment looking back at the Zeros legacy asking myself "what songs do I have to show for the 10 fucking years I put into that band…" That was all by Sammy's design. That's how he wanted it.
Believe me, I relied on the turpentine myself during some of the early years of toil and hardship in that band.
U is for Ugly — Who did Sammy look more like Bret Michaels or Phil Lewis?
I'm not sure if I understand this question, but I'm guessing those guys aren't looking their best these days?!
Lemme tell you, Sammy was the guy I looked up to in my hometown of Elizabeth, New Jersey. He was the local guy who played guitar and looked cool. He was tall and skinny with a big nose. To me, he looked like a cross between Robin Gibb, Freddie Mercury and Big Bird. I think he would accept that as a compliment, which is what it is. He was a misfit, the real deal. A star. But shit, we're not getting any younger now, are we!
V is for Vagina — Do you think it's OK for Donald Trump to grab 'em?
I don't get involved in that nonsense. I wanna know what the real news is. What is the real truth about everything going on out there that is not getting covered by our media? I encourage everyone to stop engaging in the head-lies, and dig under the surface to find the real news.
W is for washed up — Will the Zeros ever get back together?
It won't happen with Mr. Insane, but Danny and I talked with Sammy recently about performing the 4,3,2,1 album in its entirety for the 25th year Anniversary of its release (2016), but time is running out on the chance to make that happen. It's probably more hassle and effort than it's worth, but I would do it for the fans. And for the legacy. And for a couple of grand. ha ha
X is for eXcellence — How good a guitar player are you?
I've discovered that guitar is only my crystal ball, my divining rod. Something I use for channeling.  I'm foremost a songwriter, a storyteller, a messenger. I have no passion to be the greatest guitar player ever. I just wanna tell my story and set it to music. Guitar is more of an accompanying instrument in my hands than a solo instrument.
My first instrument is actually piano, then drums. I'm currently writing an album solely on piano. I'll say that my strength as a guitarist is that I'm self-taught. I have the ability to come up with interesting parts and riffs that support the song. I always play for the song.
Y is for Youth — Do you miss being the king of the Sunset Strip?
I consider myself lucky to have had a go at it, painting the Whisky and other places purple and all. Maybe we accomplished a little more than some other bands, yeah, but then again not everyone would do what we did to make it. But it took four guys, a team. We sacrificed everything for that band. It was all or nothing, literally!
I'll tell you what I don't miss, the shit we took for having purple hair 24 hours a day for 6 years of my life. I like to think we paved the way for all the cutesy anime girlie rockers you see now in their knee high Converse, we also took shit in the streets and got spat at and had shit thrown at us for all those emo color-haired tweens you see now in the malls and on TV that nobody thinks twice about.
We didn't lose those points we earned or the skills and lessons we learned just because the band is over. It's just part of our evolution. You don't go backwards. No regrets. Which is why I am never going to quit being Joe Normal. In fact, I'm more hell bent to continue writing, recording, and performing now because I know what I got. I'm a Lifer.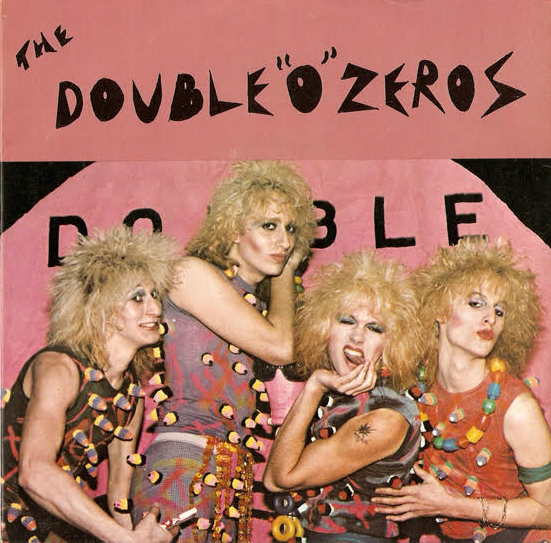 Z is, of course, for the Zeros. Finally thoughts on the band's legacy?
What you will never know is that Sammy was a brilliant writer like Ray Davies, another Ric Ocasek. Howie Hubberman got to see glimpses of that. Our early bass players Frank, and Mace got to see it. You had to live with the guy, to be close to him to know this. It's why we believed in him so much to stick it out for so long together.
But we found a fun formula that worked on a stage, a goofiness that cut through all the macho metal bullshit of the time, and to Sammy's detriment, he chose to hide behind the silliness forever instead of allowing the band and himself to evolve and reveal the underlying strength and depth we were capable of… that we could write really good meaningful songs.
There are about two albums of songs that Sammy and I wrote together that never got recorded, and even more with Jimmy, Danny, Mace, and Frank. Some of those songs are still relevant and possibly our most accessible work.
Sammy's not done a very good job at managing the band's legacy. He's a bit misguided. It's disgraceful. Embarrassing even. But whoever owns the trademark and copyrights controls the legacy. And that be Sammy.
There's a few videos you can search for on Youtube of The Zeros at our peak playing the Whisky A Go Go in like 1990 or 1991. Fantastic stuff! I'm glad somebody posted that. But, please do your part in preserving the Zeros legacy by supporting what each of us is doing currently, too.
Joe Normal @ WebSite – Facebook – YouTube – Instagram – Label – Free Downloads

                                                                                  Click HERE for event details