RATT IS BACK
Stephen Pearcy, Warren DeMartini and Juan Croucier re-launch Ratt to capacity crowd
Sleazeroxx — Lead vocalist Stephen Pearcy, guitarist Warren DeMartini, bassist Juan Croucier and guitarist Carlos Cavazo made their first appearance as Ratt since the foursome last played with Bobby Blotzer in 2014 as the band played Treasure Island Resort & Casino in Welch, Minnesota yesterday (February 11, 2017) evening. The foursome had been silent on who their drummer would be but on this night, they were joined by drummer Jimmy DeGrasso (Y&T).
The foursome along with drummer DeGrasso had made their "debut" as the "surprise band" on the Monsters of Rock Cruise West on October 1, 2016 but had not yet endorsed the name Ratt.
This time around was different as the group is billing itself as Ratt; has been repeatedly defeating Bobby Blotzer and his corporation WBS, Inc. in court with respect to the use and ownership of the Ratt trademarks; and, is set to play and/or headline numerous festivals later this year.
Set List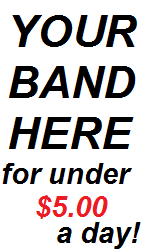 01. Wanted Man
02. Dangerous But Worth The Risk
03. You Think You're Tough
04. Walkin' the Dog (Rufus Thomas cover)
05. Way Cool Jr.
06. I'm Insane
07. In Your Direction
08. Lack Of Communication
09. Lay It Down
10. You're In Love
11. Lovin' You's A Dirty Job
12. Nobody Rides For Free
13. Body Talk
14. Back For More
15. Round And Round

Ratt @ WebSite – Twitter – iTunes – Facebook – YouTube – MySpace