RE-DESTRUCTION
Guns N' Roses to release "Locked N' Loaded" 4 CD, 7 LP set featuring 73 songs, 49 previously unreleased
Blabbermouth —  GUNS N' ROSES will release a new version of its classic 1987 debut album, "Appetite For Destruction", on June 29 via Universal Music Group. An unboxing video of the remastered and expanded "Locked N' Loaded" reissue has revealed that it will include 73 songs (49 of which are previously unreleased) spread out across four CDs and seven 12-inch 180-gram LPs. In addition to a remastered version of the original album (presented across two LPs), there will be the band's 1986 "Live ?!*@ Like A Suicide" EP, a second EP containing B-sides from the era, 25 previously unreleased recordings from the band's 1986 sessions at Sound City studios, and two previously unreleased tracks from GN'R's sessions with producer Mike Clink. The super deluxe version will also include a 96-page handbound book with unreleased photos from Axl Rose's personal archive, 12 new illustration lithos visualizing each song from "Appetite For Destruction", and replica memorabilia.
"Appetite For Destruction" was certified in September 2008 by the RIAA (Recording Industry Association of America) for U.S. sales in excess of 18 million copies. The LP has reportedly accumulated worldwide sales in excess of 28 million since its 1987 release.
The album's original cover, based on the Robert Williams painting "Appetite for Destruction", depicted a robot rapist about to be punished by a metal avenger. After several music retailers refused to stock the album, they compromised and put the controversial cover art inside, replacing it with a cover depicting a cross and skulls of the five band members (designed by Billy White Jr., originally as a tattoo), each skull representing one member of the band: Izzy Stradlin, top skull; Steven Adler, left skull; Axl Rose, center skull; Duff McKagan, right skull; and Slash, bottom skull. The photographs used for the back of the album and liner notes were taken by Robert John.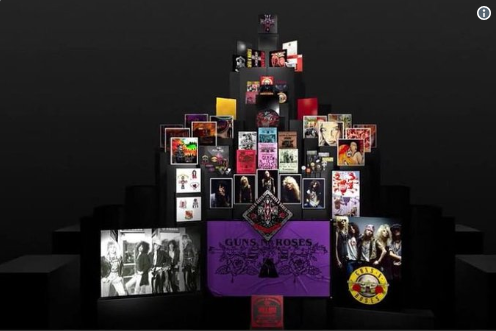 Read the rest of the story found on Blabbermouth