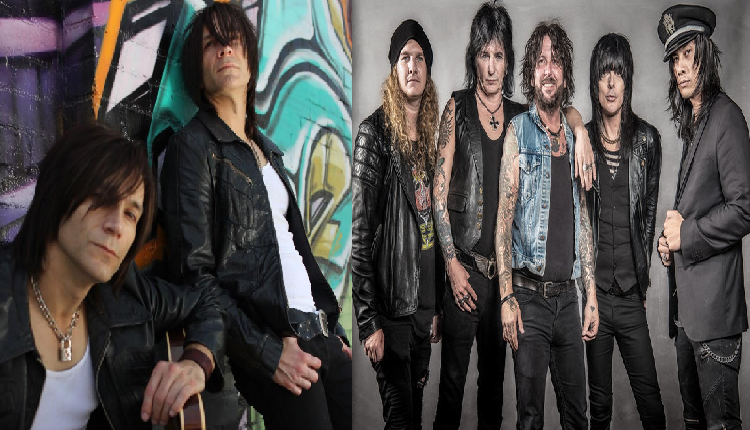 RHYMING AND STEALING
The Raskins allege that L.A. Guns have stolen their music
Facebook — Just when you thought it was safe to leave one of your songs laying around, BAM…someone goes and steals it.
At least that is what The Raskins are alleging in a recent post on their official Facebook page.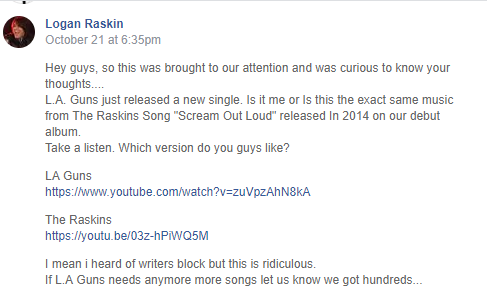 The Raskins are claiming that L.A. Guns have lifted from their previous works.
Logan Raskin writes: "L.A. Guns just released a new single. Is it me or Is this the exact same music from The Raskins Song "Scream Out Loud" released In 2014 on our debut album." (Inset right)
The article also shares links for that 2014 song released by The Raskins and the brand new L.A. Guns single "Baby Gotta Fever." Hear both below.
Now it should be noted that current L.A. Guns bassist Johnny Martin was also a member of The Raskins during this time period.
Martin a veteran of Los Angeles scene since he was but a punk teen (with bleach blond locks to boot) has already spoke out in regards to these recent allegations.
Martin blasted Metal Sludge headquarters (at Midnight no less, hey we sleep over here in the Valley) with the following: "Did you hear? … I'm a plagiarist. I STEAL MY OWN MUSIC!"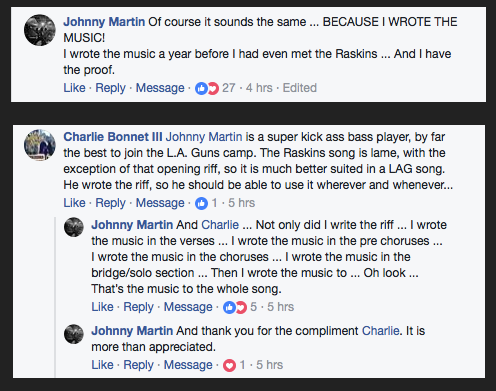 Martin has also went on record with our neighbors over at Sleazeroxx and dropped some knowledge via their comments section about why the songs sound so similar. (See inset left)
"Of course it sounds the same …. BECAUSE I WROTE THE MUSIC!" says Martin
L.A. Guns is currently riding a wave of excitement now that Phillip Lewis and Tracii Guns are making out full-time again.
The band is hitting on all cylinders with their new release "The Missing Peace" and are packing venues around the globe.
This group of L.A. Guys, known as L.A. Guns, who are all a tad past their 20's will embark on yet another run of dates wearing mostly black. Except when Tracii shows up in his blue jean vest throwing shit all out of whack.
Add to the beauty that is lead singer and lead guitarist in the group, they are set to rip n' tear once again. And how can they fail when they got Johnny "Musical Shoplifter" Martin on bass and Michael "Police Hat" Grant on guitars.
And of course we can't forget no nickname needed Shane Fitzgibbon on the drums.
Good luck on the road kids and to all the local bands, don't leave your shit laying around or Martin might steal that too.
As for The Raskins, last we heard they were suing Motley Crue for $ 30,000,000.00 for having bags of urine blasted at them on stage.
If Johnny Martin is guilty of anything it's for stealing the show with his endless style and presence.