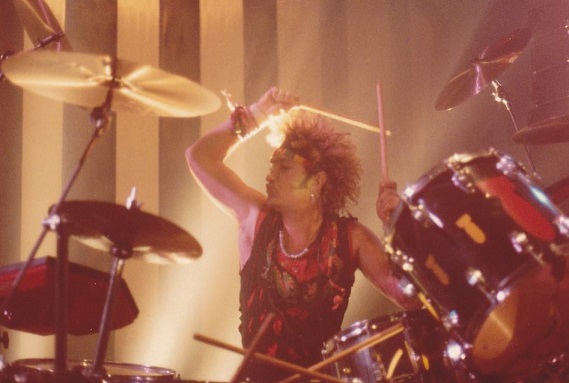 RIP
Ex-Autograph Drummer Keni Richards Dead at 60
Ultimate Classic Rock — Keni Richards, a musician best known for his tenure as the original drummer for Autograph, has died at the age of 60.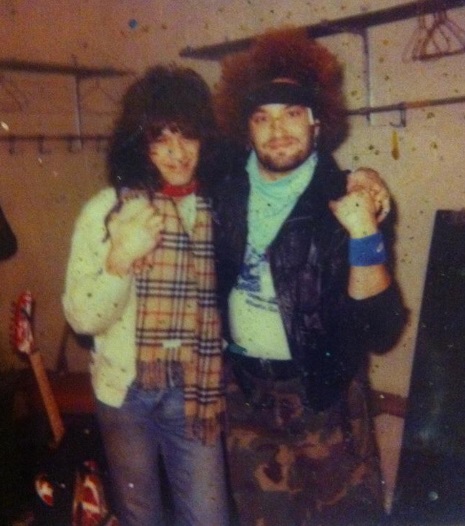 The band's founding guitarist, Steve Lynch, confirmed the news via the band's Twitter account, calling Richards "the mighty force that was our backbone from 1983-1988." Guns N' Roses bassist Duff McKagan also tweeted a tribute, saying Richards was "an amazing soul and funny as hell."
Richards, who'd earlier played with Autograph frontman Steve Plunkett in a band called John Doe, proved instrumental in securing the fledgling group its big break. While Autograph were still getting their demo together, Richards — who'd become a jogging buddy of Van Halen singer David Lee Roth's — claimed he received a phone call from Eddie Van Halen offering to make them the "T-shirt band" for Van Halen's upcoming tour.
Richards with Van Halen inset right.
"I'm like, 'Well, what's a T-shirt band?' and Eddie Van Halen's like, 'It's a band that goes out on the road with us and people boo you cuz they don't like you, and they go buy one of our T-shirts,'" Richards laughed years later in conversation with Legendary Rock Interviews. "So we go out and get a Winnebago and take them up on their offer to open the 1984 tour. Funny thing happens, five months later we're signing a multi-million dollar record deal with RCA after we play the gig at Madison Square Garden."


Read the fulll story at Ultimate Classic Rock