Metal Sludge — In the never-ending headline parade about David Ellefson and his infamous private videos that went viral… there is yet another from the Megadeth camp.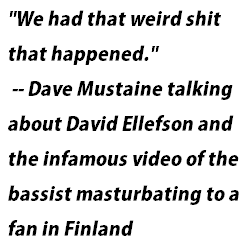 Dave Mustaine recently spoke to Heavy magazine, and once again Ellefson gets tagged with a comment related to the video.

Mustiane referencing Ellefson on the bassist coming and going yet again from Megadeth: "He came in, and we had that weird shit that happened."

The band's leader details various members coming and going into and out of the Megadeth camp before and after that infamous incident.

To read the full story make sure to visit Blabbermouth who have transcribed much of what was said from MegaDave!



Stay tuned to Metal Sludge for Breaking News, Updates and Features along with both new and classic interviews.