SHOTS FIRED
Donnie Vie throws digs at L.A. Guns, Sebastian Bach and former Enuff Z'Nuff bandmates Vikki Fox and the late Derek Frigo
Metal Sludge — In a brand new interview with our friends over at Sleazeroxx, former Enuff Z'Nuff singer Donnie Vie lets loose once again.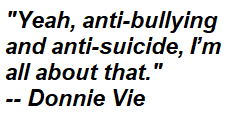 The singer-songwriter and overall mega talented musician kicks off his first answer with a great positive message saying: "Yeah, anti-bullying and anti-suicide, I'm all about that", but then oddly bullies several people with his answers throughout the rest of the interview.
Vie is doing press for his new record, but he doesn't say much about the release "Beautiful Things".
Rather than promote his music, Vie spends more energy unearthing old stories taking shots at several 80's rockers.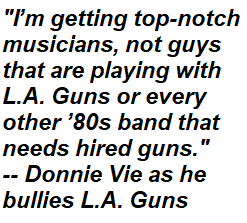 Included in the attacks are the group L.A. Guns, singer Sebastian Bach (ex-Skid Row), and his former bandmates Vikki Fox (drums) and deceased guitarist Derek Frigo.
Vie on his solo band: "I have been talking to musicians about being in my backing band. I'm getting top-notch musicians, not guys that are playing with L.A. Guns or every other '80s band that needs hired guns."
Vie on his former Enuff Z'Nuff bandmates: "I was like how did the guy, Derek [Frigo] wind up in my band. He thinks he's Eddie Van Halen but can't write a song? And the drummer (Vikki Foxx)? He's a total fucking poser. He's doing all these tricks and stuff. Sure, it's entertaining to watch and he's a beautiful guy but a total dick!"
Vie on the start  of Enuff Z'Nuff: "We were fucked from the start! I got depressed. I started self medicating and Chip (Z'Nuff) started running the show. It is what it is. Can't change it now. If that hadn't happened how it did, I wouldn't have ended up where I am right now."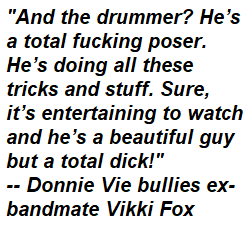 Vie on who he was most surprised was a fan of his: "The Mötley guys liked us, but there's one that really blew me away. We were playing a gig one night that featured Sebastian Bach, Foreigner, Ronnie James Dio and us opening. Sebastian did something to fuck us. We were using the backline that was provided by Skid Row and the guys were cool with us and were letting us use amps, but Sebastian would have no part of that! So we had to use whatever other gear and amps which were backstage, obviously not what we were expecting."
Vie continues on with the Sebastian Bach story: "He took it a step further at dinner. Chip and I were sitting there with some of the other bands having dinner and he's at one of the neighbouring tables, being loud like Sebastian tends to be, "Would you look at the pipes we have here tonight? We have Ronnie James Dio, we have Lou, we have Lou Graham!" Chip was irate and says, "What about your brother over here?" Just then security comes in and says, "Listen guys, we need to clear the room. Ronnie has an interview and we're using the room." I'm one of the last people heading out and I see Sebastian Bach extend his hand to Ronnie who walks right past him like he didn't even exist [laughs]! Ronnie says, "Donnie Vie! You're one of my favorite singers! Happy to meet you!" He extends his hand and I give him this huge hug. That meant the world to me. That showed that fucking douchebag and we went on stage with broken down gear and we still kicked their ass [laughs]!"
Read the full interview at Sleazeroxx