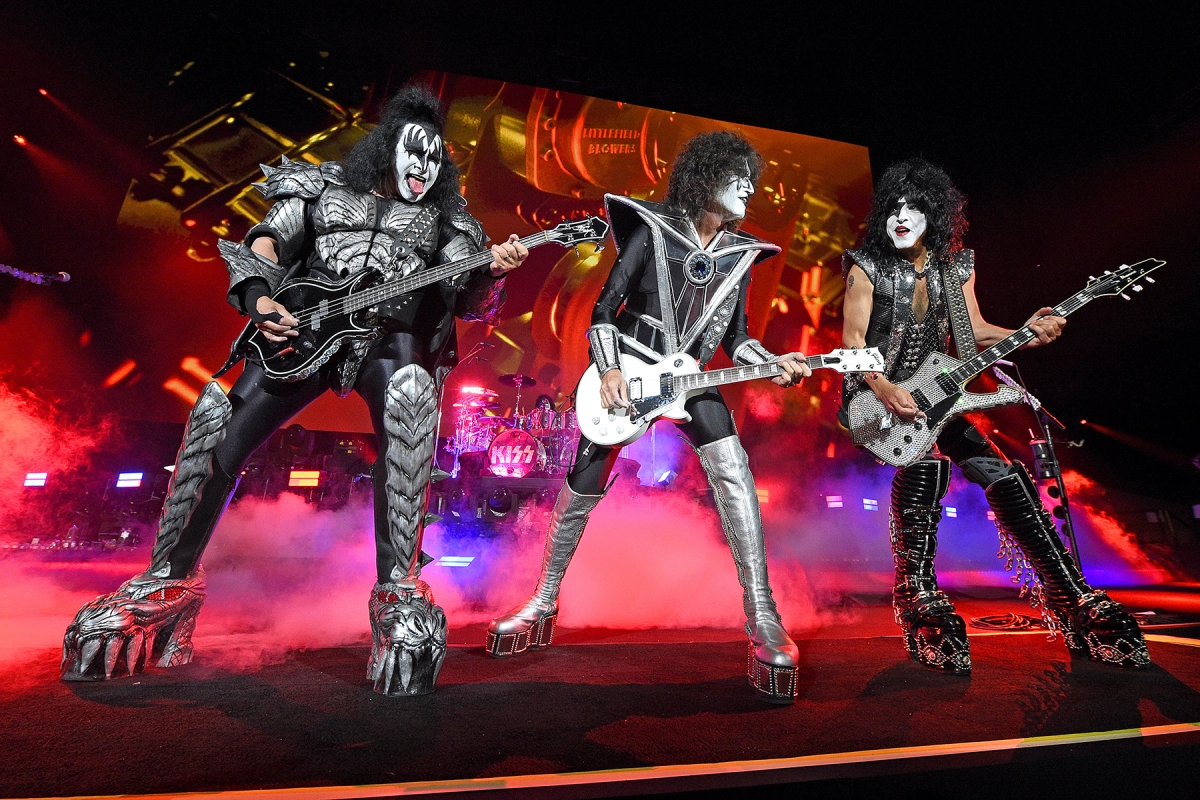 'Couldn't Believe How Unsafe It Was': Kiss' Roadies Blame Lax Covid Protocols for Guitar Tech's Death
The band, meanwhile, claims that some crew members concealed sickness and faked vaccine cards
Rolling Stone — It was many a roadie's worst nightmare: On Oct. 17, 53-year-old Francis Stueber died in his hotel room, nearly 2,300 miles from home, according to Kiss and his fellow backstage crew. The longtime guitar tech had been with the band for more than 20 years and was a beloved figure in the Kiss Army.
Having tested positive for Covid-19, Stueber died just two days after being quarantined in a Detroit hotel room. According to the Wayne County Health Examiner's office, the father of three died of the virus.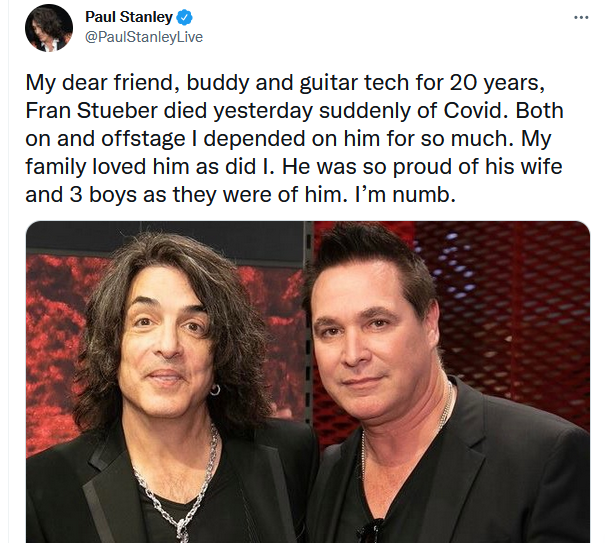 "We are profoundly heartbroken at the loss of Francis, he was a friend and colleague of 20 years, there is no way to replace him," the band tells Rolling Stone in a statement. "Millions of people have lost someone special to this horrific virus and we encourage everyone to get vaccinated. Please protect yourself and your loved ones."
But three crew members — who spoke on the condition of anonymity over fear of retaliation — say not enough was done to protect them. They place the blame for Stueber's death squarely on tour production. The trio told Rolling Stone that the tour didn't take strict enough safety measures, which they say sickened several tour workers and potentially cost Stueber his life.
"Every day during the shows, we weren't tested. And there are so many unknowns," one crew member tells Rolling Stone. "Did we superspread this, did we spread this thing from city to city? It's horrible that Fran passed, and it's horrible if this is our protocol just for us to tour. Is this going to be the normal, to stick someone in a hotel and if somebody dies, 'Oh, well, off to the next guy?' "

Stueber's death marked an unexpected, tragic loss of one of the band's most beloved crew members — and a wake-up call when it comes to touring during a pandemic that is still very much in play. In the wake of tragedy, members of the tour seem eager to place blame: Some of Stueber's fellow roadies point to what they perceived to be lax Covid-19 safety protocols as the culprit; while the band reveals that workers concealed sickness and even faked vaccine cards in some cases. Either way, as the pandemic continues to imperil the live-music business — and artists fight to get back on the road to work — situations like these beg the question: How much is enough when it comes to keeping bands on the road and their teams safe?
Stueber's wife, Catherine, did not immediately respond to Rolling Stone's request for comment, but his sister Mary Stueber-Grass tells Rolling Stone: "He was a hard worker, he loved what he did, and he loved meeting people.… I've gotten messages from around the world from friends, fans — anyone who he's met — sending pictures and memories. He was so full of life, and we're all devastated."
According to a production executive who spoke with Rolling Stone, the crew workers' assertions about the lack of safety measures are not strictly true. There were protocols in place, even if they were later found lacking. The band required that all the crew submit vaccination cards and wear masks backstage, and catering was separated between local workers and the touring crew. Those who tested positive would be sent to hotels to quarantine, and their bus mates were also tested, the executive said. But the roadies RS spoke to said masks were not always properly worn and tests were not given regularly enough.

That production exec also said that a team of four people, including the executive, presented multiple options to Kiss management when they were designing the tour, including options for how frequently to test the crew. The band's team elected to only test if someone showed symptoms, a policy similar to ones employed by acts like Green Day. The tour was originally slated to have a designated Covid-19 compliance officer, the executive says, adding that management decided to nix that position a day before the tour started, and those responsibilities fell onto the production team.
"Our End of the Road World Tour absolutely had Covid safety protocols in place that met, but most often exceeded, federal, state, and local guidelines," the band says in its statement. "But ultimately this is still a global pandemic and there is simply no foolproof way to tour without some element of risk."


Read the Full Story at Rolling Stone.