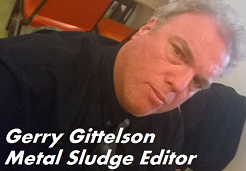 LOS ANGELES — There are no sure things in rolling the dice nor playing in a rock and roll band, and Billy D'Vette has the scars to prove it.

The blond guitarist with chiseled features and a knack for catchy glam songs led Pair-a-Dice to the very brink of stardom in the late 1980s. But despite headline shows, record-company interest and the scene's hottest groupies, Pair-a-Dice crapped out.

They never signed a deal, they lost members to other bands, and D'Vette eventually joined Cold Sweat in 1991, but that was a sinking ship, too.

The good news is, D'Vette still plays for fun in Denver, and any past resentments are untraceable.

But don't just take our word for it. Here is Mr. D'Vette himself, who holds nothing back in this dramatic Metal Sludge exclusive.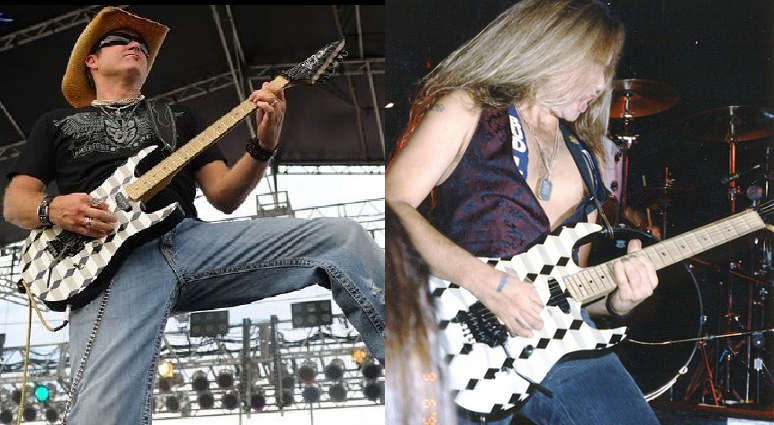 1, Let's start where we left off — what was up with you and Paradise fighting over the name?

D'Vette: There was plenty of bad blood between the two bands with the same name, just different spelling. We hated them and they hated us. We came close to fighting one night in front of the Rainbow as both bands were passing out flyers.

There were always rifts between bands — like whose band drew the most, who stole whose moves, etc. The running joke with the fans was, "Are we seeing palm tree Paradise or Pair of Dice" — it pretty much sums up how saturated the scene was by the late 80s; all the bands sounded the same, looked the same and even had the same name.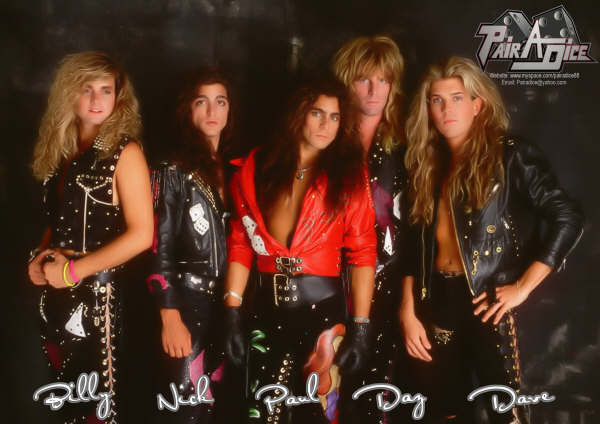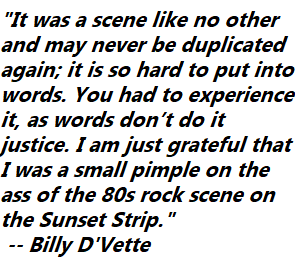 2, How close was Pair a Dice to making it big?

D'Vette: The buzz on the street was that Pair A dice, Tuff & Pretty Boy Floyd were the next bands to get signed after Warrant inked a deal with Columbia, and we had labels coming to see us at every show. Geffen had the most interest in the band, but our biggest problem was we kept firing our management every three to six months, plus the fact that our lead singer kept quitting and coming back, which didn't help. We did a small tour in Japan with Jetboy in 1989 and things were really coming together, but Paul Lancia quit the band to start Lancia with Bart Walsh and Scott Paterson.
I took on the lead vocal duties, but it was never the same, so when Dave Marshall was asked to join Brunette, that was the end of Pair A Dice.

3, Do a where are they now on every member including a little roast for each.

Paul Lancia is currently in Seattle and works at Starbucks, just kidding — he sells insurance.

Dave Marshall moved to Nashville, he's a producer and has a band called "Marshall Gentry". He is probably blow drying his hair while he thinks of his next vegan dish to cook. He looks better now than he did 35 years ago.

Daz Bash moved to Gainesville, Florida, drives a Lamborghini and plays in a Pair A Dice tribute band.

Nick Masela is living in Las Vegas and most likely smoking a joint behind a hotel casino.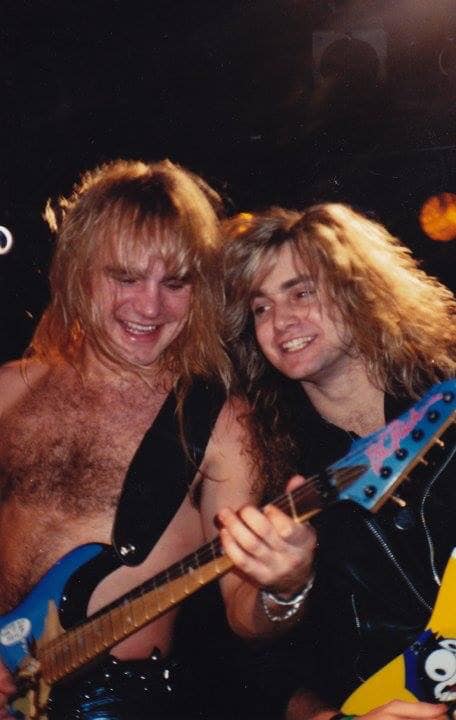 4, Were your plans to be the next Warrant? Who else was your model?

D'Vette: We had a lot of similarities. That's for sure. We played a ton of shows with them. We shared the same fan base in Hollywood and hung out at all the same after parties. Jani and Dave even dated the same girl.
We became good friends with all the guys in Warrant. They would invite us on stage to play with them on their encore song at some shows and we had them play with us as well. Paul and I had a long history with Warrant and Poison going back to 1985 when we were in Circus. Pool parties in Van Nuys at the Hui Hui house with Brett Michaels and Bobby Dall.

There was always a good camaraderie with the Warrant guys, and we still keep in touch after all these years. It's difficult to say who we modeled after, but we were always influenced by Van Halen, Dokken, Ratt and Queensrÿche just to name a few.


5, How much did you take advantage of being a "local" rock star?

D'Vette: Well, if you mean did we get into all the clubs for free, drink for free and fuck a lot of girls, then I guess you would say yes.

Oh we had such wonderful fun — seafood cocktails, crabs, and crayfish, and we got more ass than a toilet seat. But as I look back on those times on the Sunset Strip, it's not just the sex, drugs & rock n roll that made it cool. It was all the people who walked up and down the strip from the Whisky, Roxy, Rainbow to Gazzarri's every night of the week passing out band flyers, picking up the latest Rock City News or Bam magazine to find the best shows or the latest new club.
It was a scene like no other and may never be duplicated again; it is so hard to put into words. You had to experience it, as words don't do it justice. I am just grateful that I was a small pimple on the ass of the 80s rock scene on the Sunset Strip.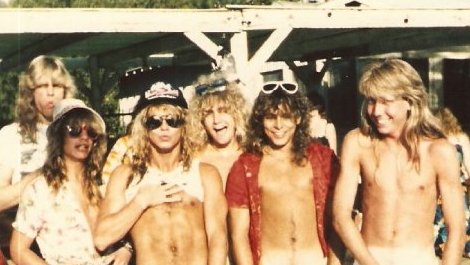 6, Do you still believe in your best old songs?

D'Vette: The Pair A Dice stuff was recorded on a pretty low budget, so when I listen to that, I end up picking apart the production and song quality, however "Stay the Night" and "Nowhere to Run" still hold up. The Agent X album that was produced by Kim Fowley with Simon Daniels (Jailhouse, Autograph) had some great pop rock songs that I still enjoy listening to.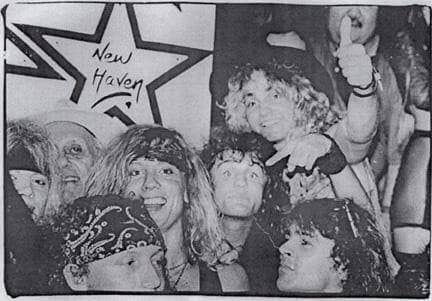 7, What was it like working with Kim Fowley?

D'Vette: What a strange dude Kim Fowley (Runaways) was — one of the most bizarre, eccentric characters I have ever met. We were doing pre-production for the Agent X demo, and he did not drive, so I would have to pick him up in Hollywood at his apartment and take him to rehearsals.
He was very intimidating and was pretty much an asshole. He would verbally cut me to shreds one minute and then tell me how much potential we had as artist, then he would start talking about weird sex stories. He was just all over the map and never stayed on one subject long. Call it genius or crazy but it was definitely an experience.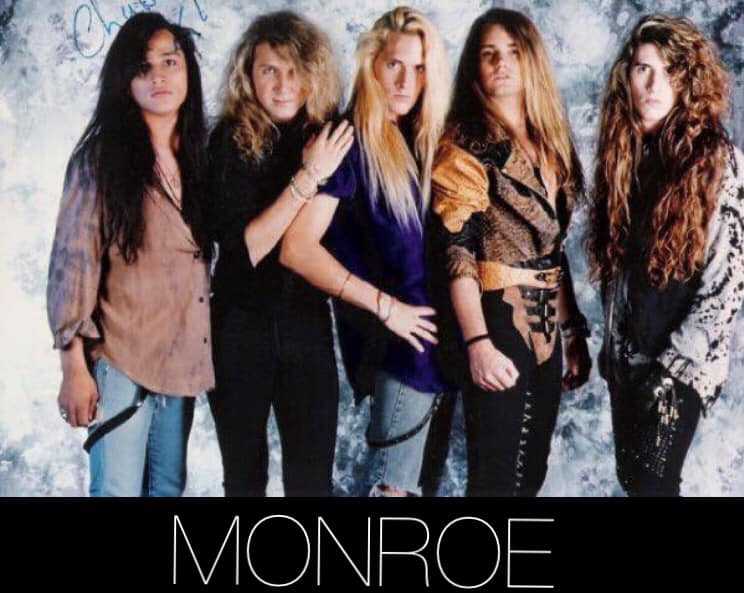 8, Talk about the Cold Sweat period.

D'Vette: Fuck, that was a great band! I was asked to audition to replace Mark Ferrari in May 1991. At the time I was playing in a band called Monroe with bassist Robbie Crane (Ratt,Vince Neil, Lynch Mob) there was an immediate chemistry with all the guys in Cold Sweat, and we started writing and went straight into the studio to record a new Demo since the band had just been dropped by MCA records.
Wendy Dio was the band's manager, would have weekend Bar-b-Qs, and Ronnie James Dio's house was kind of a regular thing. Playing arcade games "Asteroids" with Ronnie was a special moment for sure. He was such an inspiration and what a kind soul.
We shopped the first demo under the name Cold Sweat, but labels were not interested because of the stigma of recently being dropped by MCA, so we changed the name to Sweatin' Bullets and recorded a new demo at Sound City Studios. The songs sounded great and Roy Cathey's voice never sounded better, but Nirvana "Smells Like Teen Spirit" had just been released early that year, and if you didn't have that Seattle sound, record labels were just not interested, and of course we all know that was pretty much the end of that Hollywood Hair Metal era on the Sunset Strip.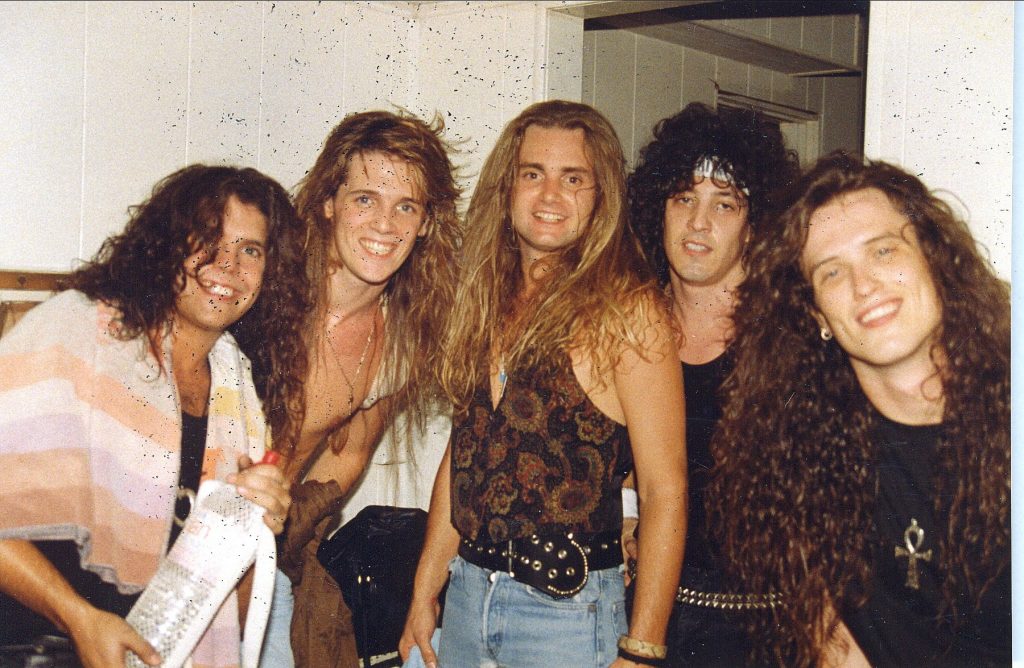 9, Do you appreciate that Cold Sweat has a big cult audience?

D'Vette: Oh, hell yeah! It's crazy how people from all over the world still contact me about Cold Sweat — and I was only in the band for a very short time. The 1990 release of "Break Out" is just a fucking great record top to bottom. Great songs and production, and it just goes to show that if you put out a quality product people will recognize it.
If it had been released a year earlier, they would have been huge. I was so happy to see the original five members (Marc Ferarri, Eric Gamans, Chris McLernon, Roy Cathy, Anthony White) reunite last year and play the Monsters of Rock cruise. The guys sounded great, and they had other shows booked in 2020, but the fucking Covid pandemic shut all future plans down.
Hopefully now that things are getting back to normal, they can do more shows sometime soon. The most common question I get from the fans is about the unreleased material that was recorded after the "Break Out" album. Who knows, but hopefully some new music from Cold Sweat could be a possibility in the future.
10, You're still doing it, right? Talk about your latest stuff.

D'Vette: I released my second solo album last year entitled "Back to Denver". I wrote, performed, and recorded all the songs in my basement during the lock-down in March.
I still just really enjoy the creative process of making music. I'm not trying to be a rock star, God knows those days are over for this old, fat guy from the '80s. It's just what makes me happy, and at this point in my life that's important. I still play live music here in Denver with my band the Wild Bill Outlaws. It's a classic rock thing, but of course I play a lot of '80s rock songs in the set with a few of my original songs thrown in. Denver has a pretty lively rock scene. If you're ever in Denver, look me up, I play pretty much every weekend.





Billy D'Vette @ WebSite – Facebook – Instagram – Pair-A-Dice on FB


Gerry Gittelson can be reached at gerryg123@hotmail.com