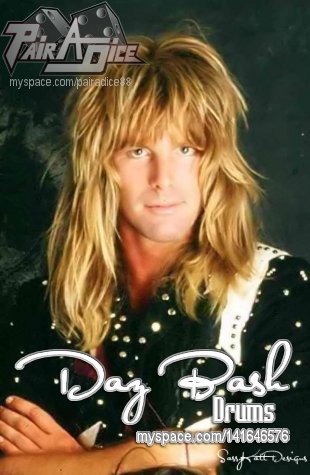 SUNSET STRIP REMEMBERED
METAL SLUDGE dives in with former Pair-A-Dice drummer Daz Bash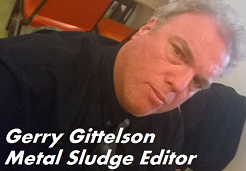 LOS ANGELES — In our ever-lasting rock and roll thirst for all things Sunset Strip, we bring you an official interview with drummer Daz Bash from former Hollywood hopefuls Pair-A-Dice from the old scene.
Everyone thought Pair-A-Dice would be the next Warrant. Didn't happen.
The band looked great in photographs, yet Pair-A-Dice has just as many teeth in their music as in their smiles. Guitarist Dave Marshall went on to play with Vince Neil, among others, and fellow guitarist Billy D'Vette later joined MCA signee Cold Sweat.
Lead singer Paul Lancia was good, too, a shaggy-haired frontman with a strong voice, combined with lots of the qualities prized by superficial women.
In the end, Pair-A-Dice never rose above cult status. The last of the era's hair-metal's juice was squeezed out by Slaughter, FireHouse, Nelson and, if we're pushing it, perhaps Danger Danger.
But alas, all these years later, Bash has yet to relinquish his glam ambitions.
He has re-packaged a post-Pair-A-Dice project called Deaf Dumb and Blonde for indie label Demon Doll — and frankly, we are surprised this band was callously overlooked in the 1990s — but not anymore.
——————————————————————————-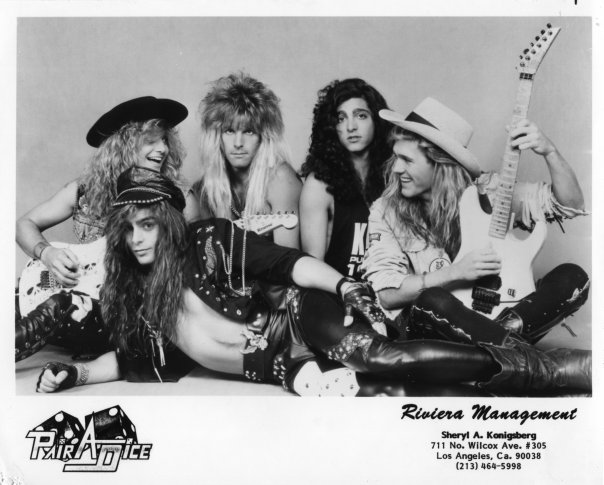 1, What are you currently up to?
DAZ BASH -Well Gerry, let me start by thanking Stevie and yourself for granting me this interview. It's good to finally hit the G-Spot!
So, the latest: I'm happily married, a business owner in the construction industry, and 3D artist, and still bashing the drums! I'm thrilled to announce the latest venture: Demon Doll Records has released Deaf Dumb and Blonde's CD titled L.A. Days. Many thanks to Lance for that! This was a band that myself and Guitarist Dave Lefko formed after Pair-A-Dice disbanded. I had been jamming with Dave for awhile, in a lineup with Billy D'Vette called Ghost Town prior to this. We brought Kirk Sharpe on board to play Bass and Backing Vocals and soon after, Troy Wheeler joined as Lead Vocalist-adding his talents as a lyricist. We then needed a band name and I suggested Deaf, Dumb and Blonde- remembering a night of drinking at the Star Garden with Billy and Dave Marshall, talking about a jam at FM Station and what to call it.  Anyway, the songs on Deaf Dumb and Blonde's  L.A. Days are the demo tracks we almost got signed to Geffen Records with. But as we all know, by 1992 Grunge was happening and the industry was betting on Seattle.  You can get your copy of L.A. Days at Demon Doll Records and be sure to like us on Facebook.
2, Let's go back to the beginning: Did any young Pair-A-Dice groupies ever believe that Daz Bash was your real name?
DB– There were so many-lets see…No, I don't think they really cared. Some of us had crazy stage names though.
3, Pair-A-Dice had it all — great songs, great players, great looks. Why didn't the band sell millions of records?
DB-I thank you for the compliment, and that's the million dollar question! You know, when Warrant got signed we had been opening shows for them at the Roxy and Country Club. Then we started headlining our own shows at The Roxy, -one in particular with Stevie and his band Tuff as Co-Headliner when we broke capacity and DB Productions got cited by the Fire Marshall -The  Country Club, The Troubador, Gazzarri's and The Whiskey, and the buzz was that we were next in line. We were in the final line up with Paul Lancia-vocals, Dave Marshall-Guitars, Billy D'Vette-Guitars, Nick Masella-Bass and myself on Drums. Then Paul decided to quit the band for a supposed Japanese record deal. We played a show 1 week later for Rich Bartle's Jet Set Jam and Billy sang lead for the first time-and did great! A few weeks later we patched things up with Paul and continued playing shows. Then, after our 2 week tour in Japan, he quit for good to form Lancia. Billy D'Vette sang lead for 5 or 6 shows after that, but then Dave Marshall joined Brunette and that was all she wrote.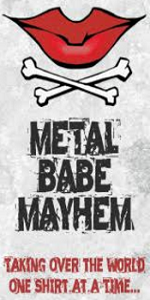 4, Lots of big rock stars and industry insiders used to check out Pair-A-Dice. Did you come close to signing a deal?
DB-Yes. We had David Cohen, who was at Geffen Records as an AR rep, working with us the first time Paul left, and finally did sign with Monster Records out of Tokyo but the CD was never released in the states. You can get your copy of Pair-A-Dice Midnight Train at Demon Doll Records and like us at Facebook.
5, Give an update and comment about all the ex Pair-A-Dice members, starting with the great Billy D' Vette.
DB-So, Billy D'Vette is currently living in Colorado. He enjoys the corporate life and teaches guitar on the side. He also has his own band-The Double Bills-and does shows in and around the Denver area. We have worked together in 2008 after the Pair-A-Dice Rocklahoma reunion show-putting out his self-titled CD D'Vette Night Music-which I did drum tracks for. We have a release planned  in the near future as well.  Be sure to like Billy on Facebook.
Dave Marshall-Dave lives and Rocks in the Nashville area, hosting his own jam nights Dave Marshall and Friends. He has had quite the musical career as you may know, playing with such people as Vince Neil, Backing Jennifer Batten with Michael Jackson, and jamming with Scrap Metal featuring members from Nelson and Slaughter.
Nick Masella-Nick lives in Las Vegas and is in the production business working on various shows in the casinos and convention centers-I spoke with him a couple of weeks ago-reminiscing about the glory days on the Sunset Strip!
Paul Lancia-I haven't heard from Paul since 2010 after the Rocklahoma show-he was asking me about weight training since I was hittin' the gym pretty hard and benching 405lbs. As far as I know he lives in Las Vegas. That's about it.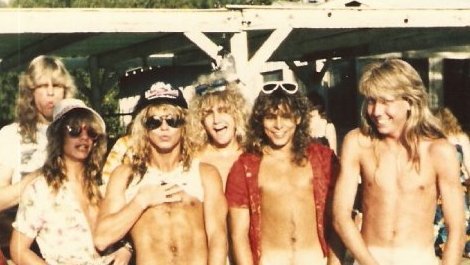 The guys in Pair-A-Dice having an ab-off with some guy named Bret Michaels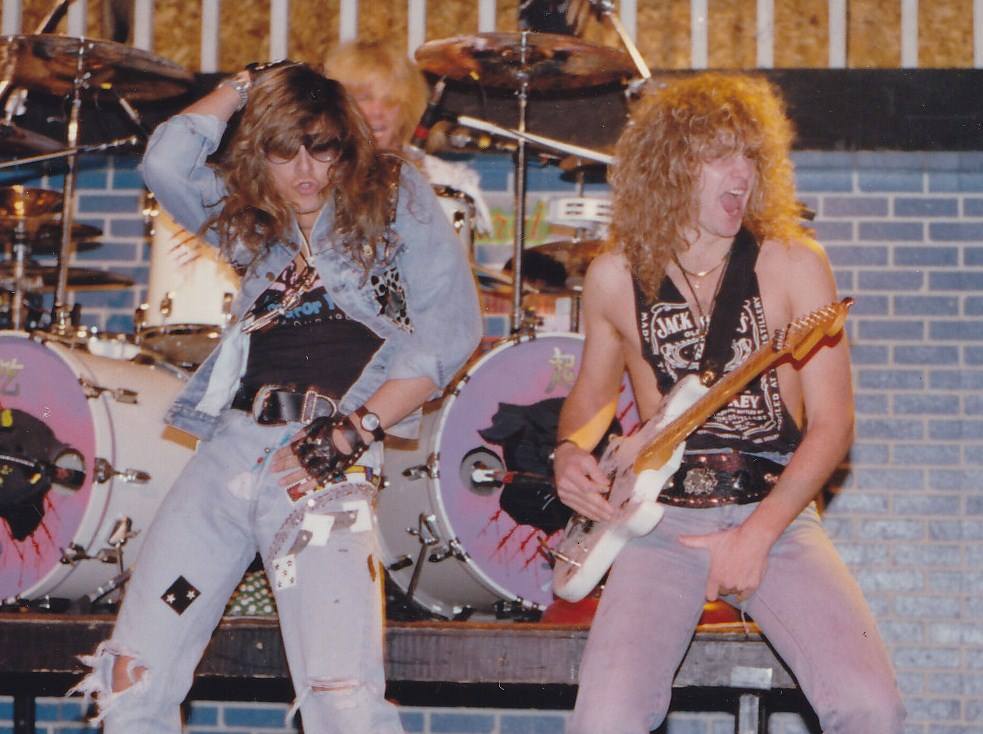 Pair-A-Dice at Gazarri's on Sunset Strip (Pictured L-R are Paul, Daz & Billy)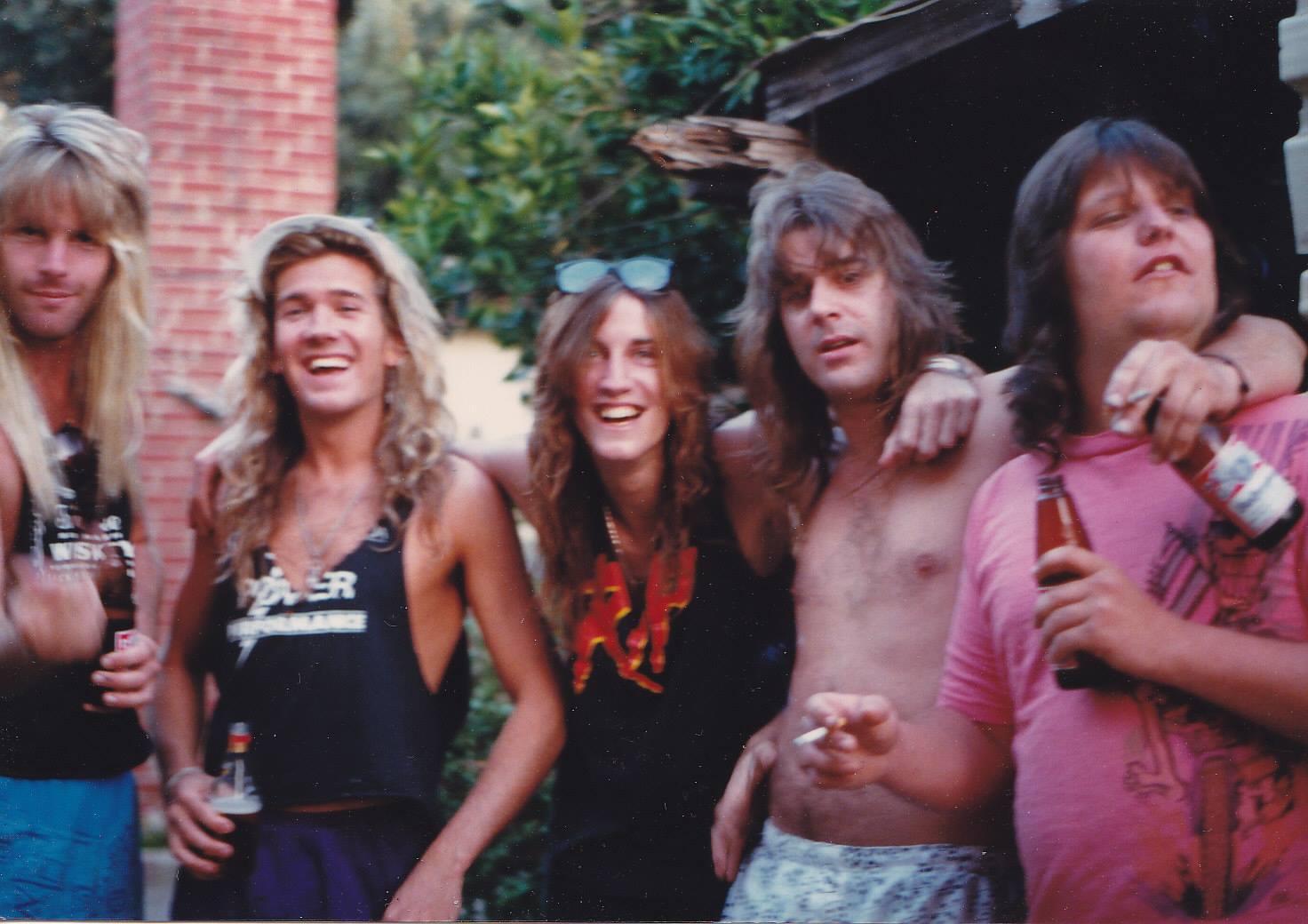 Daz Bash, Dave Marshall with local crew studs Chad, Fitz and Kendog
6, Adam Gifford of the similarly-named Paradise came forth with some Sludge about you in a past story (HERE). Here is your open forum to respond: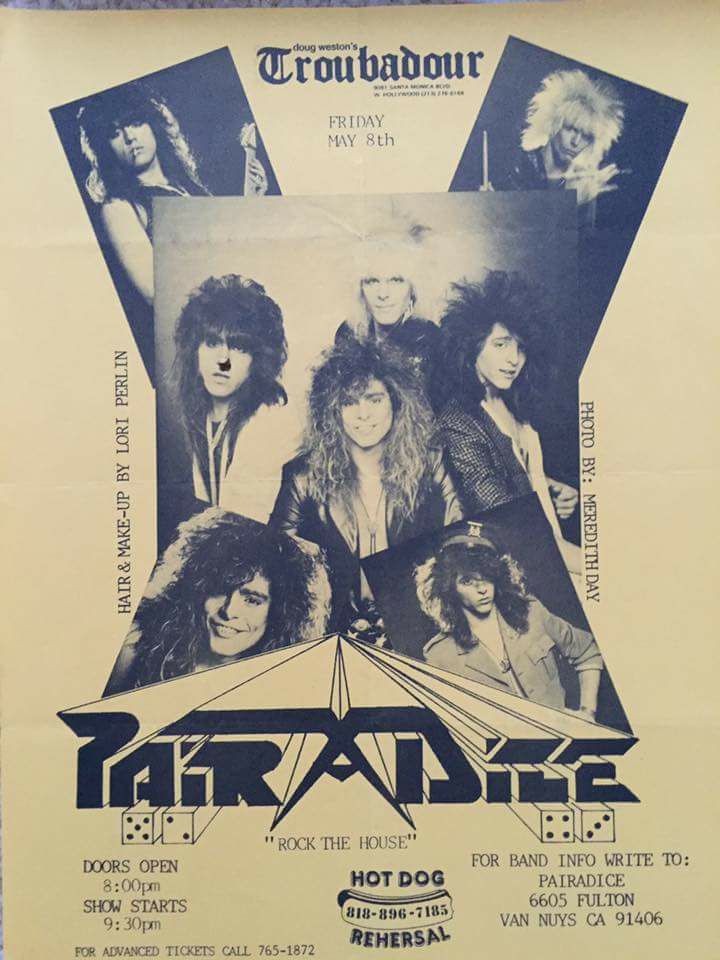 DB-I don't remember that particular occasion but I understand he trashes Pair-A-Dice whenever he gets the chance, and to be honest, I'm flattered he remembered me after all this time. As far as I know he is a good singer and performer-not quitting his bands-but he was the lead singer of a Rock band in L.A. in a crazy business full of crazy rocker dudes and chicks-what did he expect? Good behavior? And you have to keep in mind, there were so many bands, some having very similar names. Pair-A-Dice and Paradise only sound the same-they are 2 completely different words and bands. I joined Pair-A-Dice in the spring of 86 right before the debut show with Paul, Nick and Chris Lewin, at the Country Club, and we had been playing shows for like a year before we heard of Paradise. We never thought of them as rivals, just another strip band hustling for the record deal-much like us.
7, I would like to openly apologize for helping you get the Tempest gig in 1991. And yes, I understand why you quit!
DB-Accepted Gerry, and it's funny you say that because when we parted ways I told them that I would have another gig in 5 minutes, and no sooner had they left than guess who drove by the studio door—Duuuuuude what's up-Willie Basse of Black Sheep. Talk about someone who knows about the Sunset Strip! We were rehearsing his material that night, and I did drum tracks for his rendition of "Stop in the Name of Love". Then gigged in the LA area and went on the road in Arizona and Texas with him as Drummer in Black Sheep. Dave Lefko played Guitar in that line up also-That's how he and I got tight to start Deaf Dumb and Blonde.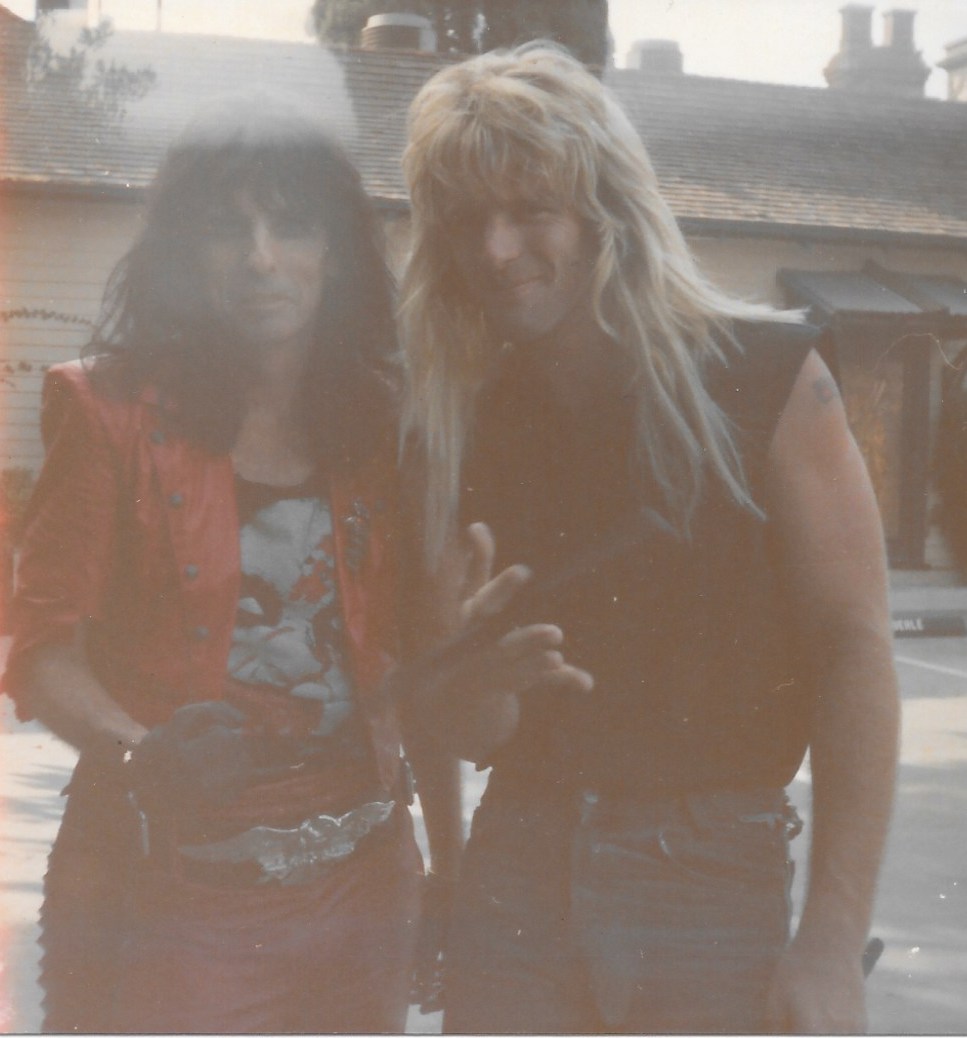 8, Do you think the movie title "Almost Famous" could have been about you?
DB-Me and about 10,000 other hopefuls who gave it their all, chasing that dream of becoming a Rock Star! I've had many people tell me in the last 2 decades that I'm the kind of drummer who should be playing big arenas of 50,000 or more, and I would have to say that I agree-LOL! How about a movie titled "The Little Drummer Who Thought He Could!"
Daz Bash inset with Alice Cooper
9, List three reasons why music should always remain a part of the public-school curriculum.
DB-Well, Music, as well as all the arts, which includes Theater, Visual fine Arts, Graphics, Film etc are so important in helping creative people develop their talents. Music is so important and it is documented that even unborn children are aware of music. So at an early age music should be a part of an education because it helps develop the left hemisphere of the brain. It is also vital in helping children and young adults relate to one another-having a common bond- and teaches a discipline. Music can also help those who may not be in the "Cool" crowd to find themselves and discover their purpose. Then if you wanna ROCK, you join a band you suddenly are cool and the situation has changed!
10, And finally, any last words?
DB-Yes Gerry, I have been in a lot bands since moving back to Florida in 1993. I currently have a studio with 3 full kits and a full PA system and jam all the time! When I look back to the Sunset Strip days I wouldn't trade it for the world! Like the lyrics of  Pair-A-Dice's "Where's Jenny-All The Memories, How they Never Die"! Where else could I have met the cool, crazy, awesome people I hung out with? Played all the clubs in bands like Pair-A-Dice, Deaf Dumb and Blonde, Black Sheep, Lovechild, Ghost Town, Tempest,  Stiletto, Fatal Attraction, jammed with Don Dokken, played drums in Alice Cooper's "I Got A Line On You" video and appeared in "Never Too Young To Die" as one of Gene Simmons' gang shouting "Give Her The Finger"!?
L.A.-That's where!
Daz Bash @ Facebook –
Pair-A-Dice @ Facebook – Demon Doll –
Deaf, Dumb & Blonde @ Facebook – Demon Doll –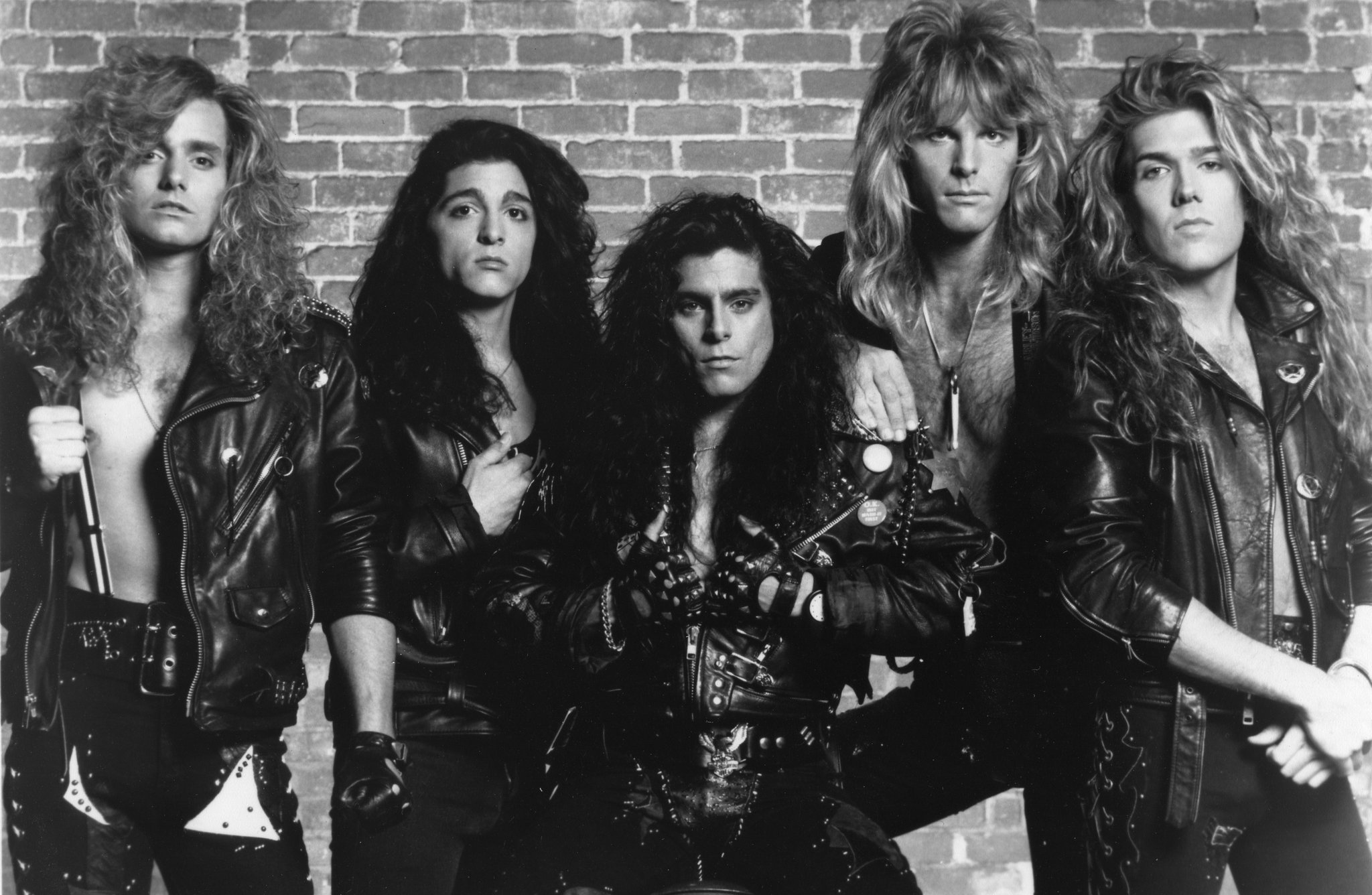 Pair-A-Dice L-R, Billy D'Vette, Nick Masella, Paul Lancia, Daz Bash & Dave Marshall