SWEET HOME IOWA
Bret Michaels, Dokken, Warrant, Firehouse and Lita Ford rock 5,000 fans in Council Bluffs
Music Mania Podcast – A crowd of people, young and old, began forming inside Council Bluff's Mid America Center hours before showtime, all clamoring for this one-night-only special event featuring five 80's rock heavyweights.
The hits would come fast and furious on this night and despite the inclusion of five different acts, the show moved at a nice pace with seamless transitions that kept things moving nicely throughout the show. Famed local rock station Z92 would also take this opportunity to celebrate its 40th birthday.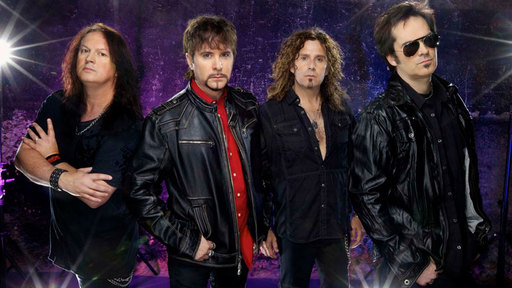 Firehouse kicked things off with a short yet blistering set that included hits from their first two albums. This is a band that is as solid as they come and have been as in demand as ever according to guitarist Bill Leverty who recently called in for an interview on the Music Mania Podcast.
"Last year we did 57 shows, which was a good year for us," Levery explained. "We are really grateful that our fans are sticking with us this long and that we have songs that have touched them emotionally in some way."
A song like "Love of a Lifetime" certainly touched many people along the way, yet it was songs like "Shake and Tumble," "All She Wrote," and "Don't Treat Me Bad" that really got the still-arriving crowd going. It was a performance that left many wanting more and should provide ample motivation for people to see the band in a headlining capacity with more time to delve into their catalog.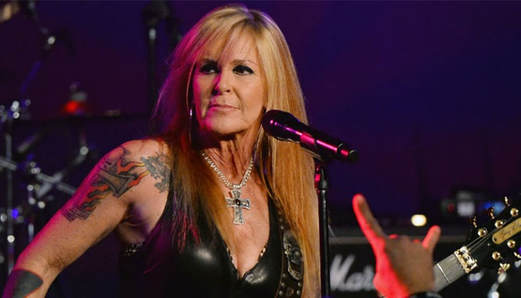 It was a real treat to witness Lita Ford perform in front of a sizable audience as most of the approximately 5,000 fans had filed in to the arena by the time she took the stage for her six-song, 40 minute set.
Lita, who still looks and sounds great for 59, stuck mostly to solo material aside from a rousing rendition of The Runaways hit "Cherry Bomb." The highlight of LIta's performance included a trilogy of ballads that included "Lisa," a cover of the Alice Cooper classic "Only Women Bleed," and concluding with the Ozzy Osbourne penned "If I Close My Eyes Forever" (with guitarist Patrick Kennison filling in for Ozzy for the duet).
Lita's 1988 hit "Kiss Me Deadly" would wrap things up and the audience knew every word. It was on this song that her vocal abilities really stood out, showcasing Ford as a viable act in 2018 as she continues to embark on both headlining and supporting shows throughout the summer.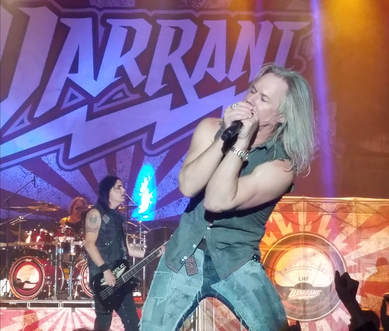 Band of the night honors clearly belonged to Warrant as from the moment they hit the stage with "Sure Feels Good" to the final chords of "Cherry Pie" the band were in top form and engrossed the uproarious audience.
Singer Robert Mason has bred new life into Warrant with his high-octane stage performances and spot-on vocal prowess. He is able to capture the original spirit of songs like "Heaven," "Down Boys," and "DRFSR" while also adding his own twist to the songs. Original singer Jani Lane (who passed away back in 2011) was a tremendous frontman and songwriter in his own right, but you have to give credit to Warrant for forging on and also continuing to make new music which was featured during the band's nearly hour-long set on this night.
"We're out there having a good time." Guitarist Joey Allen recently stated in an interview with the Music Mania Podcast. "There's a lot of bands out there still playing those kind of songs, but the truth is, we're fans too and there are a lot of bands from our era that should have made it and didn't, so it's an interesting perspective."
The title track to 2017's "Louder, Harder, Faster" was actually a highlight and showed that the band is not comfortable merely being a nostalgia act. While a longer set from Warrant would have been preferable, they got a large majority of the hits in (concluding with their biggest hit, 1990's "Cherry Pie") which sent people back to the beer lines and restrooms happy.
​"I think we're blessed to have such a big song." Allen said. "From my perspective, having a hit song to play every night that people remember is a blessing."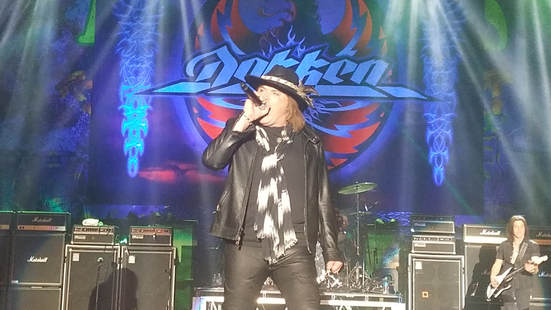 Next up on the bill came Dokken, a band that recently released a live album with all four original members. There would be no George Lynch or Jeff Pilson tonight but singer Don Dokken brought along the usual suspects with bassist Chris McCarvill, guitarist John Levin and the incomparable "Wild" Mick Brown on drums.
Don battled sound/microphone issues early as he continued to scowl at his sound guy at the side of the stage early in the set. "Kiss Of Death" was the opener tonight and the band sounded great while Don attempted to gain his vocal footing. He sings in a much lower registry these days which takes away some of the "boom" in choruses like "Dream Warriors," but the toned down vocals do not necessarily render Dokken's performances uneventful.
The sound and Don's voice seemed to improve as the set went on and songs like "Into the Fire," "Alone Again," and "Breaking the Chains" brought very positive reactions.
By the last few songs, Don was smiling and appeared to enjoy being on stage. "In My Dreams" was a huge highlight with a herculean vocal harmony from the band and perhaps Dokken's heaviest song "Tooth and Nail" finishing things off. Like Warrant, Dokken played for just under an hour which did a lot to build anticipation for the evening's headliner- Bret Michaels.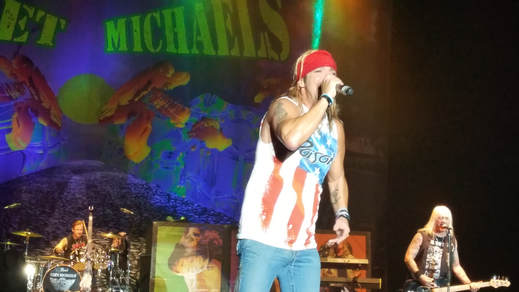 Bret Michaels may never be compared to a vocalist like Freddie Mercury, however, Michaels completely embodies good-time rock n' roll and his skills as a frontman were on display as 5,000 people welcomed the Poison singer to the Mid America Center at around 10 P.M.
Michaels, like the rest of the bands tonight, kept it short and simple with a 9-song set that included seven Poison hits and two covers. Rarely has there been an artist so adept at playing to his audience as his stage-raps and connection to the crowd are one-in-a-million.
"Bret is the best frontman out there." Firehouse's Bill Leverty has been on record saying.
It's an arguable point, but watching Bret work a crowd is something to behold, indeed. From his frequent references to the U.S. Armed Forces to allowing fans to sing choruses of songs, Michaels makes every person in an audience feel like they are a part of the show. He seamlessly incited sing-alongs to songs such as Lynyrd Skynyrd's "Sweet Home Alabama," and Poison's "Unskinny Bop" which, surprisingly, had as much male audience participation as female.
He dedicated "Something to Believe In" to our brave men and women in the military before reminding us that his band, Poison, would be going on out on tour this summer with Cheap Trick and Pop Evil.
His solo set was not all that dissimilar to a Poison show these days in both length and songs played, but the crowd didn't seem to mind. The show concluded with Poison's undeniable party classic "Nothin' But a Good Time" before calling Warrant's Robert Mason back onto the stage for a cover of Kiss' "Rock N' Roll All Night" which placed a night little bow on an unforgettable night of rock hits.
Review courtesy of Music Mania Podcast