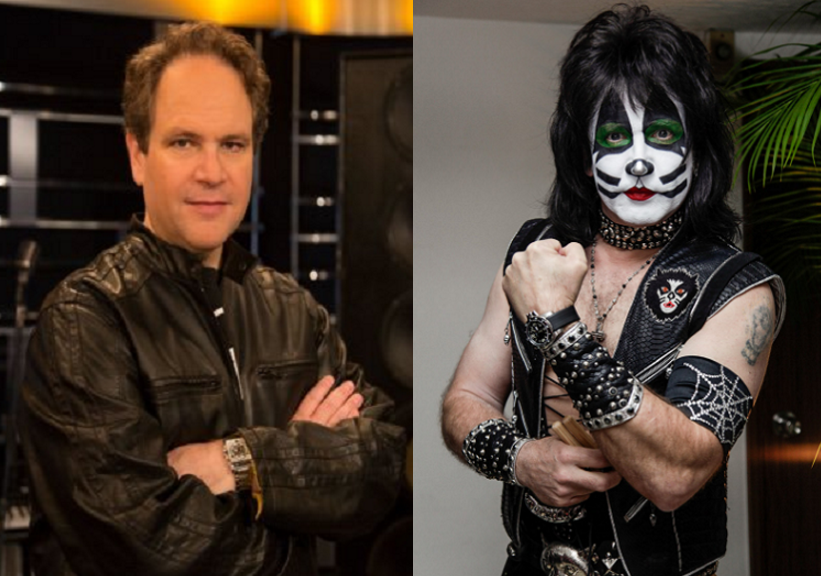 TEARS ARE FALLING
Eddie Trunk ranting after Kiss drummer avoids him at NAMM; "When he saw me, he bolted into a door and hid"
SleazeRoxx — Heavy metal radio personality Eddie Trunk recently had an interesting run in — or lack of run in — with KISS' drummer Eric Singer at the NAMM convention, which is being held at the Anaheim Convention Center in Anaheim, California, USA from January 19 to 22, 2017.
The following is a transcription from Sleaze Roxx of Trunk's YouTube audio recording below: "…there was none other than Eric Singer who currently plays in KISS of course and has for a long time, and I have talked about Eric's playing and what a wonderful player he is and all that for a long time and all the bands. And I have known Eric for a very long time and uh, you know, he was busy with fans doing his thing and when I got pulled back into this private room, this hallway with this private room. That's where all these artists were hanging out, that's where I saw CC and, and Eric Singer was right, like a step away from CC, and I think that he did not realize that it was me coming down the hall. You know, the dreaded toxic threat to all things KISS — Eddie Trunk [laughs] because Eric Singer, ladies and gentlemen, a guy that I have known forever and have said nothing but positive things about really except for the fact, and it's not his fault but I just don't like what KISS has done making Eric and Tommy [Thayer] dress as Ace [Frehley] and Peter [Criss]. That's all [laughs] I've ever said. It's unbelievable [laughs]. In decades of support, that's all I've ever said but I have been painted because of that opinion that so many other share as the supreme enemy right?
So I was actually going to say, "Hey Eric. Good to see you man." Shake his hand and that was it right? This dude, when he saw me, like he bolted into a door and hid like you could not believe. And it was actually so silly and so ridiculous but that's how those guys unfortunately are. Instead of just [laughs] being adults and saying "Hi." It's like you would think what I ever did in this world to that band beyond supporting them 99.9% of the time, it's laughable, it's silly, it's dumb and it was just — actually, I got a chuckle out of it. The guy literally — like dust — like poof was gone. He went behind this door. He had this security guy. You could tell the security guy was nervous making like the [inaudible] sign that [laughs] Eric wasn't going to come out unless me — out of all — the threat of all, the toxic threat was removed. I could sense what was going on. Others kind of confirmed it later on. Like you know what, it's so dumb [laughs] that I will, that I will gladly move on to other things so that's what I did and I went…"
Eddie Trunk on his run in with KISS drummer Eric Singer at NAMM on January 20, 2017:
The above content courtesy of Sleazeroxx