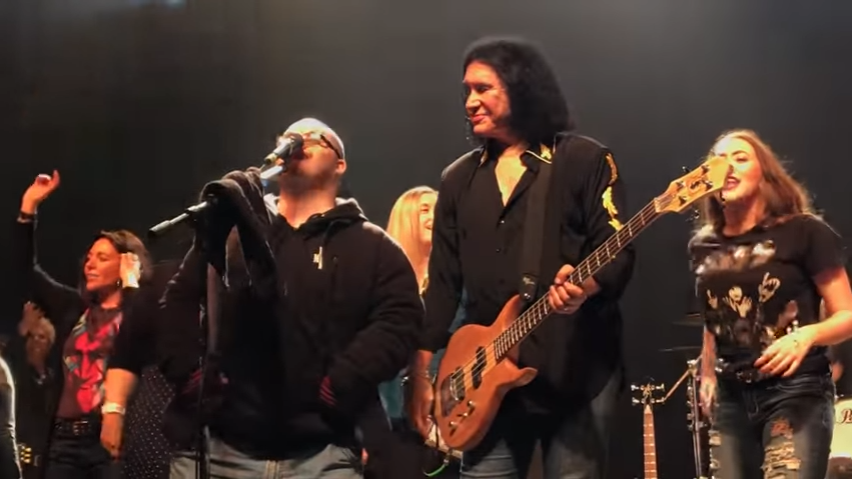 THE DEMON IS A GOOD GUY
Gene Simmons with local rockstar Rockin' Johnny Rubinski
CLEVELAND, Ohio — Gene Simmons is currently out doing a few select shows with his solo band.  Simmons and band performed March 18th at the "Cleveland Agora" to a packed house.
The event is being billed as "An Evening With Gene Simons And His Band" and they will appear in 5 cites.
Along with the Cleveland show, shows are booked for St. Louis (April 8-9), Philadelphia (June 2-3), Chicago (August 26-27) and Austin (November 17-18).
"This is gonna be a first for me," Simmons said. "Outside of Kiss, I've never done a solo tour. I never did anything like that. Every once in a while I'll jump up on stage and do a song with somebody. Johnny Depp and I did a few songs together, a few other knuckleheads, but that's about it. When Wizard World and I agreed to do five events together, the idea of jumping up onstage and gulping it on for an hour or so came up. And I got a great bunch of guys, real rocking guys who are gonna get up with me, and we'll play all the hits and have ourselves a good old time." Simmons told CantonRep.com
The Saturday night show in Ohio is getting great reviews. And videos are currently making the rounds but the video we've added below has got to be the best.
Gene Simmons you are a good man.
Metal Sludge wants to give a huge shout out to Gene's co-lead vocalist Rockin' Johnny Rubinski!
Johnny, we give you major props, you rocked above and beyond.
No more words are needed, we will let the video do the talking.