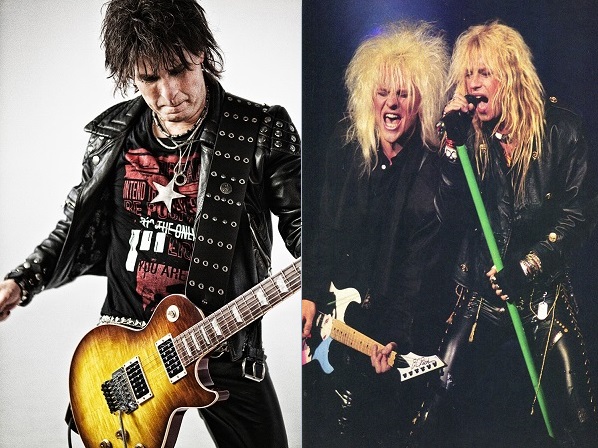 Metal Sludge — In a brand new interview with Vinyl Writer Music, guitarist Kee Marcello (Europe. Easy Action) talks all things past and present.

Marcello is best known for his work with the band Europe.

But in the early 80's Marcello was part of Swedish glam rockers Easy Action.

At some point during the new interview Easy Action is brought up and a connection to Poison and their debut release "Look What The Cat Dragged In".

It's alleged from Marcello that Poison stole his idea, for their hit song "I Want Action" from the Easy Action song "We Go Rocking."

We have shared some excerpts from the interview below along with videos below of both the songs.

We'll let you be the judge…

—————————————-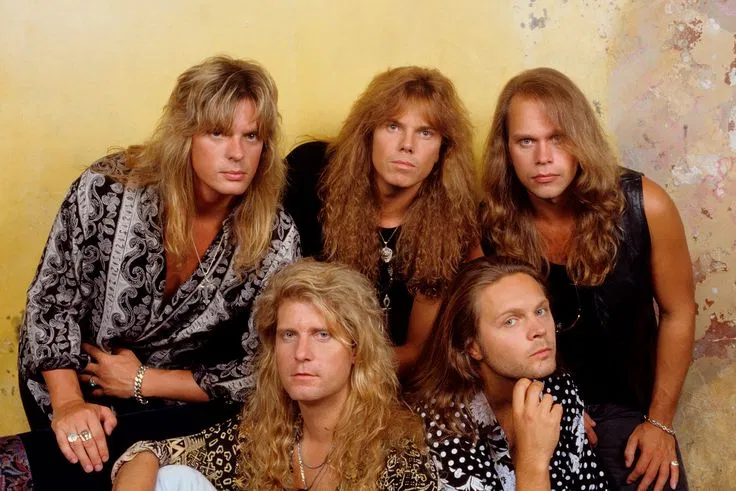 Andrew Daly of Vinyl Writer Music writes: In a decade known for its guitarists, Kee Marcello was truly a standout from the bunch. Beginning with Easy Action, soring to fame with Europe and beyond with his solo work, most recently with Our Of This World, Kee has established a firm legacy as one of the better lead players within the genre of Heavy Metal and Glam.
Today, I've got Kee Marcello with us for a chat. We touch on his early roots, what led him to the guitar, the formation of Easy Action, world domination with Europe, his thoughts on Grunge, and much more. If you would like to learn more about Kee Marcello, you can head over to his Facebook page here. Enjoy this interview. Cheers.



Andrew Daly: Let's go all the way back now. You formed Easy Action in 1982, right? Tell us more about that band's inception. How did things get started?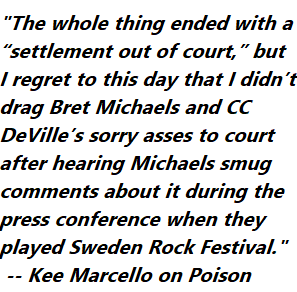 Kee Marcello: If we want to go all the way back, we should mention Stetson Cody Group, which was my first band in Umeå, the town in the north of Sweden where I grew up. Originally we called ourselves Joker (I was obsessed with the Joker in the Batman comics). Still, after a change of drummer and the addition of my cousin, Sven Lövbom, on guitar, the other members prompted a change of band name. Now, we came up with a name such as Stetson Cody Group, only God knows.
I moved to Stockholm in 1979 and embarked on a couple of moderately successful projects, namely Kee & The Kicks, which led me to meet the guys in Noice and later join the band. It's hard to talk about Easy Action without mentioning Noice. That's where I met Peo Thyrén and, perhaps for the first time, seriously started to focus on my songwriting. I eventually performed on and produced their 1981 album Europa. Myself and Peo actually started scheming the launch of Easy Action in the tour bus while on the road with Noice.
After releasing our first album in Sweden in 1982 our manager, Sanji Tandan, went to the music business fair Midem in Cannes, France, and on his return, we signed a historical US major label deal with the founder of SIRE (Warner Bros), Seymour Stein. We were the first Scandinavian rock act ever to accomplish this, so it was all over the news. One has to remember that back in 1982, Scandinavian Rock acts weren't really taken seriously by the US music business.
Well, Easy Action changed that forever. It was only after our SIRE signing that Scandinavian bands like Europe and TNT got signed to US majors.


Andrew Daly: Your first two records with the group, Easy Action and That Makes One are truly underrated albums from that time period and genre. What do you recall about the recording of those records? Why do you feel they get lost in the shuffle, so to speak? Was it simply the glut of music coming out around that time?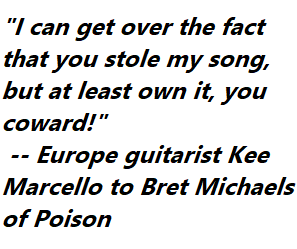 Kee Marcello: I believe that Easy Action mark I (as I now call it to be able to distinguish the two) were a bit too early to hit the US Glam wave with bands like Mötley Crüe and Poison, etc. It wasn't until a couple of years later that the whole sleeze Rock thing took off. A quite convincing piece of proof of my hypothesis is the lawsuit that followed Poison's release of "We Want Action," which chorus was identical to that of Easy Action's "We Go Rocking." The whole thing ended with a "settlement out of court," but I regret to this day that I didn't drag Bret Michael's and CC DeVille's sorry asses to court after hearing Michael's smug comments about it during the press conference when they played Sweden Rock Festival. A journalist asked him, "Do you have a comment about "We Go Rocking" and Easy Action?" his reply was that he, "Hadn't heard of any of them!" I can get over the fact that you stole my song, but at least own it, you coward!
It later turns out that Ric Browde (who produced Poison's debut album), a big fan of Scandinavian Glam bands like Easy Action and Hanoi Rocks, brought our album to the studio during the recordings of Look What The Cat Dragged In and after playing it back prompted the guys to record a cover of "We Go Rocking." The band's reaction to that was, "Nah, some fucking Scandinavian Glam band? Let's rip 'em off. Who's gonna now?" (Ric's own words). At the time of the lawsuit, I was far too busy with Europe to have the time to deal with it; my publisher Warner/Chappell Music, was running the lawsuit.
Easy Action mark II and the album That Makes One is a completely different story. In 1985 me and vocalist Zinny Zan had different opinions on which musical direction the band should go, resulting in him leaving the band. (He later moved to LA and had a pretty successful patch with his band Shotgun Messiah).
Zinny was then replaced by Tommy Nilsson, and we immediately started working on the That Makes One album. By that time, my self-confidenceas a songwriter and producer had grown considerably, and I had a very clear idea of how I wanted the album to sound. By this time, we had a manager named Niels Kvistborg, and he had been to the US a couple of times and had stirred up some serious interest from labels, namely Geffen and Sony. It really felt like this was going to be the new big Swedish Rock export, but all that changed when Europe's manager called me (as I was on my way to the photo session for the cover of That Makes One), and asked me to join Europe.

To read the Full interview go to Vinyl Writer Music