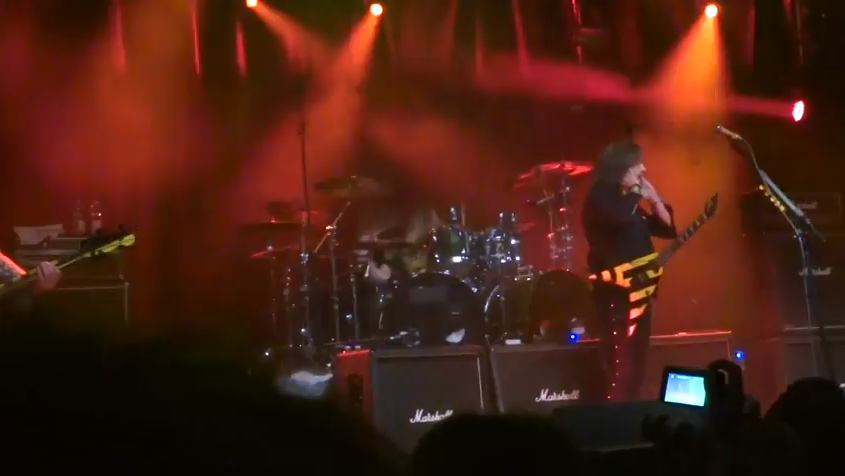 TO HELL WITH THE LIVE VOCALS
Stryper lip-syncing? Video clip exposes their pre-recorded vocals in live show
Frontiers Music Festival, ITALY — It's always awesome when a band is talented and can recreate their studio work.
It's even more impressive when they can do it 30+ years into their career.
Such is the case with Stryper.
Or is it?
A recent upload on youtube from the band's appeaance at the annual Frontier's Music Festival shows off all kinds of amazing 3-part harmonies.
But sadly the band are nowhere close to their microphones when some of the said vocal parts are blaring through the P.A. system.
Michael Sweet is standing somewhere between 1st and 2nd base (lead microphone and drum riser) and motioning to the monitor man about feedback.
While Sweet stands in no man's land, suddenly the lead vocals, among other voices and harmonies are heard loud and clear.
No pun intended.
At one point Sweet even takes both hands off his guitar and appears to be plugging his ears.
As the camera pans to the left, new bassist Perry Richardson (ex-Firehouse) is seen playing his bass, but not singing.
The next camera pan is to the right, where we see Oz Fox.
Fox is in front of his microphone, but we're gonna go out on a limb and say all those voices were not just him.
That or Fox is a ventriloquist.
Sweet is also on record admitting to the band's use of backing tracks.
In a 2016 interview with BigMusicGeek.com Sweet talks openly about using backing tracks.
"I can go see a band and literally know instantly. Anytime you see a drummer with a computer and he's wearing earphones, they're using tracks. You don't even have to hear anything. I've gone out and done festivals and played with band after band that used tracks. My view on is that I think it's fine as long as you're using them for some enhancement. If there's a really cool guitar line or hook that you can't play because you're playing the other line, it's okay to use a track to play that. Or if you've got keyboards on some songs and you can't afford to take out a keyboard player. It's also okay to use those tracks. Or with background vocals. If you've got this giant choir like we do on "Yahweh" (from Fallen). …We can't pull that off live. So do we not play the song live? You know what I'm saying? As long as it's for enhancement, it's fine. I don't have a problem with it. The thing I have a problem with is some bands, again I'm not mentioning names because I'll get in trouble, who are out touring right now, who are not going to be touring anymore, use an absurd amount of tracks. You might as well just play the album, ya know? That I've got a problem with. It's overkill. The point of this semi rant is that I'll talk about whatever, man. I'll tell you exactly what we're doing and how we're doing it." said Sweet
BigMusicGeek journalist Todd says: "Your honesty on this subject has definitely been an eye-opening experience. Good or bad, it's appreciated."
To which Sweet replies with: "Absolutely. And like I said, we keep it to a minimum. On the last tour we did in 2014, we might have had four or five songs that had some tracks to enhance and help us. It was all stuff that we really wanted people to hear live that we couldn't pull off live. "God" was one of them. I think we also did it with "Honestly" (from To Hell With The Devil) because we don't have a keyboard player on the road. Normally, I'll play to the piano track and that's kind of like 'Meh'. People want to hear the whole band on that one, ya know? But who is going to play the piano? Well, we had a piano track and we all played to it. …That's another one where we do it some."
Check the clip below from youtube, the "keeping it to a minimum" starts around the 1:40 mark.