Vinnie Paul death reported to have been caused by 'Major Heart Attack' 
Las Vegas Review Journal — Las Vegas resident Vinnie Paul, a heavy-metal icon and drumming force with Pantera and Hellyeah, has died in Las Vegas, multiple sources have confirmed.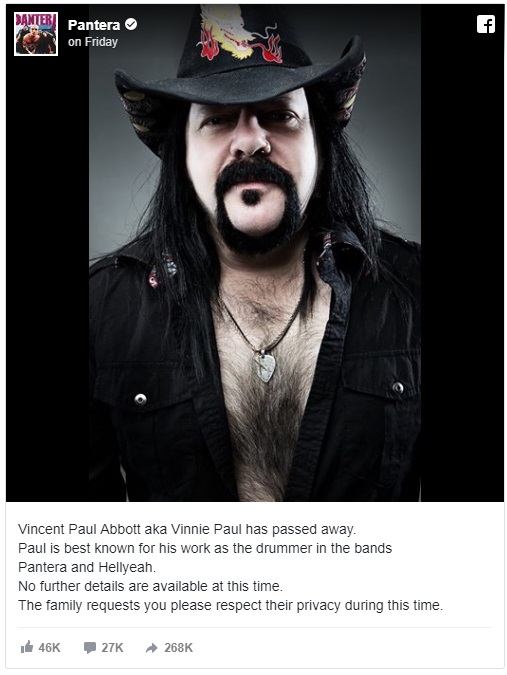 Paul's death was first reported by Billboard.com and soon after was revealed on Pantera's Facebook page.
The message read:
"Vincent Paul Abbott aka Vinnie Paul has passed away.
Paul is best known for his work as the drummer in the bands Pantera and Hellyeah. .
The family requests you please respect their privacy during this time."
Paul died Friday at 54. No other details of his death were immediately available. Sources who knew Paul said late Friday and also today that he had suffered a major heart attack, but there has been no official confirmation of his cause of death.
Paul was a fan of live music and entertainment. He was a regular at music venues all over town, a frequent visitor to Carrot Top's show at Luxor and Zowie Bowie's show at Red Rock, as well as the shows of such artists as Frankie Moreno and Matt Goss (he was at Goss' show at 1Oak Nightclub at The Mirage on Tuesday).
Carrot Top, whose legal name is Scott Thompson, said of Paul, "He might have been my biggest supporter. He was just the kindest, sweetest, most genuine person. I'm very sad."
Read the full story in the Las Vegas Review Journal