WHAT HAPPENS IN VEGAS
Stryper guitarist Oz Fox hospitalized after late night incident in Sin City
Blabbermouth — STRYPER guitarist Oz Fox has been hospitalized after reportedly "falling down" during his guest appearance at SIN CITY SINNERS concert Saturday night (August 11) at Harrah's in Las Vegas, Nevada.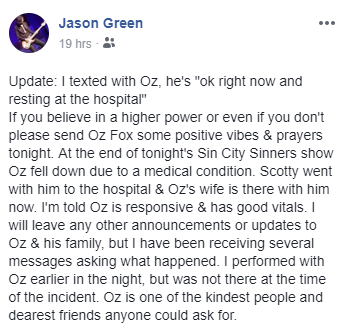 The news of Oz's illness was broken by SIN CITY SINNERS' Jason Green, who wrote on his Facebook page: "If you believe in a higher power or even if you don't, please send Oz Foxsome positive vibes and prayers tonight. At the end of tonight's SIN CITY SINNERS show, Ozfell down due to a medical condition. Scotty went with him to the hospital and Oz's wife is there with him now. I'm told Oz is responsive and has good vitals. I will leave any other announcements or updates to Oz and his family, but I have been receiving several messages asking what happened. I performed with Oz earlier in the night, but was not there at the time of the incident. Oz is one of the kindest people and dearest friends anyone could ask for."
Oz's wife, Annie Lobért, confirmed that the guitarist has been hospitalized, writing on Facebook late last night: "Major emergency prayer request! If you are up, please agree with me in prayer for healing for my husband. Oz Fox hospital emergency! Jesus, please help us!"
A few hours later, STRYPER checked in with a Facebook post, writing: "We received news this morning that Oz fell while on stage in Las Vegas last night. We're still getting information on what happened and why so we appreciate your thoughts and prayers as we wait to receive more information. We will keep you all posted. Thank you."
Fox and Lobért, a former prostitute and the founder of nonprofit organization Hookers For Jesus, made headlines in 2009 when they were married in a Las Vegas, Nevada ceremony broadcast live via the web.
To read the rest of the article, visit Blabbermouth