YOU GIVE BARF A BAD NAME
Jon Bon Jovi vomited after making out with Lita Ford
NY Post — No one lived larger than sexy heavy-metal guitarist and singer Lita Ford.
When Ford recorded her 1984 album, "Dancin' on the Edge," in New York, Jon Bon Jovi and guitarist Richie Sambora were ­recording nearby, and would ­often hang out.
After a night out at the club Traxx — with Ford's best friend Toni and keyboardist Aldo Nova also in tow — Ford brought the crew back to her room at the Broadway Plaza Hotel.
Ford and Bon Jovi were making out in one bed and Sambora and Toni on another, as Nova "watched, sipping his red wine, as we tried to fit him in, too."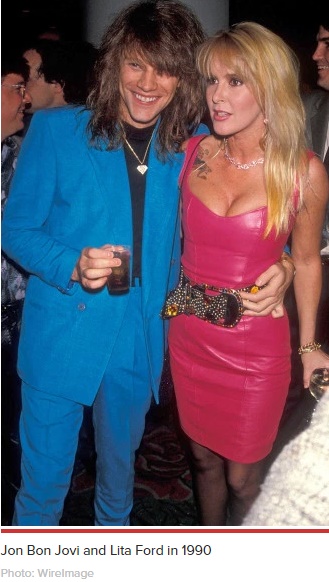 All the wine got to Bon Jovi, who "began puking in the corner, right on the bedroom carpet."
At that point, Toni felt generous. "Toni hopped off Richie," Ford writes, "as if to say, 'Here, Lita. Try mine.' So I got in bed with Richie."
The room then turned into a scene from "Caligula."
"Holy s–t," Ford writes in her new memoir, "Living Like a Runaway" (Dey Street). "Richie Sambora is the king of swing, I must say. Jon recovered from puking and Aldo finally made his way into the action, and it turned into girl-on-guy fun at the Broadway Plaza Hotel."
Lita Ford was a rarity then, and now — a female solo artist in hard rock, a style of music that enthralled her early on.
She was just six days past her 13th birthday the first time she saw Black Sabbath in concert, and was taken with the godlike figures in shadow on the stage before her, "massive piles of thick, black hair."
"My life flashed before me as I focused on the guitar player, Tony Iommi," she writes. "He seemed superhuman, almost godlike."
Ford, who began playing guitar at 10 and writes that she mastered Led Zeppelin's licks by 13, would learn disgusting truths about this god in time. But first, at 16, she was brought into the world of rock 'n' roll by another man with serious issues, Kim Fowley.
The 36-year-old Fowley — who she describes as "tall, skeleton-like and looked a bit like Frankenstein but with blue eyes" — was putting together a teenage girl band, and had heard about Ford's playing. He got her number in Long Beach, Calif., and called her out of the blue.
He told her about himself and the band, and said, "I can make you into one of the biggest rock stars in the world. You will f–k the best rock stars. You will tour the biggest arenas. You will be on the cover of every magazine. You will become a legend."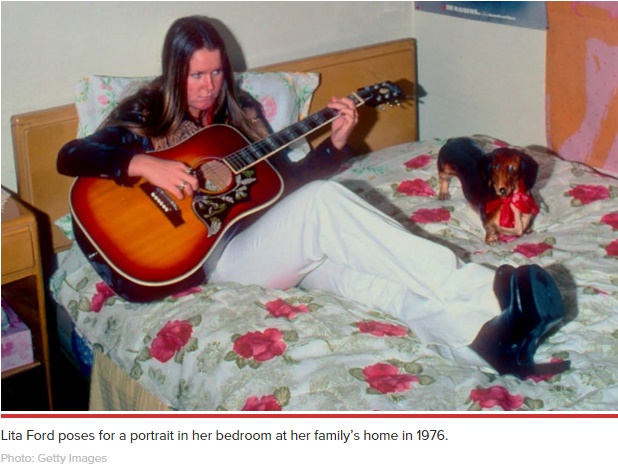 Ford was in, and joined the Runaways along with bandmates that included rhythm guitarist Joan Larkin, who changed her name to Joan Jett.
As the band rehearsed, it struck Ford that Jett and singer Cherie Currie were "always ­together and chummy, not in a friendly way, but in a romantic way." When she learned that all but one of her bandmates were gay, she quit the band, thinking "one of the girls might make a move on me."
For the next month, though, she had nightmares about the Runaways achieving success without her. She returned to the band and now regards that stance as youthful ignorance.
Fowley educated them in his hardcore version of the rock 'n' roll life. "You gotta think with your crotch," he told them. "You have to think with your p—y."
"That was the tame side of Kim Fowley," Ford writes. "It wasn't long before he was calling us dog meat, dog bitches."
Read the full article at New York Post