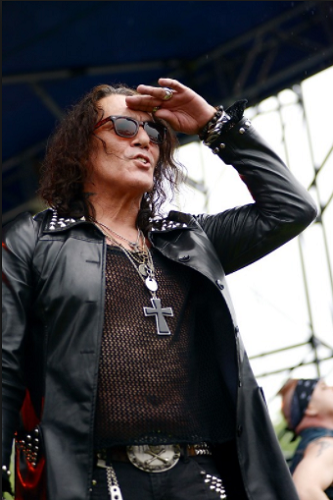 Updated: Two additional sources have privately communicated to Metal Sludge late this evening that it is true, Stephen Pearcy does have Covid.

We are also being told that Pearcy is feeling little to no effects from the virus and it seems he is asymptomatic.

We will keep all posted as more information becomes available regarding the Ratt singer's health and the subsequent live shows that appear to be affected this coming week.

Get well soon SEP!


Metal Sludge — Word from the rumor-mill is that Ratt singer Stephen Pearcy has contracted the Covid-19 virus.

According to a source, Pearcy is postponing shows and appearances due to his alleged Covid condition.

This has not been confirmed by Pearcy or anyone from the camp yet, but our source says this is the reason for recent developments related to the singer's touring schedule being altered.

Pearcy was slated to play at "Jergel's" outside of Pittsburgh this Wednesday night December 1st, but the show has been postponed according to the venue's official website.

Pearcy posted a group of East Coast tour dates on his official Facebook last week (November 26th) which starts in Pennsylvania and takes him into New York and Massachusetts, with additional dates later in December in Iowa and California.
Dec. 1st – "Jergel's Rhythm Bar" Warren, PA
Dec. 3rd – "Showplace Theater" Buffalo, NY
Dec. 4th – "Kegs Canalside" Jordan, NY
Dec. 5th – "The Vault Music Hall" New Bedford, MA
Dec. 18th – "Diamond Jo Casino" Dubuque, IA
Dec. 31st – "Pacific Islander Beer Company" Santee, (San Diego) CA

One online fan commented: "Are you pulling a KISS on us (and I mean that in a bad way)?" with a share of the postponed announcement as seen below from Jergel's.

We have reached out to the Pearcy camp, but no word confirming or denying this news as of press time.

We hope Stephen Pearcy and his band are staying safe.

In the meantime stay up to date and informed with all things Stephen Pearcy via his social media all noted below.


Stephen Pearcy @ Website – Twitter – Facebook – Instagram – YouTube – Cameo – Tour –
RATT STEPHEN PEARCY
12.1 – Jergel's Rhythm Bar
Warren sale, PA
12.3 – Showplace Theater
Buffalo, NY
12.4 – Kegs Canalside
Jordan, NY
12.5 – The Vault
New Bedford, MA
12.18 – Diamond Jo Casino
Bubuque, IA
12.31 – Pacific Islander- Santee, CA (San Diego)

— STEPHEN E PEARCY (@StephenEPearcy) November 26, 2021