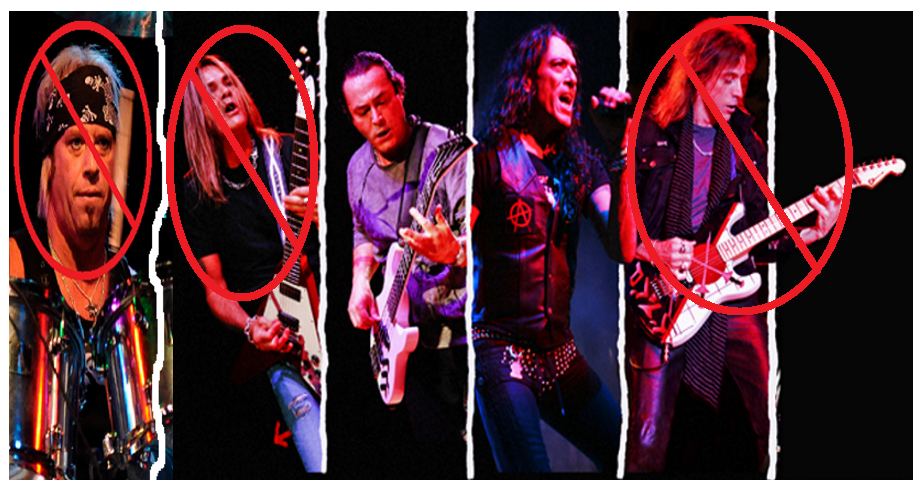 BACK FOR NONE
Rumor mill says RATT have lost yet another guitarist, Carlos Cavazo confirms it's true
LOS ANGELES, California — In yet another stunning move, an insider says "Carlos Cavazo is gone from Ratt."
Metal Sludge reached out to Cavazo direct, and he took our call and went on record, that he is gone from the band Ratt.
"As long as Warren (DeMartini) is not there, I don't see myself doing it.  I can't picture anyone else being there other than Warren." says Cavazo

Cavazo adds, "The same goes for the other guys as well. Pearcy and Croucier, If they fell off, I wouldn't want to be involved." 
Metal Sludge first reported on March 21st that Ratt had fired lead guitarist Warren DeMartini from the band.
Ratt features original members Stephen Pearcy (vocals) and Juan Croucier (bass). Along with DeMartini, who with Pearcy and Croucier seemingly defeated former classic year member Bobby Blotzer (drums) in a lawsuit for control of the band.
Now that Blotzer has been out of the picture, sources close to the band allege that Pearcy, and Croucier are holding onto some bitterness from their years not in the group.
If readers recall, the band was run with an iron fist by 50/50 partners DeMartini and Blotzer for years.

The duo toured as Ratt from 2000-2006 with Jizzy Pearl as their voice, Robbie Crane (bass) and rythym guitarist John Corabi (Ex-Motley Crue) who was in the band from 2000-2008.
During this period Pearcy was not involved with the band Ratt but toured as a solo artist.
Also, readers may recall, that Croucier left in 1992, and Crane had been in the group from 1996 til his departure in 2012 with the subsequent return of Croucier.
Multiple insiders close to the band are stating this is the pay back for DeMartini controlling the group, which had Pearcy and Croucier at times, left in the cold with no real say in the control of the band.
What are the beefs?
One source has said it comes down to working as well saying, "Over the years agents have offered (multiple) dates or tours. And Warren (DeMartini) was always very selective to confirm, while Pearcy, Blotzer, and the others would be ready to work." 
Our source says: "Clearly Stephen (Pearcy) wanted to play, he's done a lot of stuff as a solo artist. Playing in clubs all over for likely much less money than Ratt would be paid."
The source added: "Bobby (Blotzer) too. Sure he's a nutcase, but he wanted to work, to make money. He went and did it for 18 months with a cover band, clearly he wasn't holding back. Warren (DeMartini) has held the key to the castle for so long, and the others now have the chance to grab it – and they are." 
Sources also claim, that the Ratt band has been a partnership, but also state that the majority rules and it worked as such when 3 to 1 voted Blotzer out of the band. This leaving 3 members with an equal share. Now it appears that 2 have voted against the 1, and have recently fired DeMartini.
The latest rumor is that Cavazo was approached about the band going forward, but word is Cavazo was not interested if DeMartini was not involved.
So, with that, Cavazo has walked from Ratt and he says it's true.
Sources also allege that the band's former manager has stepped away and dropped the band based on their initial interest to fire DeMartini.
One insider tells Metal Sludge boldy: "This is karma coming back to get Warren (DeMartini). He (Warren) dangled the carrot in front of Pearcy for years, now he's getting his in return."
Now that Blotzer is gone, it appears Pearcy and Croucier are now playing the same controlling game back on DeMartini, that was alleged to have been played on them for many years.
Metal Sludge has spoken to Cavazo on the record, and 5 additional different industry sources, all of whom insist on remaining anonymous.
Also, to add fuel to the fire, Blotzer has publicly spoke out late last week, and for the first time in many months.
Blotzer in a statement also tocuhes on the recent DeMartini news writing: ""Ask, why is Warren gone? Think about that one. I have the answer." 
Stay tuned as we all await more on the on-going drama in Ratt.