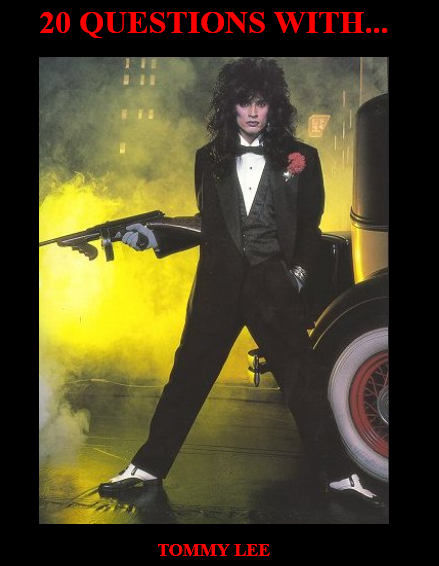 CLASSIC 20 QUESTIONS
Motley Crue drummer Tommy Lee goes 1-on-1 with Metal Sludge (1999)
Celebrating 20 Years of Metal Sludge … 1998-2018.
Taking a look back at some classic posts from Metal Sludge.
The following interview was posted on October 10th 1999 with Motley Crue drummer Tommy Lee.
This was the exact intro, layout and editors notes. Also these were the same photos used, and of course Tommy's answers. Some of the questions he dodged but still gave us  a solid interview.
Enjoy this and please share with your friends. Now get ready to Shout At The Devil!
Metal Sludge
——————————————————————–
That's right, Tommy Fucking Lee!  T-Bone is in the shizzhouse, bee-otch!!  I'm sure being interviewed by Metal Sludge is a career high for Tommy, since it seems like T-Bone doesn't get a lot of press.  You never really hear anything about Tommy since he tries to keep a low profile.  So we thought we'd help him out and ask him as many questions as we could come up with.  We originally sent Tommy 25 questions, and he answered 15.  Not bad.  He did  answer most of the questions we wanted answers to, and he did talk some smack here and there, so we can't complain.  So without anymore bullshit, here's Metal Sludge's Exclusive Interview with Tommy Lee
Metal Sludge:  Yo, what are you currently up to?  (This is your only chance to plug your shizznit. Websites, CDs, tours, etc.) 
Tommy Lee:  MEETING WITH RECORD CO'S………BUMPIN MY NEW SHIT REALLY LOUD IN THEIR OFFICES OR AT THE STUDIO!!…….GOT MAJOR INTEREST……I'M PUMPED!!
MS:  Typical Stupid Ass Metal Edge Type Question:  Please explain to everyone why you left Motley, blah blah blah, and all that type of shit.
Tommy:  CREATIVE, AND PERSONAL REASONS.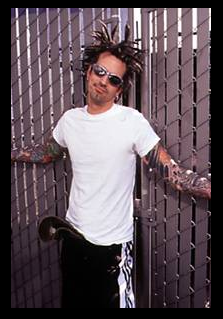 MS:  Have you talked to Nikki since you've left Motley Crue, and if not, what the dilly-yo?
Tommy:  I'M GONNA SPEAK TO HIM TODAY!…….JUST HAD TO WAIT TIL THE SMOKE CLEARED!!!!
MS:  Has anybody ever confused you with Coolio? 
Tommy:  IS COOLIO WHITE?
MS:  Not that you'd ever want to hit anybody, but what rock star deserves the biggest smack in the mouth? 
Tommy:  VINCE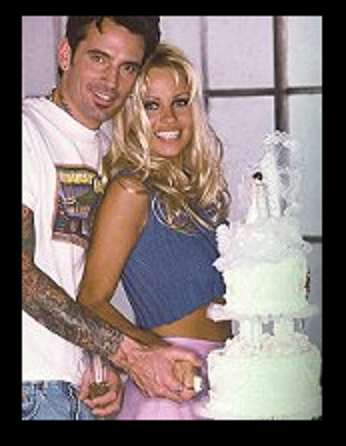 MS:  Snoop D-0 Double G is known for smoking a lot of chronic.  Being that you have to stay clean for something like the next 5 years, do you find it difficult being around that stuff? 
Tommy:  NAW!……..I'M USED TO IT!!!
MS:  When was the last time you did something rock & roll to a hotel, and what was it? 
Tommy:  TOOK A SH!T ON A ROOM SERVICE PLATE, UNSCREWED THE HEATER DUCT, PUT THE CRAP INSIDE IT AND TURNED THE HEATER UP FULL BLAST AND CHECKED OUT!………..YUM!
MS:  There are rumors going around that Pamela made you leave Motley Crue? Some are calling her Yoko Ono.  Did she have anything to do with your decision?  What's the dilly-yo with that? 
Tommy:  THAT'S FUNNY!……..NO WAY, I DECIDED TO LEAVE LONG AGO…….IT JUST TOOK ME AWHILE TO JUMP!!
MS:  What is a star fucker and could you name a few? 
Tommy:  JUST COME TO HOLLYWOOD!!!

MS:  Do you see yourself playing or recording with Motley sometime in the future?  Is that still a possibility? 
Tommy:  DON'T THINK SO!…….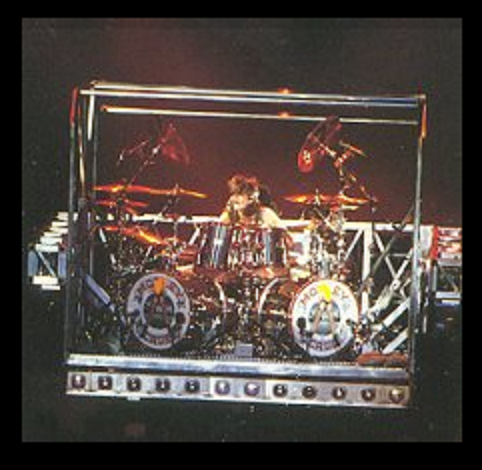 MS:  Complete this sentence, "An@l s3x is…?" 
Tommy:  STINKY!
MS:  In our interview with Nikki, he said he has seen you and Vinnie go at it.  When was the last time you and Vinnie threw down and why? 
Tommy:  JUST A MONTH AGO!……. HE WAS DRUNK AS USUAL AND HE SUCKER PUNCHED ME IN THE LAS VEGAS AIRPORT THEN SCREAMED "POLICE …..POLICE  I'VE BEEN ASSAULTED"……..YOU ASK WHY?……..HAHHAHA!
MS:  When you do your solo shows, are you planning any Motley like drum solos or is doing that stuff mad whack and played out?
Tommy:  …….NO WAY!!! PLAYED OUT? I'M THE KING OF CRAZY DRUM SHIT!! HELL YEAH!…….
MS:  Is it ALL GOOD? 
Tommy:  ………PRETTY MUCH ALL GOOD ALL THE TIME!!!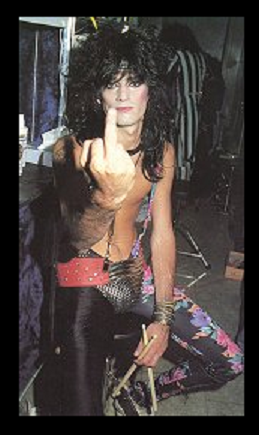 MS:  Does it look like Brandon and Dylan have inherited any of your extraordinary talent?  (Such as drumming, musicianship, large penises, wife beating, etc.) 
Tommy:  YOUR A DICK!!!
If there was one question we didn't think he'd touch, it would be that last question.  And just for the record, Taime "Sex" Slaughter came up with that question, so he's the dick!
But what were the questions Tommy didn't answer?  Well we're glad you asked ya nosy bastard.  Here they are.
MS: If you could be a tampon for a celebrity, who would you choose?
MS: What's the best rumor you've ever heard about yourself?
MS: During the last Motley tour, what percentage of the time would you say that Vince was singing in key?
MS: Please rate the following broads on a scale of 1-10. 1 being a pig and 10 being a hot fuck.
Donna D' Errico =
Carmen Electra =
Janine Lindemulder =
Sable =


Heather Locklear =
Traci Lords =
Bobbie Brown (not the singer) =
Jenna Jameson =
Gerri Miller =
Kendra Jade (porn star) =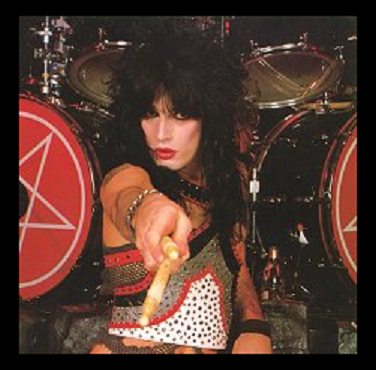 MS: What hard rock/heavy metal band is totally played out and should just call it a day?
MS: What ever happened to you and Bobbie Brown? Did you just decide to trade her in for Pam who is basically the same except Pam has a career?
MS: This is from a Kid Rock interview from last January 15th from www.mylaunch.com:
Question: Kid Rock, what were you doing at Tommy Lee's last week? And is it true that Tommy Lee was doing coke from Carmen Electra's ass?
Kid_Rock: No cocaine. Just a little vodka. We went up to Tommy's; he's got this project and he called me to come up and work.
Our question is: What the hell is Kid Rock talking about? Who was drinking vodka off Carmen's ass and how do you drink Vodka off someone's ass?
MS: When your with a new bitch (as they say in the street) and she see's your HOG for the first time, do the bitches typically:
A: Scream & Faint
B: Tear off their pants & bend over
C: Run out of the room horrified
D: Open their mouth and start gobbling
D: All of the above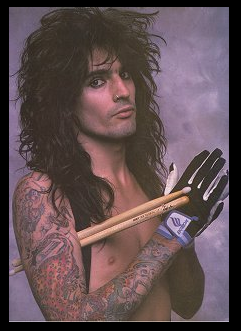 MS: Here is the final question. It's our word association. We mention a name, and you give us your thoughts.
Kid Rock =
Insane Clown Posse =
Slaughter =
Kelly Slater =
Vince Neil =
Howard Stern =
Jenna Jameson =
Carmen Electra =
Bret Michaels =
Richie Sambora =
Well at least Tommy answered most of our questions.  He answered more than Tracii Guns did!  Anyways, Tommy doesn't have his own website yet so we have nothing to plug here.  Tommy told us he does plan on having his own website soon.
In the meantime, there is one fan page on Tommy, and you can go here to check it out, http://mayhem.2020designs.net/html/mayhem.html

I guess we could also plug Pamela's site, at http://www.pamelaandersonlee.com.  Maybe Pam will want to do 20 Questions next!  

Ok, back to reality.  So props and shout outs to T-Bone for somewhat being able to hang.  Peace!
Your fave @MotleyCrue song off the #ShoutAtTheDevil release from 1983?@TheVinceNeil @mrmickmars @NikkiSixx @MrTommyLand #Crue

— Metal Sludge (@MetalSludge) January 2, 2018