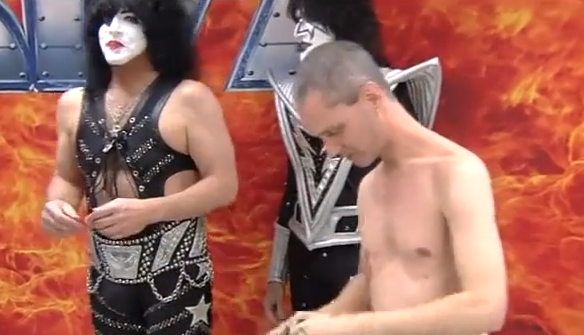 DISRESPECT?
Kiss demand journalist remove Iron Maiden T-Shirt, "It doesn't show respect" says Paul Stanley
YouTube — In a brand new YouTube clip the band Kiss demand an  interviewer from Mexico change his T-shirt.
The interview appears to take place pre-show at a Kiss concert.
The interviewer named Gustavo is seen holding his microphone and wearing an Iron Maiden T-shirt, but the band ribs Gustavo with comments about his choice of dress.
Paul Stanley is first to point it out saying: "I have a question to ask you. Kiss is, K, I, S, S. This does not spell Kiss. Gustavo made a big mistake." as Stanley points to the Iron Maiden T-shirt.
Gene Simmons then signals to someone off camera to get a Kiss shirt and says: "That's not gonna work, I don't want him to wear an Iron Maiden shirt."
Gustavo seems a bit embarassed as the band requests him to turn his shirt inside-out, or turn it around.
Gustavo asks: "Do you guys want every journalist wearing Kiss t-shirts?"
"We love Steve (Harris), we love Bruce (Dickinson), we love Nico (McBrain), we love 'em all. But you're at a Kiss concert. It doesn't show respect. You're in our house." answers Paul Stanley
Eric Singer is heard saying: "If you went to a Raiders game, you wouldn't wear the other teams. You wear the Raiders."
Simmons then adds: "We took that band out on their first tour. And Ac/Dc and everyone else."
Watch the interview below.
While we're talking @KISSOnline .. who is your fave original #Kiss member?@ace_frehley @GeneSimmons @PaulStanleyLive @PeterCriss

— Metal Sludge (@MetalSludge) January 6, 2018