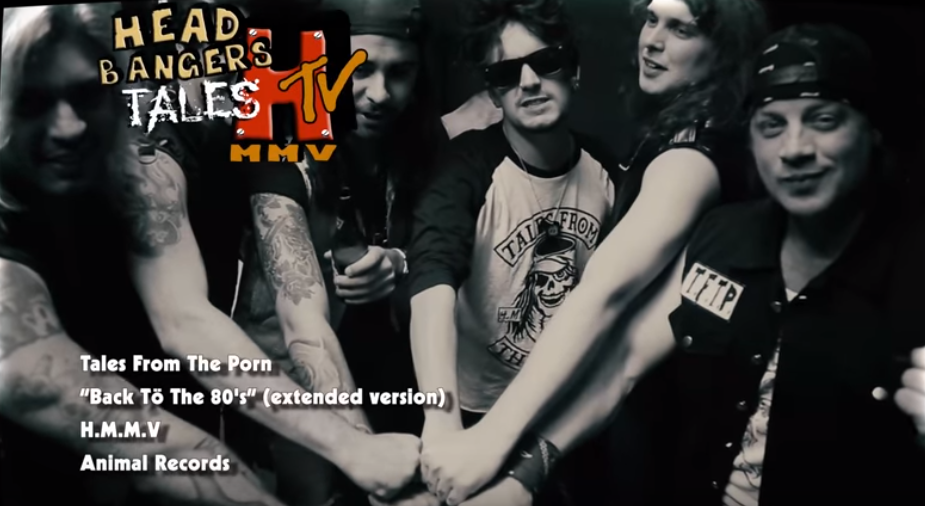 EIGHTIES
Tales From The Porn ready for Brazilian tour dates on heels of releasing "Back To The 80's" video
SAO PAULO, Brazil — Tales From The Porn return to the stage later this month with shows in their native Brazil.
The band are all Brazilians except for lead singer Stevie Rachelle (Tuff).
Rachelle first got aquanited with the band via the internet in late 2014 when co-founder Andy Sun (lead guitar) reached out to ask about coming onboard.
After numerous email exchanges of files, ideas and mixes – a song turned into a full album.
Tales From The Porn released their debut "H.M.M.V." in September 2017 via Animal Records.
Due to demand, the band issued the same title through Italian based Steelheart Records and also via RLS Records in North America.
Legendary British glam journalist Kelv Hellrazor (Metal Forces, Kerrang) on first hearing tracks from "H.M.M.V." wrote in an online blog: "Best thing Stevie Rachelle has done in ages. Andy Sun and Bruno Marx are the bastard sons of Van Halen and Def Leppard. "
"Everyone kept asking me; 'What does HMMV mean?'" says the California based vocalist Rachelle.
"Honestly, I had NO IDEA … so at some point I had to ask the guys what it meant, (laughing)" added Rachelle

In Portugese it's the abbreviation for Heavy Metal Minha Vida, which in English translates to My Heavy Metal Life.

Sleazeroxx the glam quintessential website writes: "There's no filler on this record. It's one good song after another with some tracks hitting the great mark" and also named TALES FROM THE PORN "H.M.M.V." the Album of the Year for 2017.
In addition to an appearance on a local network TV show, the band have shows in their hometown of Sao Paulo along with Curitiba and Jundiai.