PRETTY BIG TALK
Warrant singer Robert Mason incites band feud with Scandinavian rockers Pretty Maids
NOTTINGHAM, England –It seems there was some music festival drama over the weekend in England.
Nope, not the promoter with a laundry list of advertised  no-shows and Z-list replacement bands, but actual band vs: band drama.
The "Rockingham Live" festival took place in Nottingham England.
The 3-day festival was held October 19th, 20th and 21st.
It seems Warrant was the weekend's final act on Sunday night, but were left getting on stage late due to various delays throughout the day.
Like many similar events, if the 1st band runs 5 minutes late, and the 2nd act goes over by 5 minutes – soon the event is running behind.
And those afternoon slots that run a few minutes late adds up after a full day of set changes.
No offense to the 1st or 2nd slot band, but letting Joe Blow & The No Names play over their time slot is 100% unacceptable.
Note to promoters, if you let your 1st slot band run late, and it affects your featured acts later in the evening – you are at fault.
A proper stage manager, who isn't concerned with taking selfies with bands or bullshitting with side-stage groupies is worth their weight in gold, if they do their job right.
When bands play OzFest, Rocklahoma, Download, Rock N' Rio, Sweden Rock or M3 Music Festival there is no running late.
If your set ends at 2:45pm, you better be saying "Good night" at 2:44pm or your sound will be dumped.
Thirty seconds over, not a big deal, but 5 minutes – multiplied by 4-5 or 6 bands equals a 30 minute delay later in the evening.
There are a few sides to this story for sure, which started with Robert Mason blasting the band Pretty Maids from stage saying "Fuck those c@nts" during the Warrant set.
Mason also took to social media adding the c-word again among other derogatory comments. (see video and screen captures below)
The Warrant frontman wrote in part: "Here's to @prettymaidsofficial for staying onstage too long like a bunch of #cunts to elongate their #15minutesoffame, stressing the crew and delaying our headlining set."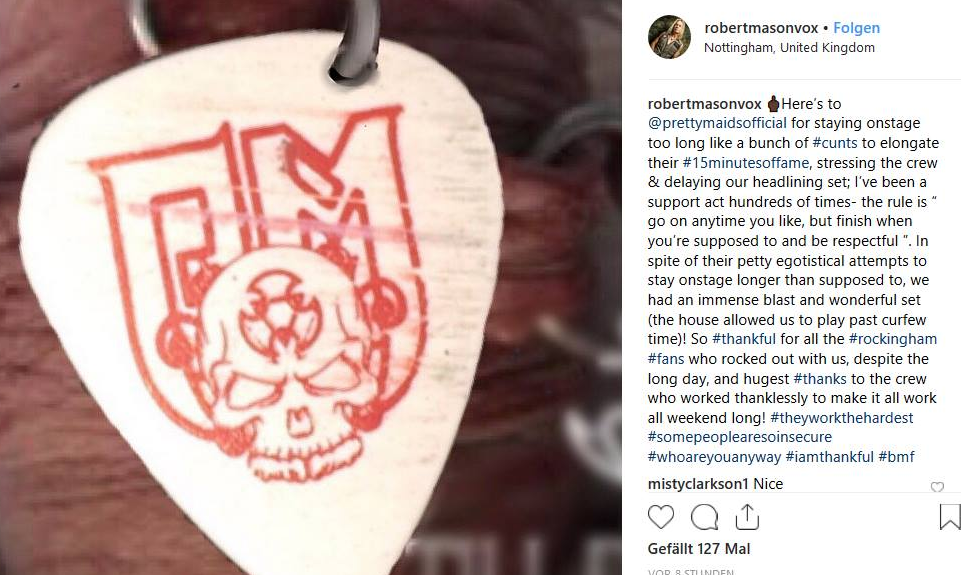 With that statement from Mason came the follow-up from the Pretty Maids camp via band member Chris Laney.
Laney who for the record happens to be Swedish not Danish took to soical media writing: "I would like to thank this guy.. Robert Mason ? He claims to sing in Warrant but we "all" know him as the singer of Big Cock.. that pretty much says it all. Rob, can't wait to see your "professional" ass again! ( Please wake up and fucking check reality) #asswipe #warrantofficial #checkthefacts"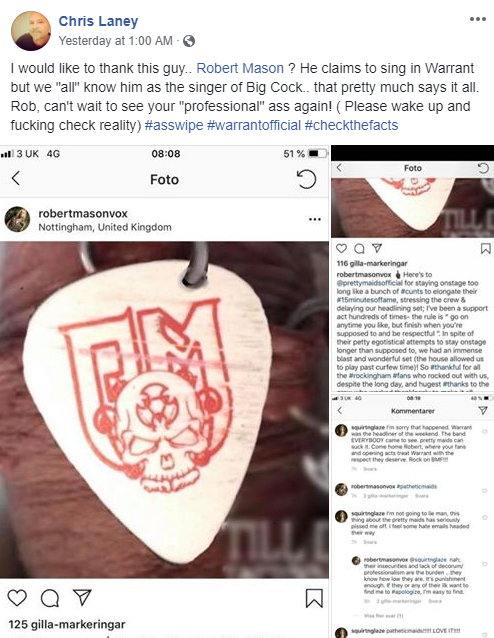 Also adding fuel to the fire is Pretty Maids booking agent of more than a decade.
Regarding the statement of Robert Mason from the band Warrant about yesterday's last night of the Rockingham Festival.
The band's agent is Nikolas Krofta who wrote in a Facebook post: "Being the booking agent of the Danish band Pretty Maids for more than ten years – the band is in the music business for 37 years by the way and they are not really hunting after the "15 minutes of fame" – you should get your facts straight before you sit down and write a statement like this.  This was not a single concert. This was a festival. Pretty Maids were not your support but the co-headliners of the festival. The band has accepted that you took more than 1/3 of the stage for the whole festival day."
The Pretty Maids reply continued with: "The problem was that many of the bands during the day played a little longer that they were supposed to be. Which was leading to an almost 25 minutes delay. Pretty Maids cutted their set before they went on stage by three songs already. And then towards the end of their last song the plug has been pulled."
It also seems that Pretty Maids do have a point when noting their position on the festival and related promo. (See below)
As for the taking 1/3 of the stage and making the other bands share little space, well that is customary practice although it's a shitty one.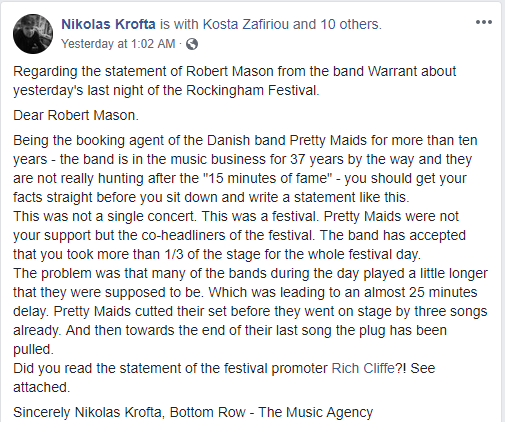 Now it seems the festival promoter has officially taken the blame, and he should.
By letting your event lose 5 minutes an hour, you caused your 2 co-headliners Pretty Maids and Warrant to play a shortened set.
We will give props to Rich and Rockingham Live as the overwhelming response from fans seems to have been very positive.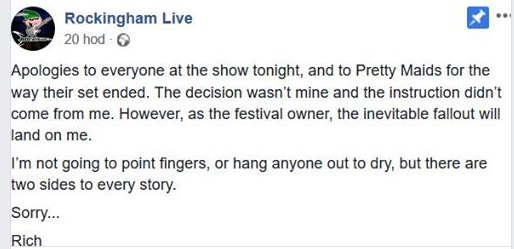 In addition to the band drama, now the interweb will be crying, screaming and fighting amongst the Warrant and Pretty Maids fans.
Fans are quick to jump on board, chose sides and there are already memes out there as well.
One online blogger went as far as to photoshop some balls under the Warrant singer's photo.
The comments on the Warrant youtube clip seem to be celebrating Pretty Maids and Jani Lane, yet taking Mason to task.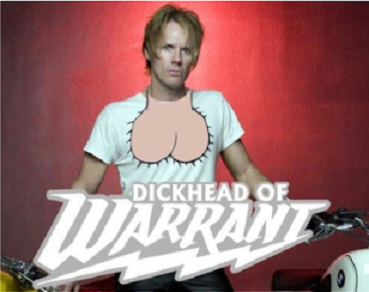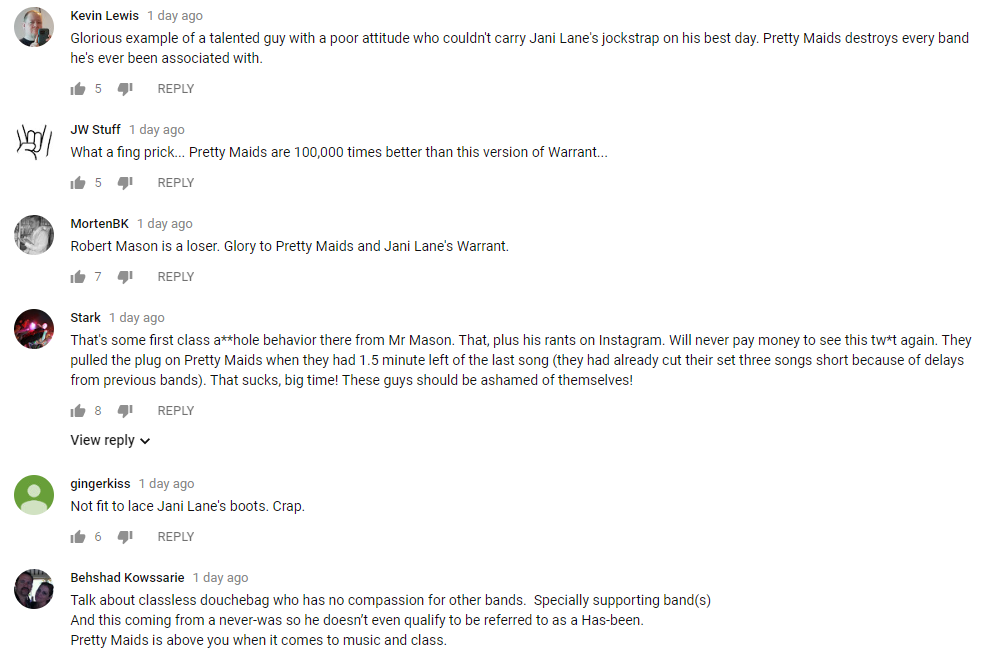 Learn from this…all of you…festival promoters, bands and even the headliners! Lol.
Also, if you are playing 1st, 2nd or 3rd, get on – get off and shut the fuck up!