ZLOZ
"IN YOUR FACE – The Neil Zlozower Story" screens April 6th at the Beverly Hills Film Festival
HOLLYWOOD, California — Rock music and rock photography are synonymous for the wild lifestyle of their rockstars with one common demeanor: Neil Zlozower: in-your-face-madman-photographer.
The daily activities of "Zloz" as part of the rock 'n' roll stage show, his work in the studio plus a behind the scenes look at his private life, are well documented and collaborated by friends, family, colleagues and the stars themselves.
While his "unique" communication skills may leave a lot to be desired in the real world, the end result of his work can only be described as phenomenal!
No other photographer had the access, the attitude and lifestyle to bring a seductive photo perspective ​through his professional lens.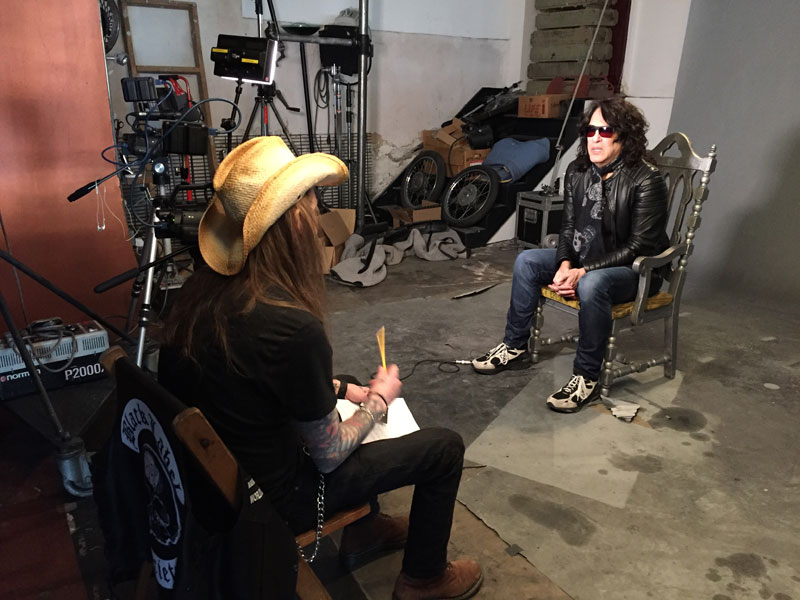 Paul Stanley of Kiss being interviewed for "IN YOUR FACE – The Neil Zlozower Story" 
Featuring members of: Kiss, Guns n' Roses, Red Hot Chili Peppers, Van Halen, Korn, Rob Zombie, Ratt, Anthrax, Slipknot, Steve Vai, Joe Satriani, Henry Rollins, and many more..
IN YOUR FACE will be screened at the BEVERLY HILLS FILM FESTIVAL 2018
FRIDAY, APRIL 6th, at 07:15PM
at the TCL Chinese 6 Theatres 6925 Hollywood Blvd. Hollywood, CA 90028
Tickets $ 18,53 >>
IN YOUR FACE will be screened at the NEW YORK INDEPENDENT FILM FESTIVAL
May 12, 2018 at 4:00pm
at the Producers Club – Theater S · 358 West 44 Street · New York, NY 10036
Tickets: $15.00 >>
IN YOUR FACE – The Neil Zlozower Story @ Beverly Hills Film Festival – New York Indpendent Film Festival