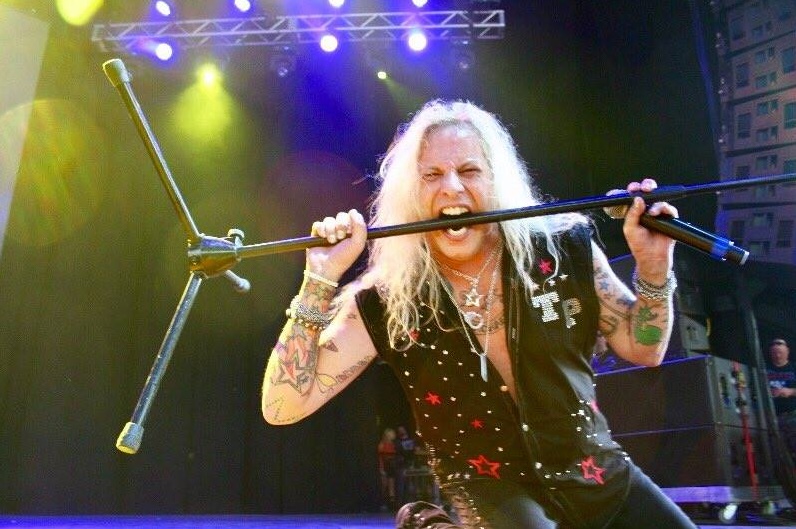 ANOTHER ONE BITES THE DUST
Rock N' Skull loses Ted Poley of Danger Danger
PEKIN, Illinois — Metal Sludge has learned that Rock N' Skull has lost yet another feature act from their October festival lineup.
This time it's Ted Poley, the voice of Danger Danger.
Poley has appeared at Rock N' Skull in years past as a solo act, and with Danger Danger.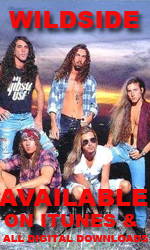 Since the original Rock N' Skull promo poster (see below) for the 2017 event was released last November, Poley appears to be the 16th artist to drop from the event roster.
Rock N' Skull updated their roster and promo in eary 2017 showing Poley in a feature position on the Saturday night (October 28th). The main night still features headliners Steel Panther, support act Warrant and Firehouse among others.
Last month Metal Sludge broke the news and reported that former Kiss guitarist Ace Frehley was pulling out of the annual festival.
Our rumor was later confirmed by event promoter Justin Murr.
Frehley announced a tour of Australia and New Zealand with Alice Cooper which appears to be the reason for cancelling.
Rock N' Skull didn't wait long, and did replace Frehley with rockers Lillian Axe on the Sunday billing.
Murr wrote to concerned fans today on his official facebook page in regards to Poley no longer appearing.
Murr wrote: "Ted (Poley) will not be playing this year."
This must be new and recent news as Murr shared the event poster, with Poley included earlier in the week (May 1st) writing; "Ticket prices going up. Get your tickets now!!"
Now today (May 5th), Murr has shared what appears to be an updated poster where Poley is no longer listed.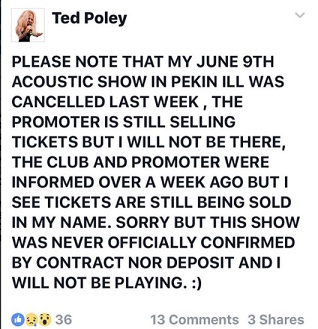 One fan wrote: "Where's Ted Poley?"
Murr replied in the thread writing; "We have a very cool upgrade we're working on."
In the same thread a fan wrote; "Looking at the Saturday lineup, has Ted Poley been replace by Michael Layne Band?"
Murr replied; "Yes."
In related news, Poley was scheduled to play an acoustic event on June 9th for promoter Murr in Pekin Illinois. But Poley cancelled last month with a social media post (insert left).
Poley wrote in ALL CAPS; "PLEASE NOTE THAT MY JUNE 9TH ACOUSTIC SHOW IN PEKIN ILL WAS CANCELLED LAST WEEK."
Poley continued; "THE PROMOTER IS STILL SELLING TICKETS BUT I WILL NOT BE THERE."
The Danger Danger frontman ended his rant with; "SORRY BUT THIS SHOW WAS NEVER OFFICIALLY CONFIRMED BY CONTRACT NOR DEPOST AND I WILL NOT BE PLAYING. ;)"
Rock N' Skull is in its 5th year and will be held at the 5,000 seat capacity "Avanti's Dome" in Pekin Illinois.
The 3-day festival runs October 27th, 28th and 29th.
Tickets are available with a single day addmission ranging from $ 40.00 to $ 50.00. Upgrades and select VIP packages are also available topping off around $ 2,150.00.
We have reached out to Ted Poley for a comment, but as of press time we have not heard back.
Stay tuned….
Photo of Ted Poley taken at M3 Music Festival by: Emily Strigl