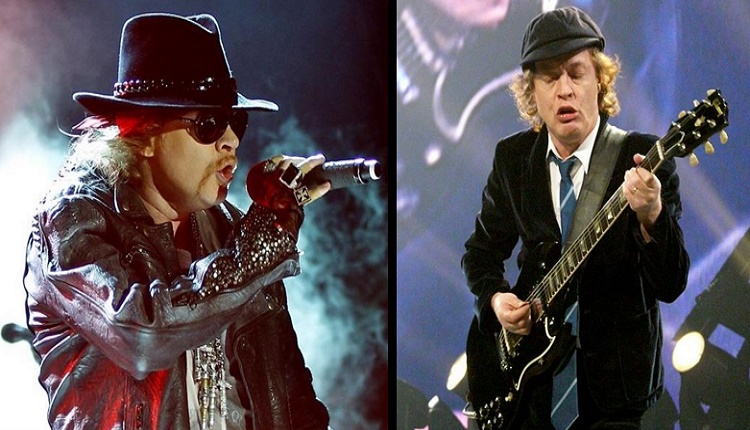 AXL/DC?
Rumors are rampant Axl Rose will guest as AC/DC vocalist
Rumorville — After the recent medical issue involving Brian Johnson's hearing the vocalist was urged by a Doctor to stop touring immediately.
With that news AC/DC has since halted shows but released a statement fairly quickly (March 7th) saying they would fulfill tour obligations with a guest vocalist.
Now after a week of tidbits and rumors about who might be that guest now it's heating up that Axl Rose just may be that guy.
Metal Sucks, Alternative Nation and Ultimate Guitar among other sites are all reporting this rumor.
Metal Injection writes; "At the time, we questioned what vocalist could possibly fill Johnson's shoes, and be of value to AC/DC fans. They can't just get some schmuck off the street with a great voice, or risk being called a glorified cover band. Well, looks like AC/DC found their man, and it's a name worthy of being guest vocalist. The rumor is Axl Rose, who is in the midst of a Guns N Roses reunion, will step into the vocalist spot for AC/DC. Jason Bailey, DJ for Atlanta radio station Rock 100.5 was the first to report the rumor as transcribed by Alternative Nation (below)."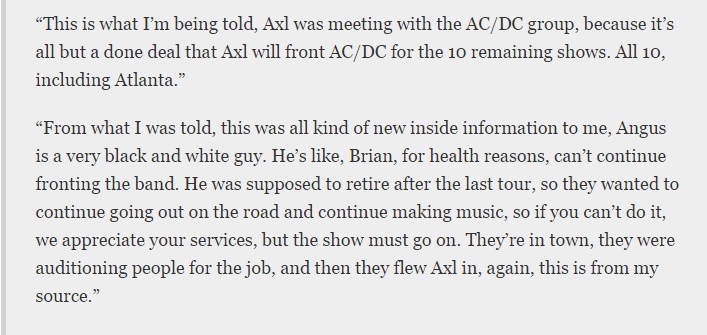 Below are a few live clips from recent years where Axl Rose and Guns N' Roses have performed various AC/DC covers in their live set.
Stay tuned for more….
ADS