BACK IN THE HOSPITAL
Oz Fox's wife asks Jesus to continue to heal him so he doesn't need surgery
LAS VEGAS, Nevada — It seems that Stryper guitarist Oz Fox was back in the hospital again.
The guitarist suffered a seizure a week ago, and has since been diagnosed with a spot near his brain.
Fox's wife Annie Lobert has been keeping fans updated with the latest.
Lobert is a former prostitute who founded Hookers For Jesus after nearly 2 decades living the life of a high-class escort.
Lobert has taken to social media to detail her husband's condition.
We have posted both of her recent updates below.
——————–
1st Update:
From Stryper Facebook August 16th 2018 9:53PM (PST)
Turn of events update: Oz Fox
We have had an important change in Oz's care!
The Nuerosurgon surgeon who consulted with us last night said that she couldn't get Oz off of her mind all night.
Why was this? Because people were praying for clarity?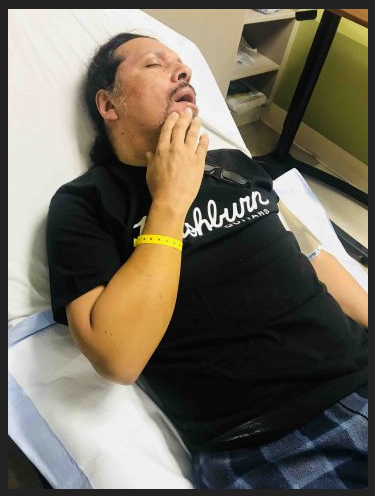 She consulted with another surgeon today and decided that Oz shouldn't have an operation on his skull yet…to go for option #2 and wait 3 months for another MRI!
Red flags! We had already been talking to another friend of ours who just happens to be a spinal surgeon that has a good friend who is a great Nuerosurgon for a second opinion. This doctor looked at Oz's scans and will be seeing him in a few days. He is an expert in "lazer" brain surgery, which means Oz may not have to have his skull cut open.
Wow.
They released Oz from the hospital with heavy seizure meds & blood pressure pills. He needs to be watched over and not left alone (due to seizures) until we hear otherwise from our new doctors.
We called our Stryper fam (Michael, Lisa, Etc) and informed them of the update…and they shared that they were praying, interceding for clarity & the right direction, that this was an answered prayer! Many others have shared the same thing! Wow.
We have a few problems:
Oz is in ALOT of pain: (but refuses to take narcotics) Tylenol only.
1. His tongue is raw from being severely bitten from seizuring (cannot eat)
2. His arm is extremely sore from falling down on stage. Severely bruised & puffed up. His head too!
3. He is having extreme headaches & nausea from the seizure meds.
4. He has had no appetite & cannot eat
—We are asking for prayer for:
—the new doctors—that they would be super focused & full of wisdom if our next steps for Oz's recovery!
—Side effects of the meds to lesson—no more severe headaches & lethargy
—For Jesus to continue to heal him so he doesn't need ANY surgery!
—Finances not to be a hinderance to his care, that we may persevere no matter what we're facing.
Thank you all for staying with us and supporting Oz during this trying time. We are so grateful that Oz is still here & has a chance to get better!
We love you—Annie (Oz's wife)
——————-
2nd Update:
From the GoFundMe Page August 17th 2018 9:00PM (PST)
Oz Fox Update: Here we go again!
We are back at the hospital due to some possible allergic reactions to the meds!
Oz is lethargic, cannot talk (mouth full of sores) cannot eat (he is actually in ketosis—I tested him) and he has a massive headache that will NOT go away.
So again my friends, we need your prayers!
Oz requested that I post this, for he knows although he is weak, there is a great graceful presence of God as he is walking through this serious valley:
"Each time he said, "My grace is all you need. My power works best in weakness." So now I am glad to boast about my weaknesses, so that the power of Christ can work through me.
That's why I take pleasure in my weaknesses, and in the insults, hardships, persecutions, and troubles that I suffer for Christ. For when I am weak, then I am strong."
‭‭2 Corinthians‬ ‭12:9-10‬ ‭NLT‬‬
Yes! And any insults about not having a lot of money for insurance…and even persecutions from certain people towards Stryper for doing shows without him?
We will be strong! Because my husband knows the truth—he works very diligently at playing guitar, he is not a slacker & he LOVES his Stryper fam & wants them to be successful no matter if he is there performing with or without them.
#TruthBomb
So please lift Oz again up in prayer—he is optimistic that he will be getting better & getting back to doing what he loves best…playing his guitar & performing on stage!
We also are very overwhelmed with the incredible response to the fundraiser to help us map out the medical bills that are pouring in!
Thank you from the bottom of our hearts—we are truely grateful more than you will ever know.
We love you all—Sincerely, Oz & Annie
——————-