BRATT?
Bobby Blotzer's Ratt goes 'Round N' Round' with 11 year old singer
Sunrise, Florida — Is there another lineup change in Ratt already?
Well we cannot confirm or deny that. But what we can confirm is that the band appeared at 'Rock Fest 80s' over the weekend and showed off their appeal to younger fans.
Not only did younger fans enjoy the show, but 1 boy became part of the show.
During the Ratt set current singer Joshua Alan brought up a young man for the group's finale of "Round N' Round". And this youngster laid it down vocally to the amazement of the excited crowd and his friends side stage.
We've added the video below which we're sure most will get a kick out of.
Alan who has been fronting the band since last fall should look out or Blotzer just might swap the Las Vegas cover band stud for this Florida grade schooler.
That grade schooler is Ben Meller, who is an 11 year old and sings for local Florida rockers Krush.
Krush is made up of 11 and 12 year olds, but are no strangers to the stage.
Ben's bandmates are Nick who is 11 and plays guitar, bassist Landon is 12 and Tristan on drums is also 12.
The group who formed in late 2013 have opened up shows for Def Leppard, Tesla and Smash Mouth to name a few.
Metal Sludge gives a huge shout out to Ben and Krush, and to Alan for giving the kid the chance to strut his stuff.
Not only did Ben nail the vocal parts, he was also rocking a wallet chain and all black clothes.
This kid is ready to rock!
Make sure to check out Krush on their official website and Facebook.
We will even offer up the name BRATT as a band name if Blotzer decides to give Alan the boot and bring Meller in.  😉
The weekend's show was the return of Robbie Crane on bass, while guitar duties are being taken care of by Doc Ellis and Blaze.
The lone original member is Bobby Blotzer (drums).
Ratt is currently hitting the road for weekend fly dates through the end of 2016.
We have posted their most recent tour dates below.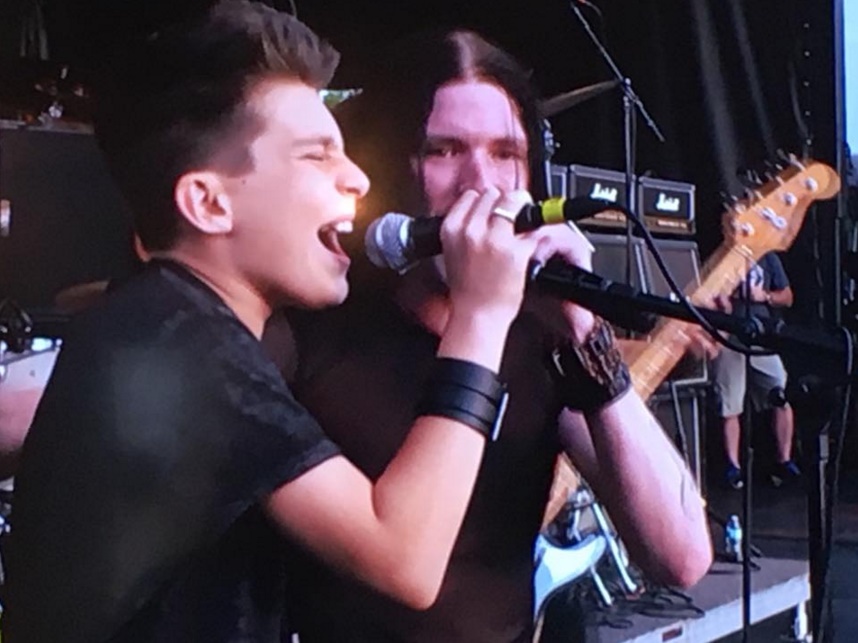 Photos of Ben Meller and Joshua Alan are courtesy of Big 105.9 radio.
—————————————-
RATT TOUR DATES

FRI- APRIL 8, 2016 Ace Of Spades- 5:00 PM
Ace of Spades -1417 R Street
Sacramento, CA 95811
SAT- APRIL 9, 2016 WestWorld- 5:00 PM
WestWorld -16601 North Pima Road
Scottsdale, AZ 85260
FRI- APRIL 15, 2016 The Canyon- 9:00 PM
The Canyon, Agoura Hills, CA
FRI APRIL 22, 2016 – Speaking Rock Entertainment Center- 7:00 PM
Speaking Rock Entertainment Center- 122 S Old Pueblo Dr
El Paso, TX
SUN- APRIL 24, 2016 Enchanted Rockfest- 7:00 pm
Enchanted Rock Fest
Cedar Park Center, Cedar Park, TX
FRI- MAY 27, 2016 The Rose- 9:00 PM
The Rose, Pasadena, CA
SAT- MAY 28, 2016 Saban Theatre- 9:00 PM
Saban Theatre, Beverly Hills, CA
SAT- JUNE 25, 2016 Lava Room- 5:00 PM
Lava Room – 321 Gregory St
Central City, CO 80427
FRI- JULY 8, 2016 Portneuf Health Trust Amphitheater- 7:00 PM
Portneuf Health Trust Amphitheatre-Olympus Dr
Pocatello, ID
SAT- AUGUST 13, 2016 Rockin the Rivers 5:00 PM
Rockin the Rivers – 201 N Main St,
Three Forks, MT 59752
SUN- NOVEMBER 13, 2016 Hard Rock Hell UK
Camp HRH, North Wales