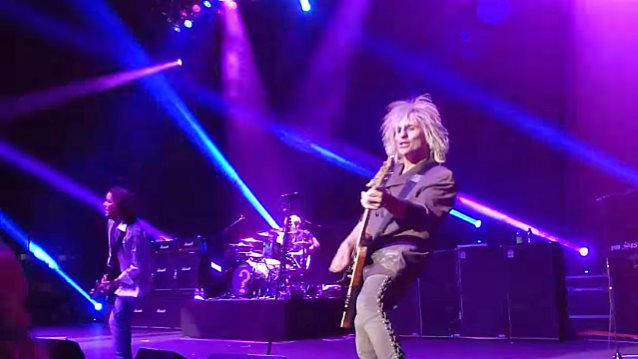 Blabbermouth —  THE SPECIAL GUESTS, the new band featuring POISON members Rikki Rockett (drums), Bobby Dall (bass) and C.C. DeVille (guitar), alongside vocalist/rhythm guitarist Brandon Gibbs (CHEAP THRILL, DEVIL CITY ANGELS), played at the Metal May-hem event on Friday, May 29 at the Ava Amphitheatre at Casino Del Sol in Tucscon, Arizona. Also appearing on the bill were QUEENSRŸCHE and QUIET RIOT.
Fan-filmed video footage of THE SPECIAL GUESTS' performance can be seen below.
THE SPECIAL GUESTS, which performs the music of POISON, made its live debut at the Monsters Of Rock pre-party on April 17 at the Magic City Casino in Miami, Florida.
Rockett and Gibbs also play together in DEVIL CITY ANGELS, the band featuring former L.A. GUNS guitarist Tracii Guns and bassist Eric Brittingham (CINDERELLA).
POISON appeared at the 2013 Indy 500 Miller Lite Carb Day, but has otherwise been mostly playing private shows, including one this past January. The band's last major dates were with LITA FORD and DEF LEPPARD as part of the 2012 "Rock Of Ages" tour.
POISON singer Bret Michaels is continuing to focus on his solo career and has just released a teaser for "Girls On Bars", his new rock-and-country-crossover track which was written with Grammy Award-winning songwriter Luke Laird.
Michaels was hopeful about the prospect of POISON touring this summer when he spoke to rock journalist Lucas H. Gordon last October. He stated at the time: "With POISON, next year, if everything goes awesome, is gonna be the biggest reunion ever. It's gonna be great. C.C., Bobby, Rikki, myself — all original [members] — we're gonna take it out there on the road and it's gonna be an unbelievable summer."
Rockett last year told the "92 Minutes Of Hair With Mel" show on the Las Vegas, Nevada radio station KOMP 92.3 about rumors and speculation about a possible rift within POISON, particularly as it relates to him and Bret Michaels: "Actually, there's nothing wrong within the band that I'm aware of — I mean, unless something happened and nobody told me.
"Sure, we're trying to put a tour together. And if we can put it together and it makes sense and we can get our crap together, we will do something.
"What I was answering in one question [in a previous interview] was, 'At this moment, as I sit here, we're not contracted for a POISON tour next summer.' That's all I was saying. And it contradicted something Bret had said [in a separate interview], but not really. Bret didn't say we had a tour for sure either. He said, 'I think we're gonna probably be able to tour. And I'm not saying that we are.' He didn't commit to either. Whatever… It's fine."
According to Rockett: "POISON has never disbanded. POISON will continue on as long as it makes sense. I mean, C.C. departed for a while and that was really the only time we weren't the original lineup. But we always will be until it just doesn't make sense anymore."
Rockett took to Twitter in February 2014 to complain that POISON couldn't hit the road that summer because a certain member of the glam-metal act was "making it a problem."
The above courtesy of Blabbermouth