CONFIRMED!
Guns N' Roses live at 'Troubadour' 
Twitter — After much speculation, rumor and gossip it's now confirmed.
Guns N' Roses will perform live tonight April 1st 2016 in West Hollywood California.
The million dollar question has been answered, it's the 'Troubadour'.
Metal Sludge was one of the first to report it was the Santa Monica Blvd. based club in our article HERE and in a follow up posting HERE which we also updated earlier today.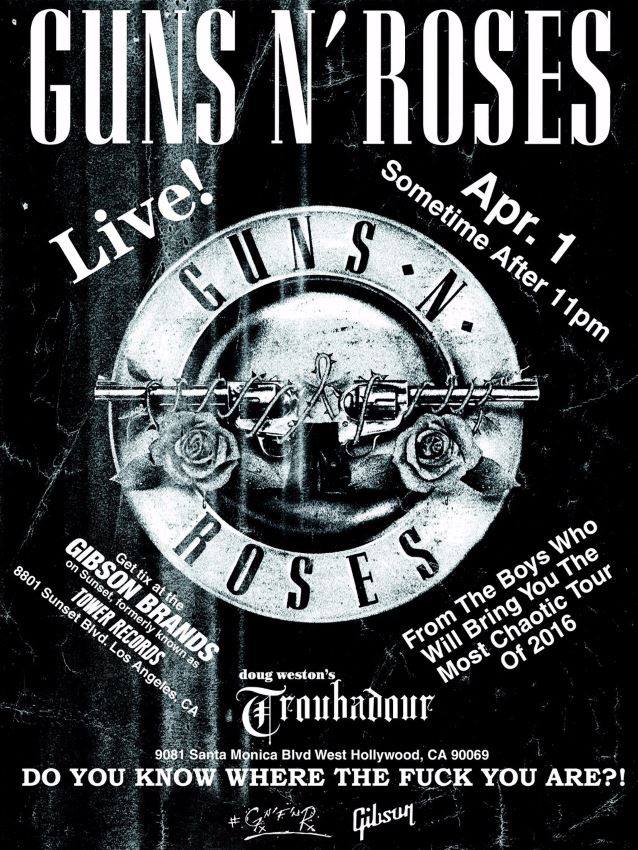 The official Guns N' Roses twitter page along with Slash and Duff McKagan have all tweeted and now confirmed what fans have been clamoring to hear for a while now.
The 'Troubadour' was one of the band's main plays in their hey day and it appears they are coming full circle to their roots.
The much anticipated reunion with core members Axl Rose (vocals), Slash (guitars) and Duff McKagan (bass) kicks off tonight, and one can only imagine what it will be like inside the West Hollywood club. The venue has a capacity of just 500 people.
There is no confirmed word as to any of the other players involvement but it's been heavily rumored that longtime member Dizzy Reed (keyboards) is definitely on board. Also it's understood that Frank Ferrer (drums) and Richard Fortus (guitar) are also part of the lineup.
Below is a clip of the classic Guns N' Roses at 'Troubadour' from 1986.