DEADBEAT JAIL Or ROCK N' ROLL
BulletBoys singer arrested after Florida gig for not paying child support
Instagram — Today social networks seemingly run our life. The good, the bad and the ugly. Unfortunately for Marq Torien, today it's definitely not the good.
The BulletBoys singer who is 53 was arrested in Tampa Florida last night immediately following his band's show.
The allegations are for not paying child support.
Torien real name Mark Maytorena was not only arrested immediately following the gig last night, but was photographed during the process.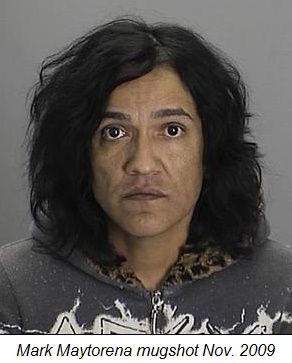 Kevin Martin the singer of Candlebox has posted the photo of Torien's arrest on his official instagram account >iamkevinmartin.
Martin writes "Marq Torien from the BulletBoys arrested in Florida for not paying child support. If you have kids fellas take care of your responsibilities, they are yours."
Martin then hash tagged the following: #deadbeatdad #karmasabitch  (See screen caps below)
A source close to the situation has alleged that Martin is in fact dating Torien's ex, who is also the mother of Marq's 2 children.
Torien was also arrested in New Port Richey Florida for 'Non support of child or spouse' back on November 14th 2009 while on tour for his '10 Cent Billionaire' release.
In a very similar situation, Torien was was cuffed just after his show at a club in Tampa Florida early this morning. One source reports that 5 Sheriff's entered the club and proceeded into the dressing room immediately following the band's performance. Moments later Torien was led out back of the club in hand-cuffs.
BulletBoys released their acclaimed 'Elefante' on June 9th (Cleopatra Deadline Records) which the band is out touring in support of with the Gunzo (Tracii Guns and Rudy Sarzo) project.
In a weird irony, a very recent interview with Torien on the Eddie Trunk show had a caller named Jeff call into the show and mentioned Torien not coming down to Florida.
Around the 28 minute mark of the interview below a caller identifies himself as 'Jeff' and then says; "Marq…dude, It's been a long time. I'm your buddy that was buddies with your ex brother-in-law."
Torien begans to chuckle and acknowledges and says, "Oh Jeff, hey how are you Daddy?"
Torien continues, "What's crackin' from Florida, how are ya?"
The caller adds, "I know you don't make it to South West Florida, I know you don't come down here, ummm, but I just wanna tell ya dude, I love the new album. It sounds fantastic dude."
BulletBoys and Gunzo are slated to play Jacksonville Florida tonight (Sat. Aug 29th 2015) but as of press time, the word is Torien is still behind bars.