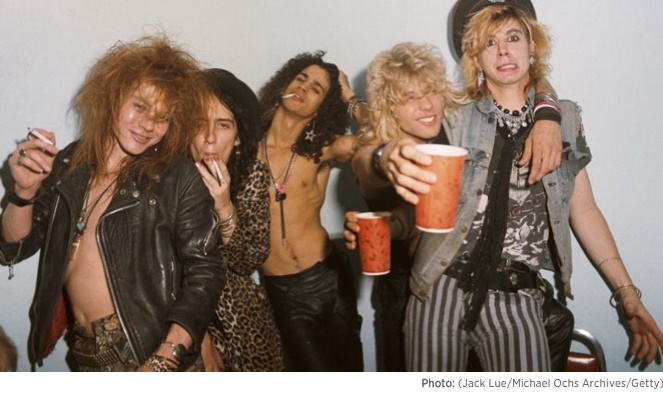 Decade of Decadence: A Timeline of the Eighties Sunset Strip
Mötley Crüe, Poison, Guns N' Roses and the street behind rock's most excessive scene
BY RICHARD BIENSTOCK for Rolling Stone – 
Los Angeles, CALIFORNIA — "Livin' in L.A. is so much-a . . . fffuuuun!" screeched Faster Pussycat's Taime Downe in 1987. And nowhere was the party crazier, sleazier or more glam-rockin' than the Sunset Strip, where big-haired dudes and the girls who loved them turned the boulevard into their own personal playground.
Of course, Eighties metal men were far from the first rockers to run wild in West Hollywood — just ask the Doors, who functioned as the house band at the Whisky a Go Go in the late Sixties, and whose singer, Jim Morrison, balanced on a railing on the roof of a 16-story building on the Strip as if it were a tightrope. Or Led Zeppelin, who in the following decade would rent out up to six floors of the Hyatt on Sunset, a.k.a. the Hyatt House, a.k.a. the Riot House, and initiate a groupie-shagging, television-smashing, motorcycle-down-the-hallway-driving den of debauchery.
A lot to live up to, perhaps, but it was a challenge that Mötley Crüe, Guns N' Roses, Ratt, W.A.S.P., Poison, L.A. Guns, Faster Pussycat and the rest of the Eighties glam lot were more than happy to take on. "You had to be able to put up . . . not 100 percent, but 1,000 percent," says Poison singer Bret Michaels. Or, as Crüe frontman Vince Neil put it in the band's gloriously degenerate 2001 autobiography, The Dirt. "We'd get drunk, do crazy amounts of cocaine and walk the circuit in stiletto heels, stumbling all over the place. The Sunset Strip was a cesspool of depravity."
Which is more than enough reason for Rolling Stone to take a look back on what is quite possibly the Strip's greatest decade of decadence — the 1980s. And while not everything chronicled in the timeline below happened on Sunset Blvd., per se, the Strip has always been as much a vibe as a locale. Welcome to the jungle, baby, where you can learn to live like an animal and — if you're really, really lucky — even sell a record or two.
————————————-
April 24, 1981: Mötley Crüe's Coming Out Party
In 1980, Nikki Sixx played the Starwood — located just south of the Strip, at the corner of Santa Monica Blvd. and N. Crescent Heights Blvd. — with his pre-Mötley Crüe band, London. The club was one of the dominant West Hollywood venues, having hosted Seventies rock acts like AC/DC, Rush and Cheap Trick, and homegrown punk bands like the Germs, Fear and the Circle Jerks. It was also where burgeoning hard rock and metal outfits like the Runaways, Van Halen and the Randy Rhoads-era Quiet Riot would play. When Sixx puts together Mötley Crüe in 1981, he debuts them at Starwood across two nights, April 24 and 25, as the opening act for Y&T. Recalled that band's frontman, Dave Meniketti, "[I was] sitting in the balcony overlooking the stage and watching a few songs, going, 'These guys are crap,'" he told Philadelphia's WMMR radio. "And I ate those words a million times over." And with that, Eighties glam metal was officially born.
Fun Fact: Mötley's set list that night included a cover of the Beatles' "Paperback Writer."
—————————————————————-
1981: Getting Mowed on Gazzarri's Lawn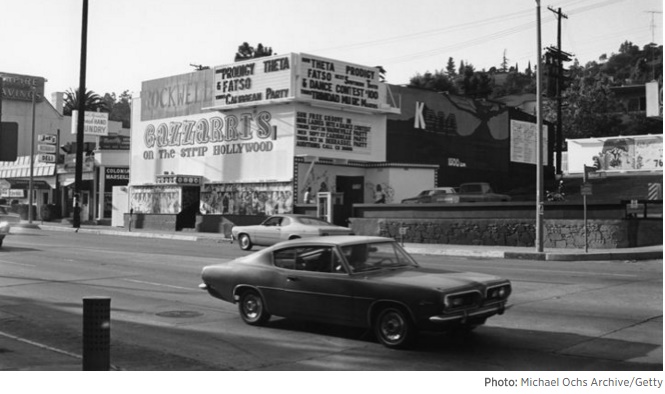 Stephen Pearcy moves from San Diego to L.A. with Mickey Ratt — later known as Ratt — who become a house band at Gazzarri's at 9039 Sunset Blvd. Wrote Pearcy in his 2014 autobiography, Sex, Drugs, Ratt & Roll: My Life in Rock, "I saw so many people fuck on the lawns behind Gazzarri's that I actually got bored of watching and started to throw empty beer cans at them."
——————————
1981: Crüe Takes a Bathroom Break
 "Did I tell you about the time I tied a girl up in the Whisky bathroom with Mick [Mars]'s guitar cable, and then went to get a bump of blow from Tommy [Lee]? I forgot she was in there! I think Vince found her and everything was [fine]. Ah, to be in Mötley Crüe in 1981 in Los Angeles." — Nikki Sixx, chatting with L.A. Weekly in 2011.In the Eighties, if you wanted to find rockers famous, infamous or striving to be either, the Rainbow Bar & Grill, located just down the street from Gazzarri's and the Roxy, was the place to be. When a young Pearcy takes his girlfriend there for dinner one night in 1981, they run into David Lee Roth and Ozzy Osbourne. According to Pearcy, the four of them spend the evening eating chicken soup and discussing aerobics.As the Crüe's star begins to rise, then-manager Allan Coffman finances an apartment for the band at 1124 N. Clark St. — just steps from the Whisky. Nikki Sixx, Tommy Lee and Vince Neil move in, and the roach-infested two-bedroom hovel, known as the Mötley House, becomes party central. "People would pour into the house for afterhours parties," Neil recalled in The Dirt. "Guys in metal newborns like Ratt and W.A.S.P. spilled out into the courtyard and the street. Girls would arrive in shifts. One would be climbing out the window while another was coming in the door."
—————————————————-
1982: Seventeen-Year-Old Slash Dresses in Drag at the Rainbow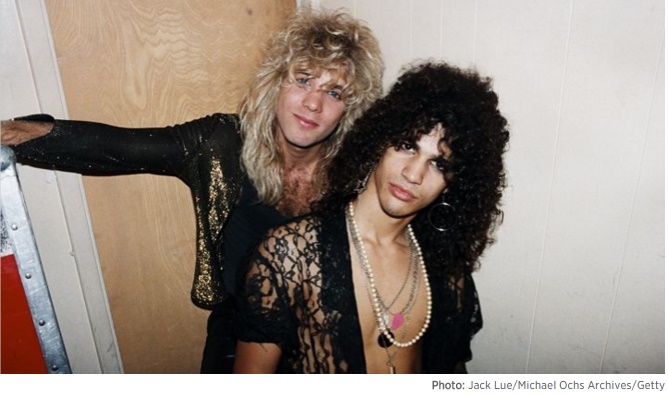 Years before Guns N' Roses got together, L.A. kids Slash and Steven Adler would regularly hit the Rainbow armed with fake I.D.s. On one particular evening, however, it's ladies night at the club, and longtime bouncer Steady isn't having it. Though he allows Adler in, he sends the budding guitarist packing. According to Slash in his 2007 autobiography, he goes home, gets good and drunk and hatches a plan to return to the Rainbow — dressed as a girl. "My mom thought my plan was hilarious," he wrote. "She outfitted me with a skirt and fishnets, piled my hair up under a black beret, and did my makeup . . . I looked like a Rainbow chick." His goal? To seduce his future bandmate. "Adler hit on every girl in sight, so I was sure that he'd hit on me." Once inside the Rainbow, however, Slash realizes his friend is long gone, and ends up doing the walk of shame back down Sunset, getting catcalls all the way.
—————————————————–
 September 28, 1982: Meat Blackie Lawless

W.A.S.P. main man Blackie Lawless ups glam metal's live game at his band's second-ever gig, which takes place at the Troubadour (another club, incidentally, that isn't on the Strip proper; rather, it's located a few miles west of the Starwood, on Santa Monica Blvd). W.A.S.P. debut a new stage gimmick at the show — hurling raw meat at the audience. Lawless claims inspiration for the stunt from hearing about a form of Sixties experimental theater called psychodrama. In time, he adds to the "psycho" part of that drama by drinking real blood (collected from that same raw meat), "torturing" a naked woman on a rack and donning a codpiece outfitted with a 12-inch round saw blade.
——————————————————
1982: Nikki Sixx Chases Lars Ulrich Down Santa Monica Blvd.
At the same time that glam is kicking into high gear on the Strip, bands like Metallica and Slayer are busy creating thrash metal in the same So-Cal environs. How well did the two factions get along? Not very, of course. "It was 1982 and Mötley Crüe had just put out Too Fast for Love," Ulrich recalled. "One night out in front of the Troubadour we're standing there in our Iron Maiden shorts and after a couple of, you know, cold Schlitz malt liquors, we saw Nikki and Tommy. And it was like, 'Fuck Mötley Crüe!' And I remember Nikki started chasing after me. And the one thing I could do, all five-foot-six of me, is I could run faster than he could in his 16-inch platform boots."
——————————————————
1982: The Yellow and Black Attack at Gazzarri's
Another house band that often plays on bills with Ratt at Gazzarri's is Roxx Regime, which later morphs into yellow-and-black Christian metallers Stryper. "We would do three sets at Gazzarri's and make $150," Stryper frontman Michael Sweet recalled to axs.com.
Fun Fact: For a second, guitarist C.C. DeVille, later of Poison, joins — or, depending on who's telling the story, almost joins — Roxx Regime.
——————————————————
March 1984: Look What the Cat Drags In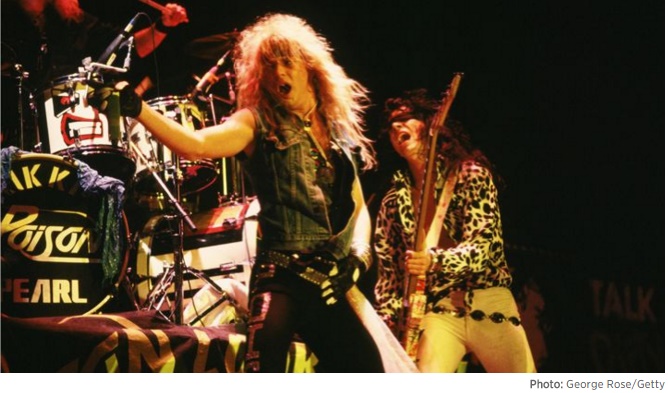 Poison, the band that would recast the Strip in their own good-time, day-glo image, arrive in L.A. from the decidedly very un-glam environs of Mechanicsburg, Pennsylvania. "We drove cross-country with everything loaded into an old ambulance van, a Chevette and a green pickup truck," lead singer Bret Michaels says. "Nothing but gear and a dream. When we finally pulled onto the Strip it was, 'Holy shit!' We're driving past the Rainbow, Gazzarri's, the Roxy, the Whisky, and there's gotta be, like, 100,000 people walking around. And they all look like they're in a band. For a bunch of small-town guys, that's a lot to take in."
The members didn't have anywhere to live at first, "so we wound up staying at the Tropicana Motel on Santa Monica Blvd., which was a big rock and roll hangout — there was a coffee shop there named Duke's where everyone would go," Michaels continues. "Kim Fowley had heard our demo and he was interested in us. So we met with him and a bunch of other people and they took us to see Hollywood Rose in Chinatown. And it's like, here's the band that would eventually become Guns N' Roses….and they're playing in Chinatown….on a Monday night. To me that was awesome."
BY RICHARD BIENSTOCK  – Read the full article at Rolling Stone