"I didn't lose the passion for the music. I didn't lose that at all… I lost the willingness to get old on stage. I don't want you guys to watch me age out."
— Dee Snider / Twisted Sister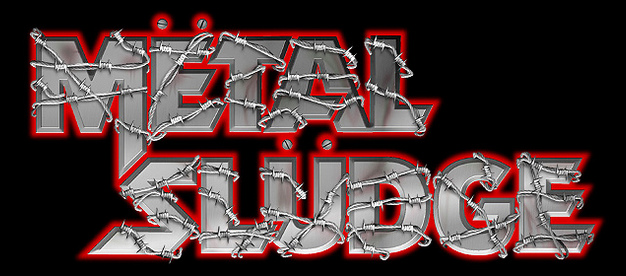 Metal Sludge — In a recent interview Twisted Sister frontman Dee Snider talks about bands retiring too late and it appears he took a swipe at fellow New York rockers Kiss.

Again…

This is not the first time that Snider and Kiss have butted their rock n' roll heads, but to be fair, they've gotten along at points the same.

A few months back when Snider was dropped from his duties as the Grand Marshal of the San Francisco based Gay Pride Parade it was Kiss frontman Paul Stanley who was on the same page as Snider and vice versa.

The Advocate covered this with their headline grabbing story: KISS and Twisted Sister Rock Legends Go Full-on Transphobic.

But that is old news, we're back to the 'Why didn't you retire yet?' subject and Snider has swiped hard at Kiss yet again.

That or there is another band on tour, past their prime singing a song called "Crazy Nights".

Read on below and you can decide for your rock n' roll self!

The following below is courtesy of Blabbermouth….

————————————————-

"Speaking about TWISTED SISTER's decision to retire from touring in 2016, Dee said in part (as transcribed by BLABBERMOUTH.NET): "I didn't lose the passion for the music. I didn't lose that at all. My last two [solo] albums, 'Leave A Scar' and 'For The Love Of Metal', were stronger and sort of Dee resurging. I lost the willingness to get old on stage. I don't want you guys to watch me age out.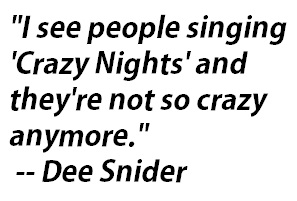 "I read a review once that said — and it was actually a positive review about the TWISTED reunion, which was ages ago now — but it said, 'When a band reunites and they're good, it makes you feel young again. But when they're bad, it makes you realize how old you have gotten,'" he continued. "And people were coming to see TWISTED and coming to see me and people were smiling. But I know… Look, I'm not a bitcher and moaner, but I've had knee surgery, shoulder surgery, throat surgery, neck surgery… I can't lift my arms up. It hurts when I throw the horns. Fuck! It's not supposed to hurt… So I'd rather walk off with some dignity and leave you guys with a positive memory, saying, 'We wanted more,' than to overstay your welcome and say, 'Gee, when is this guy gonna get off the fucking stage, man?'

"I see people singing 'Crazy Nights' and they're not so crazy anymore," Snider added. "I'm not gonna name names. I always bitch about people who retire, sell us the 'No More Tours' shirt — Ozzy — and then come back a few years later, 'We love you, we love you.' That's bullshit. And people say, 'Well, that's fucked up.' No — stay forever, man. Stay forever. We don't want you to leave. Just don't do a three-year farewell tour — SCORPIONS — and then say you changed your mind. 'Cause you haven't played every place? No, you've played every place — twice."

——————————————————————–

This is not the first time Dee has went head-to-head with Kiss.

In 2015 Snider went on the popular 3-Sides of the Coin (Kiss related) podcast and we covered it all here in our story "DEE SNIDER CROSSES ENEMY LINES: TALKS TO THREE SIDES OF THE COIN ABOUT PAUL STANLEY AND KISS".

Snider said on the 2015 podcast: "I think I vocalized an opinion that some people were very upset about and Paul, he didn't attack, or question, or address my opinion, he attacked me as a personality, as a performer, as an entertainer, and my band who were just innocent. He called us a bunch of buffoons; he took some cheap shots at us. When I woke up and saw how it exploded; I'm not big on taking shit. If Paul Stanley would have put me in my place saying what you guys (Three Sides Of The Coin) said in his own way, I'd have nothing more to say other than 'point counterpoint, man. That was my opinion and you just put me in my place and told me your side of it and fair enough', but when he went after me and my band personally, I had to come back hard…real hard. To me I fear no band, I fear nobody. I sang Rock & Roll in front of Robert Plant and I basically did it just to shake my dick in his face"

We also covered the Bunch of Buffoons comments from Stanley here in our article titled; "LICK THIS UP Paul Stanley on Dee Snider and Twisted Sister: "Clueless…bunch of buffoons"

In July of 2022 Snider compared Kiss to a "Fart in a paper bag" on their latest farewell tour.

Metal Sludge shared that post; "FARTWELL TOURS … Dee Snider Compares Kiss to a 'Fart in a Paper Bag,' Calls Out Bands on 'Fake Farewell Tours' after Snider unloaded on Kiss once again.

Now it's 2023 and the Twisted Sister frontman is promoting his latest book 'Frats" which oddly is the words Farts with a few letters moved around.

In this latest blast towards Kiss, the Twisted Sister singer has been appearing on various radio stations, at book stores and some related music events to promote his latest paper release.

All this talk about farts and frats and old guys in make-up is just what the internet needs in 2023.

What say you?



Stay tuned to Metal Sludge for Breaking News, Updates and Features along with both new and classic interviews.