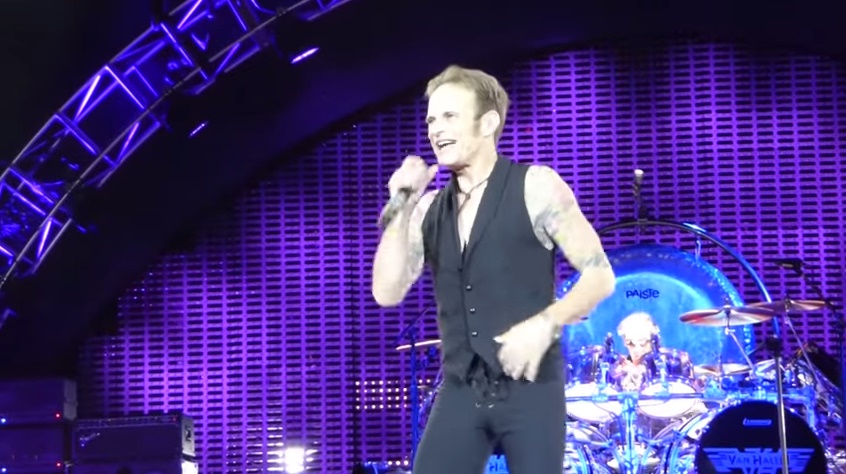 EAT THIS AND SMILE
David Lee Roth stops show twice, confronts monitor man and beer throwing fan
YouTube — David Lee Roth still has it. What is it? Dave has the ability to command the stage like no other and seemingly has grown with grace and ease more than most 80's iconic rock stars.
Dave is definitely the man, the myth and a legend as he drops some knowledge on an unknown fan during a recent Van Halen concert at the Susquehanna Bank Center on August 27th.
As the band ends one song, and is about to begin "Dirty Movies" Dave realizes someone has thrown a beer onto the stage and summons a crew member to come clean it up.
Van Halen's classic voice and frontman then gently quells the band to break the song down so he can address the incident like only Dave could do.
Dave calmy states to the capacity crowd, "Somebody just threw a beer up here" and a cascade of boos are clearly heard coming from the audience. Roth remarks, "Now in a younger day, I would have promised that I would have slept with his girlfriend, right?" as the Van Halen faithful cheer.
Then Dave follows it up with, "Now at this point in my career….I probably already have slept with his wife" and added some F' bombs in the delivery as well. The place errupts with more applause.
Dave then flashes his shit-eating grin as he knows he has owned the sorry fool who threw it, then confidently looks into the crowd with, "Can you control that motherfucker, I'll talk to ya later sweethear" and again the crowd roars.
Dave ends the mini rant and barks commands, "Top of the song boys" as the band rips into the next song.
On the same show it appears at some point there was a monitor issue and Dave again stops the band to address the monitor man.
Dave apologizes to the crowd and says, "Wait a second, wait a second. Hold on guys, hold on. The audience deserves way better. I will lose my voice if we don't fix this, hold on."
Dave then walks side stage and confronts the monitor man eye to eye.
Upon his return to mid-stage Roth adds, "You guys deserve the best" and the crowd cheers in agreeance.
"The best for you baby! We're not gonna fuck around here" screams Roth into his mic to more appreciation .
Clearly Dave is not happy, but holds it together and acts as professional as you would expect from the master himself.
Watch the clips below and let's all learn.