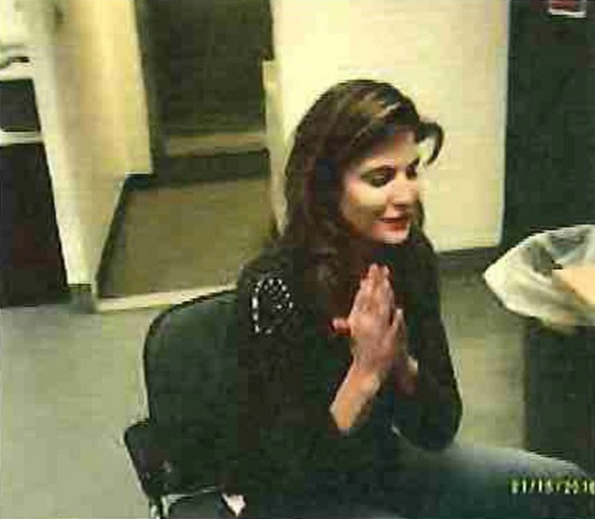 EX-GNR VIDEO WIFE ARRESTED
Former supermodel Stephanie Seymour popped for DUI
CNN —  Model Stephanie Seymour was arrested on DUI charges Friday evening by Connecticut State Police in Greenwich, according to a police report.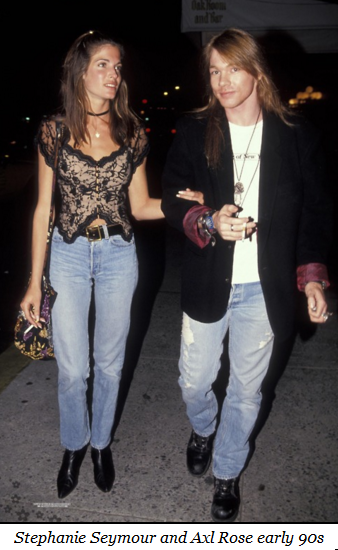 Officers were called to a highway exit ramp after the 47-year-old model backed her black Land Rover into a Mercedes at a stop sign, the report said.
The responding officer described smelling a "strong odor" of alcohol coming from Seymour's mouth as she answered questions.
"After six or seven requests for her license, registration and insurance, she finally was able to fumble through her purse, as she handed over her Connecticut driver's license, along with a credit card," the officer wrote in the report.
The officer noticed that Seymour had bloodshot eyes and asked her to exit the vehicle to perform field sobriety tests, adding that she was "unsteady on her feet" and "her breath smelled of an alcoholic beverage," the report said.
Read the full story at CNN
Seymour was famously once married to Guns N' Roses frontman W. Axl Rose. But only in fairytale land on the set of the band's hugely popular video for "November Rain."
It is noted that the video cost roughly 1 million dollars. More on the video HERE.
WikiPedia Says: By mid-1991 she had become involved with Axl Rose, the lead singer of Guns N' Roses. She appeared in two music videos by Guns N' Roses: "Don't Cry" and "November Rain". The couple broke up in February 1993 after Rose accused Seymour of being unfaithful.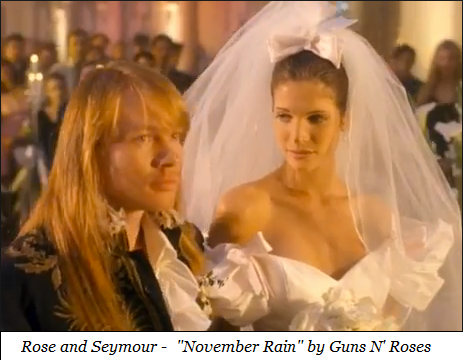 In August 1993, Rose sued Seymour for assaulting him during a 1992 Christmas party, for mental and emotional abuse, and for withholding $100,000 worth of jewelry. Rose claimed he and Seymour were engaged. In turn, Seymour countersued Rose for assaulting her and denied they were ever engaged.
Shortly after her break up with Rose, Seymour began dating billionaire Peter Brant, who was married and the father of five children. Brant is a publisher, real estate developer and art collector. She gave birth to the couple's first son (her second), Peter II, in December 1993. Seymour and Brant married in July 1995 in Paris, France. Seymour gave birth to their second son, Harry, in 1996 and to their third child, daughter Lily Margaret, in 2004.
In March 2009, Seymour filed for divorce from Brant after almost 14 years of marriage. The couple reconciled in 2010