Metal Sludge — In an exclusive statement to Metal Sludge, Kingdom Come singer Keith St. John says that James Kottak is currently "recovering and getting his health together."

In the interim, the band welcomes Blas Elias (Slaughter, Raiding The Rock Vault, Burning Rain, Blue Man Group) to their drum throne for up coming shows.

Metal Sludge reported earlier in the week that Kottak had been fired from Kingdom Come per multiple industry sources but it appears that the drummer's status is actually in-flux right now and there is no set answer.

Metal Sludge reached out to St. John about the rumors and the singer wrote to Metal Sludge earlier today stating: "So here ya go!… Taking over the drum seat in Kingdom Come for the time being while James is recovering and getting his health together will be my Raiding the Rock Vault and Burning Rain brother…(drum roll please)… BLAS ELIAS!"

"Blas has been so kind to step in and fill in for James. At this point, we don't know how long it might be, but thankfully Blas has an amazing feel for this music and is absolutely killing on it! It's also fair to say that James has always mentioned that Blas is one of his favorite drummers. Kingdom Come is greatly looking forward to seeing everyone in Dallas on September 23rd with Jack's Great White and Bulletboys and in San Antonio on September 24th with Lita Ford, Legs Diamond, and Moxy! See you there." wrote St. John.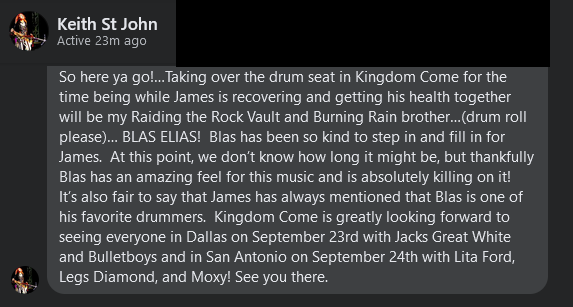 Metal Sludge wishes both James Kottak and the band Kingdom Come the very best going forward.

Stay tuned to Metal Sludge for Breaking News, Updates, Features along with New and Classic Interviews.