Metal Sludge — Well, it appears this was all legitimate.
If you missed our Breaking News post from June 23rd, go read 'L.A. TOILETS … Tracii Guns of L.A. Guns has a Panic Disorder and will perform tonight in Toilet with Amp, Monitor and Pedals for Texas'.

In short, Tracii Guns says he has a panic disorder and could not take the heat at their Plano Texas show on Thursday June 23rd.

The story initially became news after Guns himself posted that he would be doing this for the band's show.

After it made the rounds via Metal Sludge, fans and rock stars alike, all seemed perplexed and confused as to whether this was a true story.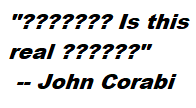 John Corabi commented on our Metal Sludge story with: "??????? Is this real ??????"
Little Caesar singer Ron Young commented with: "My regards to all of you and your inventive ways of dealing with serious shit. Send my regards to T and my wishes for his anxiety to subside and get back to what he loves to do, with those he loves to do it with and those he loves to do it for and in more conventional manner."

Black Star Riders and current Warrant bassist Robbie Crane also commented with: "So badass!"

Of course our Metal Sludge story has since been picked up by Sleazeroxx, Blabbermouth, Metal Edge and Ultimate Classic Rock among others.

In addition there have been countless comments on social media which have been everything from supportive to concern and insults galore.

According to band bassist Johnny Martin, Guns told his band-mates earlier in the day that he was going to sit out the gig, and let them play as a 4-piece.

His reason, was it was just too hot out and the heat triggers his panic disorder.

But Martin came up with what he called a "genius" idea, and suggested Guns play his lead guitar from the air-conditioned bathroom backstage while the rest of the band was on stage.
Guns and the band seemed to work out the kinks, and believe it or not, the band played their set in Plano Texas all the while Guns played his lead guitar parts from the backstage toilet.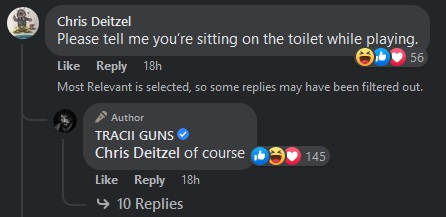 Literally speaking, Guns says he was sitting on the toilet while playing.

Martin even admitted in a comment online that this whole situation was embarrassing and questions a fan as to why they would do this just for press.

Below are live shots taken at the show, which clearly show the stage with only 4 members performing; Phil Lewis (lead vocals), Johnny Martin (bass), Ace Von Johnson (guitars) and Shawn Duncan (drums). .
Guns was performing too, but as noted from the backstage bathroom.

The guitarist has since shared his view, while sitting on the toilet playing lead guitar on Instagram.
The real question is, in the last 35+ years of Guns being on the road, playing gigs, living in and growing up in Southern California, how has this condition not affected him previously for live shows?

It's safe to say that L.A. Guns have played hundreds or perhaps thousands of cramped and tiny clubs and corner bars over their nearly 40 year career.

Many of which likely had less than desirable conditions in both the summer heat and winter cold.

With that said, many fans and some industry comrades are asking why yesterday was different than previous situations, which one could assume were never the best circumstances to play in over the years.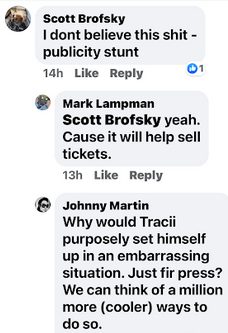 Now someone on the tour has reached out to Metal Sludge directly with an array of inside information and scoop.

Our source tells us point blank, that lead singer Phil Lewis was furious and not thrilled with what was happening.
The source also has told us that the Tom Keifer camp was not too happy about it either.

The one thing that some fans pointed out was that Guns is regularly posting and promoting the band's Meet & Greet and VIP Experience packages daily, including on the morning of June 23rd.

Guns wrote: "First Texas stop is tonight in Plano at Legacy Hall with Tom Keifer and Faster Pussycat#sonicslam2022 Tickets and VIP Experiences available at lagunsmusic.com/tour"

This was shared early on June 23rd and a few hours later, fans showed up to watch L.A. Guns, but Guns wasn't even on the stage.

As for the promoters, not sure what their take is (yet), but… the source has also alleged that Guns had been offered an ambulance, not requested as first reported here.

Metal Sludge have reached out to our source and they reconfirmed there was talk of an ambulance being at the Cedar Park Texas show.

Additionally, since this article ran, another member of the touring party, reached out to Metal Sludge to inform us, that L.A. Guns, nor Tracii Guns requested an ambulance, but in fact, one was offered to Guns.

And believe it or not, there seems to have been some gimmick attached to this part of the story as if playing a rock n' roll show from a toilet wasn't enough of a gimmick.

The ambulance is actually called a Jambulance and is painted with Van Halen red and white stripes.

Sounds ridiculous and made up right?

Well, it's not.

They have since forwarded us an image of the Jambulance.

We couldn't make this stuff up if we tried… (throwing hands in the air?)
According to the band's touring schedule, L.A. Guns have 24 more shows on this run, including Houston and Cedar Park Texas today (June 24th) and tomorrow (June 25th) where the temperature will once again be hovering right around 100 degrees.

The tour also hits the heart of the Midwest for the next month in the humidity rich bible-belt and then dips into Florida in mid July where it's notorious for being sticky, hot and super humid.

What will Guns do when the band encounters these conditions again with nearly 6 weeks of show ahead.

Back in January Guns tweeted about L.A. Guns' New Year's Eve show in Las Vegas and wasn't happy that some fans (ok a lot) were not wearing their masks at their gig, and told readers "No more shows for a while."

Below are screen captures of several dozen comments and reaction from fans on social media.

Will Tracii Guns take the stage tonight or this weekend in Texas?

Stay tuned to Metal Sludge for updates as we get them.


L.A. Guns @ WebSite – Twitter – Facebook – Instagram – Spotify – Apple