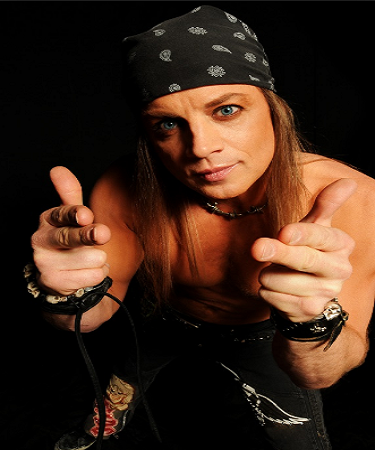 Metal Sludge — Below you will find all the links for the TUFF DIARIES as authored by Stevie Rachelle of Tuff.

These diaries take the reader on a first-hand journey from Rachelle as he makes his way from Wisconsin to California to find and audition for the band Tuff.

In June of 1987 a 21 year old Steve Lauxes got wind of this cool band from Hollywood that was looking for a new singer.

Within 72 hours of hearing the news, the Oshkosh native bought a 1-way ticket to Los Angeles.

These diaries are not for the faint of heart as the dirtiest of details are revealed with Rock Stars, Porn Stars, Movie Stars, Strippers, Drug Dealers and more as told in detail from Rachelle.

These journals take you through the heart of Hollywood and the Sunset Strip music scene during the peak 1980's and into the 1990's, and you won't want to stop reading.
——————————————————————–
TUFF Diaries #1 – #18 are all linked below!

Entry #1  How I Made My Way To California, 31 Years Ago Today  (June 25th 2018) 
Entry #2  My First Meeting With Tuff, "Is That All Your Real Hair?"   (June 29th 2018)
Entry #3  Tuff audition, Jim Gillette screams, a near fist fight & our debut show  (July 5th 2018)
Entry #4  The Metal Years, Famous People, Cocaine, Kiss & Sex with a Miss Gazzarri's Dancer  (July 14th 2018)
Entry #5  Guns N' Roses, Del James, 1988, Sound City, Strippers, Crabs & You're Fired!  (July 30th 2018)
Entry #6  Summer on Sunset, Vinnie's Invasion, Tracii's Glue Gun, Vain & Sex by a Dumpster (August 11th 2018)
Entry #7  MTV's NYE Big Bash, Riki & Taime's Cathouse & My Girlfriend was a Poster at Spencer's (August 20th 2018)
Entry #8  Jon Bon Jovi, Sebastian Bach, Rick Rubin, Howie Hubberman, BulletBoys & Gazzarri's (Sept. 16th 2018)
Entry #9  Summer Tour '89, Andy McCoy, Def Leftovers, Max the Model, Z-Rock, Tommi Gunn & Lit (Oct. 10th 2018)
Entry #10 G'bye 1989, Jessica Hahn, Skid Row, Martha Quinn, Young Gunns, Flyer War & Cock-Rings (Nov. 9th 2018)
Entry #11 Hello 1990, Texas, Britny Fox Tour, Strippers, Hells Angels and Atlantic Records signs Tuff (March 24th 2019)
Entry #12 Ready to Record, Howard Benson, FM Station, Jani Lane, Court & my 1st Playmate  (June 2nd 2019)
Entry #13 Recording Atlantic debut, Bret Michaels, Kane Roberts & Sex is fine, but no sleepovers (Aug. 27th 2019)
Entry #14 New York City, Mixing our Record, Publishing Deal, Video Shoot , Cherry St. & Tigertailz (March 25th 2020)
Entry #15 MTV, The Nelsons, Jason Newsted, U.S. Summer Tour, London & our Stolen Ryder Truck (May 19th 2020)
Entry #16 Lita Ford, Jason Flom, 75+ Shows, Cocaine, a Lawsuit, Sweet F.A. & the Freeway Fight (July 29th 2020)
Entry #17 Hello 1992, Gene Simmons, More Money, Mike Starr, a New Bassist & Jason Flom II (March 20th 2021)
Entry #18 WildSide, Dee Snider, Tour Drama, Baywatch, New Label Search and Living in Reseda (Aug. 21 2021)
Entry #19 Michael Resigns, River Phoenix, Thirsty Whale, He's Got a Gun, Stolen Van & Danny Quits (Jan. 16th 2022)
Entry #20 1994, Northridge Earthquake, Kurt Cobain, RLS Records, releasing "Fist First" (May 2022)
Entry #21 "Fist First" Tour, Making F#@king Videos, Building Bunk Beds & O.J. Simpson (Dec. 2022)
Entry #22  1994  TBA
Entry #23  1995  TBA
Entry #24  1995  TBA
Entry #25  1995  TBA

Bonus Entry – AUSTRALIA … Stevie Rachelle takes you on a Wild Ride Touring Down Under (Jan. 2023)

TUFF DIARIES Entries #22 through #25 coming soon…..

If you want to Donate to support TUFF DIARIES, please know that I Thank You!

TUFF DIARIES Entries #1 – #21, with #22 through #25 coming soon…..
Tuff @ Facebook – eBay – Amazon– iTunes – Instagram – Twitter – Store– Discogs –YouTube–

Stevie Rachelle @ Twitter – Facebook – Facebook 2 – Intsagram – Reverbnation – Metal Sludge – Donate – Store